Commentary: Australia opens borders, after two years and a lot of Omicron hand-wringing
The strict border policy to keep COVID-19 out has taken a big hit on tourism and international students studying in Australia and there's little reason to keep borders closed, says Mike Yeo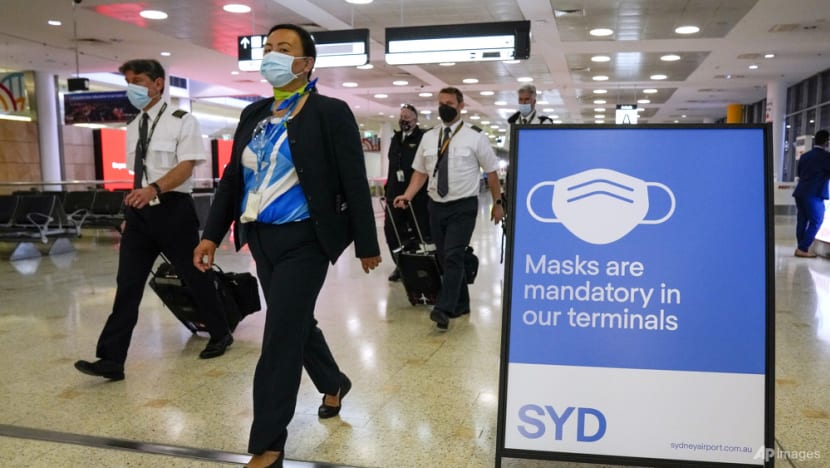 MELBOURNE: Australia's announcement that it will be opening up its borders to international travellers after being effectively closed for almost two years due to the COVID-19 pandemic has brought cheer to tourists itching to visit the country.
Prime Minister Scott Morrison said last week that the new border rules would come into place on Monday (Feb 21) for fully vaccinated visitors in accordance with new medical advice. 
The decision comes after outbreaks of the fast-spreading Omicron variant in Australia's two largest cities, Sydney and Melbourne, appear to be tapering off.
The Omicron outbreaks have already delayed Australia's reopening, originally scheduled for December 2021 after the country reached its 80 per cent vaccination target. 
The unceremonious booting of men's tennis world number one player Novak Djokovic out of Australia over his vaccination status and false travel declaration earlier in January, which made news around the world, is fresh on everyone's minds. 
Morrison unsurprisingly cautioned that everyone arriving in Australia is expected to abide by the requirement to be fully vaccinated.
But unvaccinated travellers could enter Australia if they apply for a travel exemption and serve time in quarantine, with the largest states of New South Wales and Victoria since agreeing on a period of seven days, Home Affairs Minister Karen Andrews added on the same day.
News of the reopening comes as sweet relief to sectors of the economy devastated by the pandemic and closed borders, particularly the tourism and higher education sectors. The latter is highly dependent on income from fee-paying international students.
Yet, because of travel restrictions impeding international students from studying onshore, the sector has suffered drastic cuts to student enrolment and fears that they would head for other countries such as the United Kingdom or Canada, both of which have fewer restrictions on inbound travel.
AUSTRALIA'S KEY SECTORS DECIMATED
The loss of income generated by the flux of international student income has hit Australian universities hard, with one report estimating that 40,000 jobs – 20 per cent of the sector's workforce – have been lost since the pandemic started.
For a country whose international students contribute an estimated A$40 billion (US$28.7 billion) in educational fees, rentals and other spending on goods and services, this is devastating. The sector will take years to recover. 
The tourism sector, which in pre-COVID times employed 5 per cent of the country's workforce will also need time to recuperate. Two years of border closures have brought it to its knees, with estimated losses to the tune of A$107 billion (US$72 billion).
The border closures have also wreaked havoc on Australia's services industry, with a severe shortage of staff, positions usually filled by backpackers on working holiday visas while supply chains from everything from timber to mail have also been affected. 
Australians with family overseas who have been separated from their loved ones for two years are also cheering, as they look forward to long-hoped-for family reunions. 
HEALTHCARE SYSTEMS ARE STILL STRUGGLING
However, Australia's reopening takes place amid a healthcare system still under tremendous strain.
Sydney and Melbourne, which have endured several lockdowns over the past two years, had not fully overcome their Delta outbreaks in December 2021 when state governments relaxed restrictions drastically under political pressure in time for the festive season. 
The failure to keep Delta in check, just as the Omicron outbreak was picking up pace, has been the key driver behind Australia's continuing COVID-19 death toll, with the country still recording tens of deaths every day. Australia's COVID-19 death rates have stayed high at a daily average of 54 as of Feb 16.
Hospitals also continue to be under severe pressure with the seriously ill, with desperate healthcare workers telling of overcrowded and understaffed COVID-19 wards, in defiance of orders not to speak to the press. 
This has pushed medical staff beyond the breaking point. An exodus of trained staff from the healthcare system is probably the last thing Australia needs right now, particularly if cases continue to rise or more serious COVID-19 variants appear. 
And yet, it is questionable whether keeping the borders closed makes sense with Omicron already entrenched in the country, with most cases asymptomatic or presenting only mild symptoms – meaning they are unlikely to require hospital care.
THE WESTERN AUSTRALIA EXCEPTION
A notable exception from Australia's reopening plan has been Western Australia. The state has stubbornly clung onto harsh border control policies, and essentially walled itself off from the rest of the country for most of the pandemic. 
As news broke of Australia's reopening plan, the state responded by effectively refusing to sign off on it, limiting itself to a quota of 530 international arrivals – the same number that can be carried by two Singapore Airlines Boeing 777-300ER jumbo jets – per week and insisting on seven-day quarantine for all arrivals. 
Western Australia Premier Mark McGowan has seen his popularity skyrocket on the back of his hardline border policies as low infection numbers sailed residents through the past two years with barely any restrictions, unlike in the eastern Australian states.  
Morrison meanwhile found himself hamstrung constitutionally and politically from taking bolder action despite repeatedly making it clear he would like to see all of Australia open up. He has a delicate political dance to do.
Will more vaccinated travel lanes encourage us to plan overseas holidays? Listen to CNA's Heart of the Matter:
Despite previously criticising the Western Australian and other opposition state governments in Queensland and Victoria for closing interstate borders during the past two years, Morrison has since backpedalled on his previous criticism of Western Australia. 
He knows these closures had strong support among some segments and needs to safeguard his Liberal Party's prospects when Australia goes to the poll, by May this year. 
But after two exhausting years of domestic restrictions and travel borders taking a toll on the economy and jobs, Australians may finally be ready to embrace looser border restrictions. Even Western Australia announced on Friday (Feb 18) that it will reopen on Mar 3 to triple vaccinated visitors.
Still, Morrison must tread carefully between population segments who want to maintain border closures and those who want to open up.
He has struggled to unify Australia's pandemic response with the states over the past two years often taking the lead on introducing travel restrictions, while state governments, who oversee their respective states' healthcare systems, have often accused him of being too slow to act and of prioritising the economy over people's health.
Morrison has seen his government's and personal popularity fall in recent weeks and will need to cling on to every seat in parliament if he wants to lead Australia's next government. 
A push to reopen the country and the ensuing economic fillip may just be the factor to improve his electoral prospects. 
Mike Yeo is the Asia reporter for US-based defence publication Defense News.