Commentary: Why I'll keep making plans to travel even if it means having to cancel them
Even with the risk of borders shutting overnight, many Singaporeans have their eyes on airline tickets, hotel booking sites and top 10 travel destination lists, says Sher-li Torrey.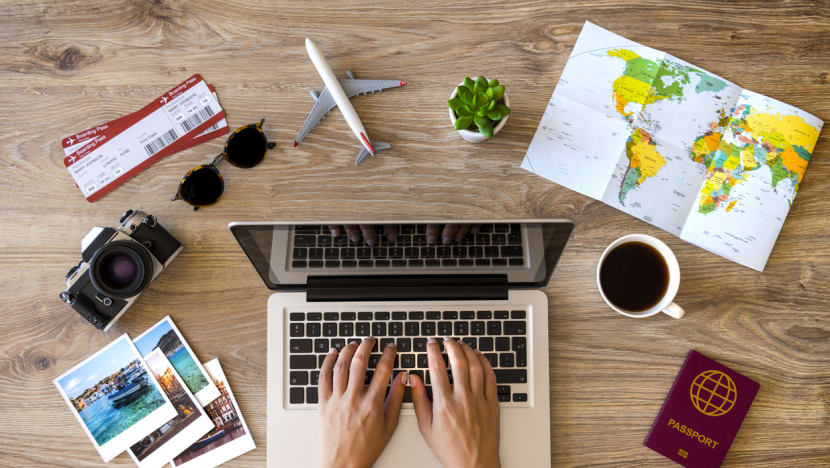 SINGAPORE: Like many in Singapore, my family frequently travels overseas during long holidays.  
As endemic living became reality and vaccinated travel lanes opened up, we decided to plan a trip to the United States late last year to visit family.
I wasn't the only one who jumped at the chance to go abroad. In October 2021, shortly after the Singapore Government announced quarantine-free travel lanes, the Singapore Airlines website crashed due to a sudden high demand for flights. It was an obvious sign that many Singaporeans were looking forward to leisure travel again.
But travellers make plans at their own peril since rules can change overnight.
Before the pandemic, Singapore residents made about 8.6 million outbound departures by air and 2.1 million by sea. The available options of budget airlines with affordable flight tickets made travelling to regional countries common for many households.
Then the pandemic shut down international borders. In early 2020, in a bid to compensate for the lack of travel opportunities, I signed up for virtual trips. Japan Rail's Facebook live events featured farm visits and sake brewery tours, which were full of interesting facts and engaging hosts.
But seeing the images of Japanese snow-capped mountains and exciting winter festivals near Kyoto only made the urge to hop on a plane even stronger.
Binge-watching travel documentaries on Netflix did not help either. Watching banh mi being prepared by a street hawker in Ho Chi Minh City on Street Food Asia only made the desire to travel greater. It was pure agony to see the appetising French bread, and yet not be able to touch, smell or taste it.
Sure, you can have banh mi in Singapore, but to enjoy it in the Vietnamese city replete with all its sights, smells and other adventures is something else. Nothing replaces the experience of being physically present in a foreign land, enjoying foreign foods and warming up to a different culture.
THE EXCITING – AND RISKY – POSSIBILITY OF LEISURE TRAVEL
When vaccinated travel lanes opened in 2021, the possibility of travel was dangled in front of our eyes.
We felt so trapped by travel restrictions that not only were we excited to sit for hours in a cramped plane seat, eat reheated airline food and breathe in dry cabin air, we were also willing to meet strict testing requirements and prepare the necessary documentation.
Many Singaporeans, including myself, started looking up websites – airline tickets, Airbnb homes, hotel booking sites and top 10-most-recommended lists. We aimed for destinations offering quarantine-free vacations.
I first searched for airlines with the most flexibility for change. I started budgeting, putting together a two-week travel plan and even made tentative bookings on Airbnb (deliberately choosing options that stated "free cancellation possible").
Other travel hopefuls with young children introduced the concept of "trip stacking" to me – booking multiple trips for the same vacation slot, with one fun option being riskier (and more likely to be cancelled), such as an overseas trip to the US and a second option being a backup, an almost 100 per cent guaranteed getaway, such as a staycation in Singapore.
So I trip-stacked for the year-end holidays.
However, the harsh reality of having a younger unvaccinated child finally convinced us to put our out-of-country travel plans on hold.
The increasing number of Omicron cases worldwide led us to decide to stick with our plan B, a staycation in downtown Singapore. It was enjoyable but it did not fully quench our thirst to be overseas. 
I had to cancel the Airbnb bookings of the overseas accommodation which I had booked weeks ago. And even though there were no costs incurred, it still did elicit some unpleasant replies from the accommodation hosts.
THE BRAVE ONES WHO TRAVEL DON'T REGRET IT
Unlike me, a friend Yu-lin (a mother of two) was much braver.
"We took a calculated risk as we felt that a holiday would be uplifting for both body and spirit. After all the negativity with COVID-19, it was a welcome break for adults and kids."
Yu-lin travelled to Vancouver with her family of four. She made sure she spoke extensively to someone who had been to Vancouver in the last three months to assess the city's control over the situation.
"Omicron threw a spanner in the works as news had just surfaced. When we left Singapore, there was just one case detected on the east coast (of Canada)."
During their vacation, they were careful not to mingle outside the group, respected the masks-indoors policy and sanitised diligently. The result? They had a fabulous time.
Likewise, Jace who took her daughter to Europe had used the VTL as an opportunity to celebrate the end of her daughter's primary school journey. Her daughter was vaccinated before the trip, but Jace did her checks with friends overseas to understand the situation better on the ground.
"I won't bring my elderly parents along unless they wanted to come as well. It's a calculated risk."
In Jace's mind, children and teens have many years ahead to live with the pandemic, and need opportunities to learn to be open and welcome to new experiences.
"It's so easy to fall back into the idea that we can't do anything because of COVID-19. And we came back with experiences that we will not forget." 
STILL DREAMING ABOUT TRAVEL
The emergence of Omicron has further thwarted travel plans around the world. But like all resurgent vacationers, my family and I will cherish our experiences even more when we finally travel overseas again. When we do so, we will likely opt for locations that we never thought we would visit and plan longer stays.
I, for one, am already looking ahead to the next long stretch of school holidays in 2022. I am ever hopeful that the situation will improve in some way and am already looking at airline tickets, Airbnb options and recommended restaurant lists.
My children share my enthusiasm and my younger one has even voluntarily set aside some of his recess allowances as savings for when we go to Greece.
As the world struggles to live with the pandemic, there will come a point where planes will once again, take flight with a full load of excited passengers.
Hotels will bustle once more, with the lively sounds of foreign guests running through their halls. The freedom to travel and see the world will be more appreciated than before. 
Sher-li Torrey is founder of Mums@Work, a portal that supports working mothers in Singapore.
Are people still too daunted by overseas travel? We ask the experts on Heart Of The Matter: