Commentary: After some painful adjusting, parents and kids may be getting used to living with COVID-19
The youngest members of society have paid a significant social and emotional toll and childhoods have altered significantly, reflects mother of three, Cherie Tseng.
SINGAPORE: When restrictions to dining meant only two people could sit at a table, it was especially hard on families.
I never thought I'd miss messy, half-chaotic family meals out.
While it is always possible to eat at home, there are days we just wanted to have some of our favourite ramen. So when my husband and I took the kids out for meals, we did it at off-peak times and always ended up leaving one child behind. Five simply cannot be divided into pairs.
It didn't help that there were plenty of extra judicious enforcers of this rule: Separating families in twos, as far apart as possible when we'd will all tumble into the same car to get home.  
CHILDREN HAVE HAD TO COPE WITH SCHOOL RESTRICTIONS 
Thankfully, restrictions have eased and we can now sit together and enjoy a meal. But looking back at the two years we've had to live with this virus, I can't quite believe just how the lives of all children have changed. It isn't just that masks, sanitising and safe distancing were de rigueur.
Much has been talked about how teachers were hit hard when lessons moved online. But children too had to make do with classmates becoming boxed up faces on Zoom, a school day becoming a blur of online activities which required them to figure things out and turning to parents who became digital trouble shooters and teaching assistants.
They went for weeks without seeing their friends in person. The novelty of circuit breaker gave way to the resignation of 2020 and the slow dreary "are we there yet?" feet dragging of 2021.
I asked Son #1 about a classmate he used to hang out with. In keeping kids safe, this classmate sat on the other end of class and was in a different recess roster so for a whole year, they hardly said two words to each other. "She's like a classmate but a stranger, I guess,'' he says with a slight tween-age shoulder jerk that is less about his age and more about his grudging acceptance of this "new normal."
Teachers were strict enforcers of an invisible boundary in what seemed like a tragic comedy-esque manifestation of the need to respect personal space. Every Sunday, the parent chat group would need an update on whether recess was pack-and-play or in the canteen.
No one could quite keep track, especially if one had multiple children in school. Also, please play only in a manner where you are safe distanced and have minimal verbal communications with each other. No singing, shouting or breathing in another's direction.
Son #2 got in trouble once for playing catch, 'But we didn't even touch each other, and we played the 'no speaking' version," protested the nine-year-old.
Then there are children who live for sports and have not been able to play a single basketball or soccer game with their friends.
It dawned on us that our four-year-old has never been to a full-fledged party beyond his baby and toddler years. He's never even known school without a mask, never had unfettered playground time with a huge hoard of classmates or taken part in a big school concert. I suppose this group will not miss what they don't even know.
Children are amazingly adaptable – that much is clear. They need no reminders to wear masks or keep a safe distance.
There is however something they may not be able to adapt to easily - enforced and prolonged social isolation. Globally, 188 countries have imposed countrywide closures, affecting more than 1.5 billion children and young people.
"Particularly for older children isolation measures to contain the pandemic have decreased opportunities to build crucial social-emotional peer relationships," reported The Japan Times.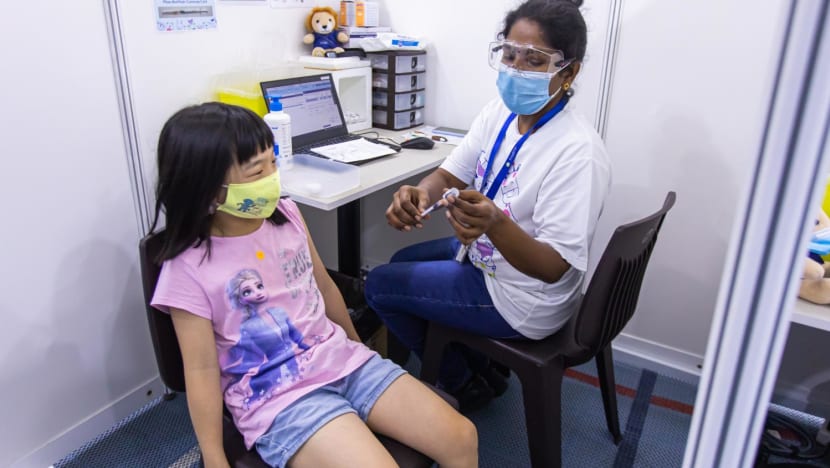 THE MENTAL HEALTH PANDEMIC
The pandemic has taken a serious toll on kids' mental health. An analysis published in JAMA Pediatrics stated that during the first year of the pandemic, mental illness among children and adolescents increased significantly around the globe. Anxiety, worry, depression, fatigue, these are as real in adults as it is in children.
Speak with any child educator or mental wellness practitioner in the space and they will tell you that our children are struggling – they just don't verbalise it as well as adults do.
The Herchinger Report puts it starkly that "over the course of the pandemic, it's been apparent to anyone who works with or parents small children how deeply (a) nation's difficulties have been felt by its youngest citizens.
The National Scientific Council of the Developing Child at Harvard published a white paper back in 2005 that revealed that children's exposure exposed to repeated, ongoing stressors during the first few years of life, a pivotal time of brain development, can cause a lasting impact, even leading to changes in the brain's structure and the body's ability to regulate stress.
UNICEF reports that 99 per cent of the world's children live with some form of pandemic-related movement restrictions; 60 per cent live in countries with full or partial lockdown. Suffice to say, life has been disruptive from school closures to a revolving door of safe-distancing policy updates.
And things are not likely to get better soon. "What COVID has done is … exacerbated the situation for a lot of people such that there is now greater exposure to childhood adversity than before, and it was already high to begin with," says Elizabeth Bachen, professor of psychology at Mills College.
Plans are underway for child vaccinations to start. CNA's Heart of the Matter unpacks the data, the fears and the choice parents need to make:
HEALING BETTER
In Singapore, other than the official removal of exams for a few school-going levels, much still needs to be done to build a better ecology of care for our children. And that scaffolding must go beyond suggesting that our educators need to pitch in more or that there is a reduction of examinable syllabus.
The reality is most schools are still having some measure of tests—even if "unweighted". At critical years, it is still all systems go and business as usual. We expect children to simply adapt at the flick of a switch, but we know it doesn't happen.
This constant eye on metrices like productivity, GDP and even vaccination numbers is limiting. None of the above was designed to assess or account for welfare or the well-being of citizens.
I am not proud to admit that it took a massive fight with my tween about work to make me check myself immensely; reining in my inner Tiger-parent instinct that screamed for me to kick things up into higher gear for my Primary 5 child who has "counted" exams. The person that needed the attitude readjustment was me.
One of the best things I did in the face of this deep, widespread disequilibrium was to admit to my sons that I, too, am finding it hard to feel any measure of sure-footedness in this period of flux.
And we bonded over our mutual admission of feeling tired, unmotivated, disquiet… sian. And instead of telling my children to adjust to the "new normal" I now tell them there is nothing normal about these times. And while we will not indulge in prolonged wallowing, our family will hold space for frayed seams. 
This storm will eventually run out of rain. And maybe, just maybe, in 2022, kids can be free to play again.
Cherie Tseng is Chief Operations Officer at a local fintech company, a mother of three and editor with The Birthday Collective.