Commentary: Harry Potter got a generation of kids reading. No other story can do that today
Two decades ago we were compulsively reading Harry Potter, lugging 600-page tomes to school to thumb through between classes, says CNA's Erin Low.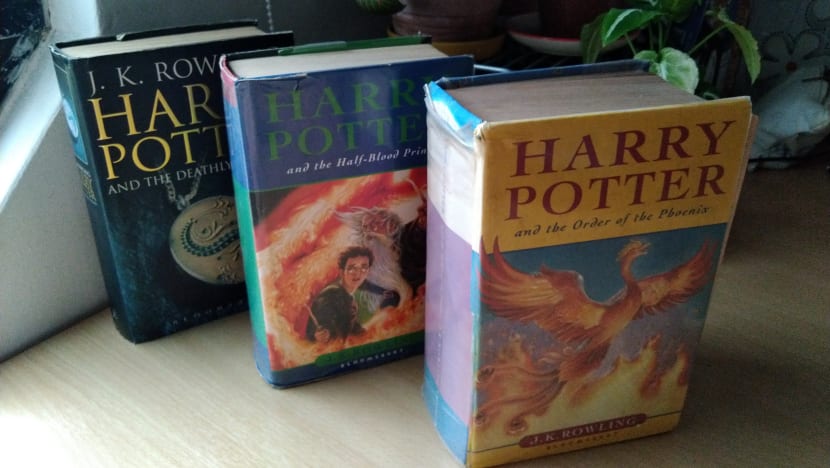 SINGAPORE: "Yer a wizard, Harry."
No more iconic words of initiation have been spoken. They introduced readers to a vast world of magic, seen through the eyes of a then 11-year-old boy.
Those words were also the launch pad of seven novels, eight films, a play, and numerous spin-offs, video games and theme parks.
As the first Harry Potter film turns 20 this year, millennials will fondly reminisce about our journey through the years with The Boy Who Lived.
Whenever a new book arrived, we burrowed into it, excitedly discussed its events, and speculated what will happen next. The film adaptations sated our appetites while we waited.
Once a new book was announced, we badgered our parents to pre-order it. On the day it hit shelves, we waited in line with bated breaths.
Looking back at the analogue way we did all this, it's interesting to think: If JK Rowling wrote and published the novels today, would they have had the same success as they did two decades ago? What about the films?
COMPELLING STORY, CHARACTERS AND SETTING
Harry Potter remains an incredibly lucrative multimedia franchise. It has raked in US$25 billion through book sales, box office earnings and more, beating out other fantasy series like The Lord Of The Rings or A Song Of Ice And Fire (including TV series Game Of Thrones).
Not many contemporary novels – let alone one targeted at children and young adults – have become a worldwide phenomenon like Harry Potter.
Perhaps Harry Potter's universal appeal is thanks to business-savvy publishers and marketers, as well as Warner Bros' heft.
But it could be that it's just that good a story. At its heart is a simple but compelling tale of a young boy pitted against a dark wizard, where good eventually triumphs over evil.
Such a story speaks to audiences young and old, but those of us who grew up with Harry Potter have a special bond with him. We went along with his late-night sneaking around Hogwarts. We saw ourselves in his troubles dealing with vindictive teachers and relationship problems.
And we were in love with his world of spells and potions, mythical creatures, and magical castles and train platforms. These were fleshed out in film. Compared to book-to-film adaptations like Percy Jackson or Eragon, the Harry Potter movies are esteemed for their faithfulness to the plot and strong cast.
The books and films left young audiences with wonder, even a tinge of envy. We dreamed of receiving an admissions letter from Hogwarts by owl.
All this meant we were compulsively reading Harry Potter in the early 2000s, even lugging 600-page tomes to school to read between classes.
I blasted through newly released titles so I could chat about it with my friends as soon as possible. We crowded around school computers to find out which Hogwarts house we belonged in or to watch funny fan-made videos.
Pottermania was a force to be reckoned with then, fuelled by online fan sites such as The Leaky Cauldron. Fans swapped theories and argued which characters would become a couple.
Some even set up Quidditch clubs. The game works like how it does in the books, except players run around with broomsticks between their legs.
HOW HARRY POTTER GOT US ALL READING
Harry Potter is a once-in-a-lifetime publishing feat, so much so that the New York Times in 2000 established a separate children's bestsellers list, because Rowling's novels kept topping the general one.
But the fact that Harry Potter became a collective cultural experience probably had a lot to do with how it was released in an early-Internet age. The fact that the books and films were released once every few years seems unbelievable now.
Children's fantasy series Keeper Of The Lost Cities – parents tell me it's popular with kids in Singapore these days – has steadily released a book a year. And in film, Marvel churns out blockbusters just months apart.
Harry Potter was of a different time. Before TikTok, Discord and iPads, there was less competition for kids' eyeballs. Entertainment was nowhere as decentralised as it is today with social media and streaming platforms, and there were way less screens.
Without that competition, publishers could bank on anticipation to build over the course of years, dropping teasers here and then to kindle the fires of reader enthusiasm.
In an era before over-the-top services, Harry Potter movie premieres were a huge deal. Fans could camp overnight just for a glimpse of the cast.
Perhaps the reason behind Harry Potter's universal popularity involves the circumstances in which we read and watched it. While there are many other multimedia franchises which appeal to diverse audiences – think Pokemon or the Marvel Cinematic Universe – it's hard to imagine another book series being able to command a child's attention today.
And yet Harry Potter didn't actually get more children to read. The US' National Endowment of Arts said in 2007 there was no demonstrable increase in children reading at the height of Pottermania.
Reading among children was already on a long-term, gradual decline. Not even a wizard boy can magically reverse dwindling rates of reading.
But that doesn't diminish the spell he's cast on us who did read the books. In a 2006 survey by the books' publisher Scholastic, 85 per cent of parents said their child showed more interest in reading since Harry Potter, and 76 per cent said it helped their children succeed in school.
THE BOY WHO STILL LIVES
Educational benefits aside, there's no questioning that Harry has, and continues to capture our hearts and minds.
The latest offering, Harry Potter And The Cursed Child in 2016, received more pre-orders than Harry Potter And The Deathly Hallows, the fastest selling book in history. And the former's a screenplay, not a novel authored solely by Rowling.
The franchise is still going strong. Hogwarts Legacy, the first open world Harry Potter game, is slated for release in 2022. Then there's the upcoming special, Harry Potter 20th Anniversary: Return To Hogwarts, which will look back at how the first film was made. In keeping with the times, it will be streamed on HBO Max.
Featuring Daniel Radcliffe, Emma Watson and Rupert Grint, it's bound to be replete with nostalgia.
For those who remember vividly how cute these actors were as children, it'll be a reminder of how much we've grown too. But even as adults, we'll never forget how time and reality melted away the moment we stepped into Harry's world.
And while the series lives on, the magic of the main novels and films is as potent as it was two decades ago. Revisiting them is always like saying hello to an old friend.
Erin Low is Research Writer for the Commentary section. She also works on CNA podcasts Heart of the Matter and The Climate Conversations.