Commentary: With travel down and SHN eased, Singapore hotels need a Plan B
Several new hotels have recently opened or plan to open soon, and the sector expects a boost from domestic tourism and pent-up demand, but NUS Business School's Nitin Pangarkar is not convinced.
SINGAPORE: The tourism sector in Singapore has gone through a brutal two-year period because of the COVID-19 pandemic.
Airlines, especially Singapore Airlines, which has no domestic traffic, and Changi Airport have suffered a steep demand decline, after a record year in 2019.
In the hotel industry, occupancy rates and hotel room revenues have stayed at all-time lows.
For example, in September this year, the best month for Singapore's hotel industry during the year, room revenue was S$75.9 million, versus S$375.9 million in September 2019. The revenue per available room was S$100, half the corresponding figure in 2019.
Crowd-pulling events like the Singapore Grand Prix Formula 1 Night Race, usually held in September each year, were canned.
A few, like the Bloomberg New Economic Forum held in November, are starting to breathe some life back into hotels but represent only an iota of pre-pandemic travel.
BRAVE FRONT
Despite the difficult two years and the continuing challenges posed by new coronavirus variants, the industry is putting on a brave front.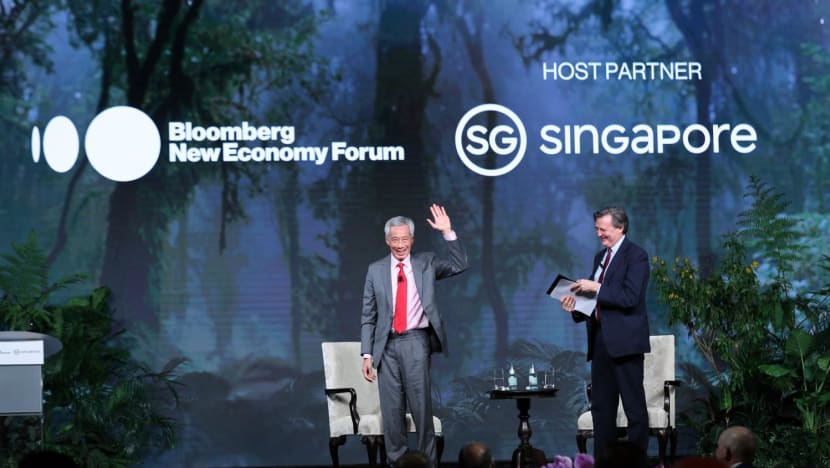 Many industry insiders and analysts are predicting a bounce back in demand to pre-COVID levels in the next few years. Several new hotels, like the Duxton Reserve and the Raffles Sentosa Resort and Spa, have recently opened or plan to open soon.
The reasoning behind these decisions to open new hotels at this time is twofold. First, one needs a significant lead time to open a hotel.
Second, owners of new hotels are arguing that demand in the initial period after opening a hotel is generally soft, and they might as well get this soft demand period over with during the pandemic and be ready to capitalise on the demand rebound, when it happens.
CAUSE FOR SCEPTICISM
I remain sceptical, however, about the optimism in Singapore's hotel sector.
First, as is evident from the events of the past few weeks – when the emergence of the Omicron variant threw many countries' reopening plans out of kilter – a return to normalcy is unlikely to be without speed bumps.
At this time, we do not know how convoluted and lengthy the path to normalcy will be.
Second, the key argument supporting the prediction of a V-shaped recovery in tourism-related services – based on expected pent-up demand – may not hold.
Over the past one and a half years, hotel occupancy rates were shored up by block bookings made by the Singapore Government to house travellers serving stay-home notices and people under quarantine.
As these bookings are wound down in favour of home-based recovery and isolation as part of Singapore's decision to treat COVID-19 as endemic, many hotels will lose this part of the business.
This will negate the positive effect due to pent-up demand if it materialises, which itself is open to question.
Even new rules requiring travellers to recover in hotel rooms if they test positive for COVID-19 will just add marginally to the revenues.
From my perspective, Singapore's inbound tourism is unlikely to bounce back quickly, partly because of the cautious attitudes of the Government as well as the general public towards reopening.
The complex set of policies such as vaccinated travel lanes, daily antigen rapid tests and vaccination-differentiated safe management measures even for simple services such as dining is likely to dampen tourist arrivals.
In my view, asking a tourist for proof of vaccination before he or she sits down for a meal is likely to disincentivise many. Even the MICE (meetings, incentives, conferences and exhibitions) sector, which the Government is keen to promote, is likely to suffer from the above requirements.
Whether potential tourists and MICE attendees will brave these strict policies to enjoy existing or enhanced attractions in Singapore remains to be seen.
While the struggles of inbound tourism may be compensated by domestic tourism and pent-up demand for events such as weddings, I think this boost will be short term.
The Singapore tourism vouchers are unlikely to have catalysed lasting changes in attitudes about staycations and touring Singapore among Singaporeans. While staycations are good for hotels, I am not sure how much of a boost they can provide and whether staycations can substitute effectively for inbound tourism.
SHIFTING PATTERNS OF DEMAND
Analysts and hotel industry managers also may be overlooking an important subtlety in the demand for hotels. Even if leisure tourism makes a V-shaped recovery, it is not at all clear that business travellers will come back in large numbers.
There may be little pent-up demand for this segment. Most analysts agree that a part of business travel will be lost to video-conferencing tools such as Zoom and Google Meet.
With this shifting pattern of demand, it is quite likely that room prices will be softer for the next few years.
Substantial capacity had been added in the few years before the pandemic, and leisure travellers are more price sensitive than business travellers.
NEED FOR ROBUST SCENARIO PLANNING
Hotel finances probably already took a battering over the past two years, since the Government's block bookings were most likely done at discounted prices. This explains why revenue per available room has plummeted by more than 50 per cent.
Hotels may have simply covered their variable costs and made little profit from these block bookings. It may take a while for hotels to repair their balance sheets.
With close to 400 hotels, 69,000 rooms and 27,000 staff (as at December last year) employed in accommodation services, the fortunes of the hotel industry are important to Singapore's economy and the Government.
In March, Workforce Singapore announced a revamp of the Job Redesign Reskilling programme first introduced in November 2019, aimed at reskilling employees and helping them take up enhanced roles.
Reskilling addresses trends such as labour shortage and automation. But it is unlikely to be a solution to a longstanding structural imbalance in supply and demand (especially too much supply) that the pandemic worsened.
Despite the brave front it is putting on, I think Singapore's hotel industry needs a Plan B that goes beyond hopes of a V-shaped recovery and is based on realistic assessments of several possible scenarios.
Knowledge of how government policies will evolve in terms of reopening will be valuable. If the talk about "treating the virus as endemic" is just talk and masks fears about the effects of COVID-19, the hotel industry would need not only Plan B but probably also plans C, D and E.
Nitin Pangarkar is Associate Professor in the Department of Strategy and Policy at the National University of Singapore Business School. The opinions expressed are those of the writer and do not represent the views and opinions of NUS.
Listen to travel experts discuss what's behind hesitant public attitudes towards going abroad amid the pandemic: