Commentary: We're missing the point of this Biden-Xi summit
The meeting has been dismissed as lacking in breakthroughs. But both sides had significant domestic priorities to square off and could have taken a strident tone, says East Asian Institute director Bert Hofman.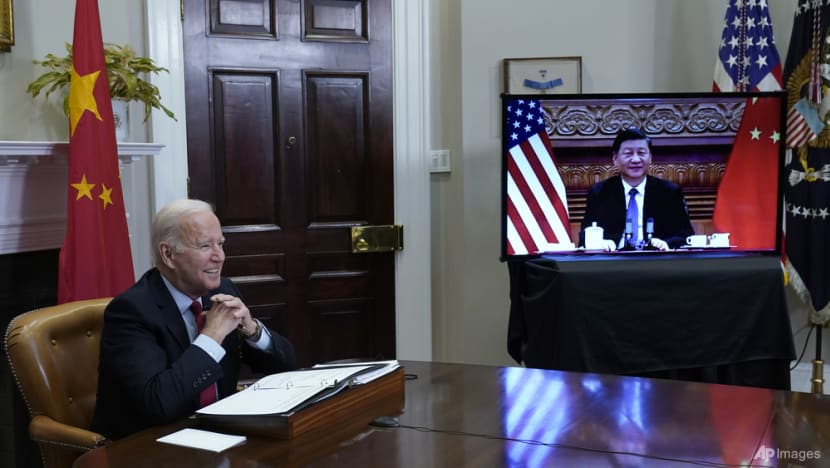 SINGAPORE: The virtual meeting between US President Joe Biden and Chinese President Xi Jinping on Tuesday (Nov 16) was said not to have delivered any major breakthroughs, but this milestone was of great importance to both sides.  
It offered a venue for frank exchange, opened up channels of communications and identified areas of cooperation and concerns. 
In China's views, the meeting was a success: Hua Chunying, spokesperson for China's Ministry of Foreign Affairs tweeted that the meeting had been "wide-ranging, in-depth, candid, constructive, substantive and productive" and helped "increase mutual understanding". 
Xinhua news agency carried a long report that extensively quoted from what Xi had said during the meeting. The White House posted a similar readout of the meeting focused on Biden's remarks.
Both also clearly a domestic audience in mind. US television news showed Biden opening the meeting, whereas Chinese television news showed Xi speaking first. 
It was a longer-than-expected, nearly four-hour long meeting with key officials from both sides present.
President Biden took the meeting along with secretary of state Antony Blinken, national security advisor Jake Sullivan, National Security Council (NSC) Indo-Pacific coordinator Kurt Campbell, NSC senior director for China Laura Rosenberger, NSC director for China Jon Czin and Treasury secretary Janet Yellen in the White House.
Xi Jinping, joined by state councillors Yang Jiechi and Wang Yi, vice-premier Liu He and Ding Xuexiang, director of the general office of the Communist Party of China (CPC), spoke from the same room in the Great Hall of the People where Xi and Biden had held bilateral talks back in 2013, when Biden was vice-president in the Barack Obama administration.
Seven months from a heated Alaska "AnchoRage" meeting that saw a confrontational exchange of rebukes, the positive atmospherics of the Xi-Biden summit have turned the bilateral relationship around and set it on a stronger foundation.
BOTH SIDES SQUARED OFF DOMESTIC CHALLENGES
Pressing domestic priorities on both sides, alongside the challenging logistics due to COVID-19, contributed to a delay in a face-to-face meeting between both leaders.
Biden and Xi, who have known each other for more than a decade, have not met in person since Biden assumed office in January — the longest wait since Bill Clinton met Jiang Zemin in 1993, after 10 months in office. 
This year, Xi Jinping focused on COVID-19 control and the 100th anniversary of the CPC, and the just-concluded sixth Plenum in which he shepherded an all-important "Historical Resolution" that urged nation- and party-wide unity around Xi as the party's core.  
He also needs to soften the ground for the 20th Party Congress next year, where he is likely to seek a third term and has to manage considerable turnover in the CPC power structure.
Biden had to tackle the COVID-19 pandemic, manoeuvre a large stimulus programme and get an infrastructure bill through Congress. 
Internationally, Biden also prioritised restoring relationships with core allies. Over the past year, he reinforced ties with NATO allies, re-joined the World Health Organisation and the Paris Climate Agreement, revamped the Quad and established AUKUS as a new security architecture in the Asia-Pacific. 
With these agendas out of the way, both leaders could meet with a certain level of confidence and sense of achievement. The meeting was timely, as tension between the two countries, at their peak in the final days of the Donald Trump administration, had not disappeared.  
Since Alaska, US-China exchanges have been tense, with deputy secretary of state Wendy Sherman receiving a frosty reception in Beijing in July. 
Wang also made clear in a subsequent meeting with climate envoy John Kerry that climate change cannot be singled out as an area of cooperation amid competition in other areas.
In recent months, China also repeatedly warned the US against forming "small groups" to contain China, in veiled references to the Quad and AUKUS. 
This tone shifted in September after Biden and Xi spoke over the phone, and after Biden's speech at the United Nations in which he said the US did not seek a new cold war.
His remarks were well received in Beijing and may have opened the door to the video summit and a subsequent US-China agreement on climate change cooperation on various issues including methane control at the sidelines of COP26 in Glasgow. 
A SUCCESS IN LOWERING THE TEMPERATURE
The most important outcome of the Biden-Xi meeting was in succeeding in lowering the temperature in bilateral relations. 
Both leaders emphasised the importance of the relationship, responsibility towards the world, and the need for open, frank discussion and good communication. 
The agenda of Tuesday's talk was a full one, spanning security issues such as Taiwan and the South China Sea, Afghanistan, Iran and North Korea, economic issues on trade and technology, and political issues such as human rights, Hong Kong and Xinjiang, with climate change and pandemic management floated as areas of possible cooperation. 
Perhaps the most important statement came from Biden when he reiterated the US's longstanding "One China" policy. 
The White House statement said: "On Taiwan, President Biden underscored that the United States remains committed to the 'one China' policy, guided by the Taiwan Relations Act, the three Joint Communiques, and the Six Assurances, and that the United States strongly opposes unilateral efforts to change the status quo or undermine peace and stability across the Taiwan Strait."
Translated by the Chinese media, this became: "The US opposes Taiwan independence."
According to the Xinhua Statement, Biden also assured Xi that "the United States does not seek to change China's system, does not seek to strengthen alliances against China, and has no intention of conflict with China."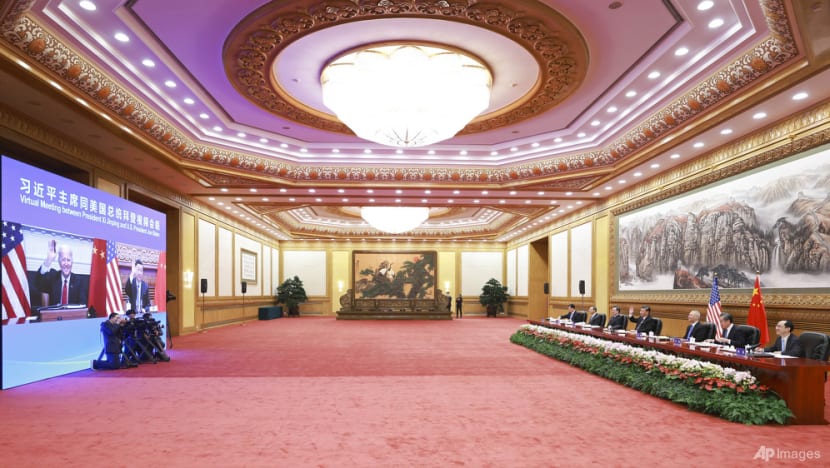 This assurance puts to bed brewing Chinese concerns when Trump administration officials openly talked about undermining China's political system and the CPC.
It also ushers in a new approach: The US is not trying to change China but wants to manage the relationship and speak up on its core values and interests.
The US side will take comfort in Xi's statement that "China has no intention of promoting its own path all over the world. On the contrary, we have always encouraged all countries to find a development path that suits their national conditions," and in Xi's assurances that "reform and opening up" will remain China's policy, implying that there will continue to be business opportunities for American firms.
It was critical that the two leaders of the most consequential nations of the 21st century met. The meeting paves the way for more working-level diplomacy to tackle some issues that have arisen between both sides but not all. 
The larger question is how both sides will steer relations as structural and inextricable tensions between two vastly different economic systems and differing outlook on the international order remain. 
Bert Hofman is director of the East Asian Institute at the National University of Singapore.