Commentary: Boris Johnson resigns, but what and who comes next?
Like everything about his term, the outgoing United Kingdom prime minister's removal and replacement will not be straightforward, says the Financial Times' Robert Shrimsley.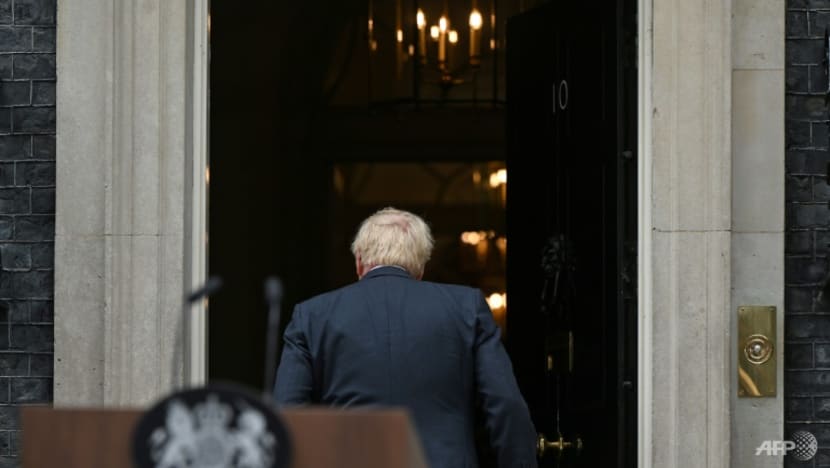 LONDON: In the end even this most unconventional of prime ministers could not defy the conventions of British democracy, though he tested them to the max. On Wednesday night (Jun 6), Boris Johnson's refusal to resign in the face of the total collapse of his authority led some to talk of a Trump moment but ultimately the system won.
His resistance has lasted less than two days. After just under three riotous years, the Johnson era is formally ending.
His grudging and unapologetic resignation statement highlights just how hard he fought to resist the tide. Not until his party made it impossible for him to govern did he finally give way.
But his end also sets the scene for what will be a fascinating contest to replace him, one in which contenders battle both to reclaim and repudiate his legacy.
It is hard to think of a collapse to compare to Johnson's fall. The Conservatives have a Commons majority of more than 70 and no huge ideological split. This early exit is entirely due to his own erratic conduct, the wanton-rule breaking, the dishonesty, the indifference to convention and the lack of concern for the key institutions of British democracy.
Put simply, his Members of Parliament (MPs) no longer trusted him, personally, administratively or electorally.
What is indisputable is this prime minister's historical significance. Brexit is Johnson's legacy and, for good or ill, it is huge.
He can only be truly judged once its full impact on the Union and the economy can be properly assessed. Right now the portents are not promising.
NO MECHANISM TO SHORTEN TRANSITION
But the verdict of history can wait. The key issue now is what next.
Ordinarily, this would be simple. The Conservative party begins the process of a leadership election and Johnson remains in a caretaker role until that is complete. This is the interim position from Downing Street, though his intransigence in the last 24 hours has led some, including former UK prime minister Sir John Major, to question if this is viable.
But there is no mechanism for forcing Johnson to step aside early for a pro-tem leader.
If he did go, the logical candidate for acting premier would be Dominic Raab, the deputy prime minister, who does not intend to stand as leader. This would undoubtedly be the better outcome but it looks unlikely.
So if MPs want to shorten the transition, the best bet is to truncate the leadership contest by changing the rules so the issue is decided by MPs without a ballot of members, which would delay the outcome by several weeks. MPs can do this and they should.
WHO ARE THE CONTENDERS TO TAKE BORIS JOHNSON'S PLACE?
As to the contenders, there will be many. But anyone hoping for a dramatic change should remember that the next leader of the Conservative party is going to be a conservative.
Policy will shift but the party is not about to turn into the Liberal Democrats. Furthermore, such contests push people to the right.
The most obvious front runners are Nadhim Zahawi, the new chancellor, an upbeat Brexit-backing Thatcherite, who appears to have the support of campaign strategist Lynton Crosby; Liz Truss, the foreign secretary and another Thatcherite who disavowed her Remain vote with the zeal of a convert; and Rishi Sunak and Sajid Javid, the two cabinet ministers who breached the dam by resigning on Tuesday. Both are fiscal conservatives but Javid may be disadvantaged as a grudging Remainer.
Penny Mordaunt, the trade minister, Jeremy Hunt, the former foreign secretary, and Tom Tugendhat, chair of the foreign affairs committee, have been preparing hard for this moment. Ben Wallace, the defence secretary, has many fans.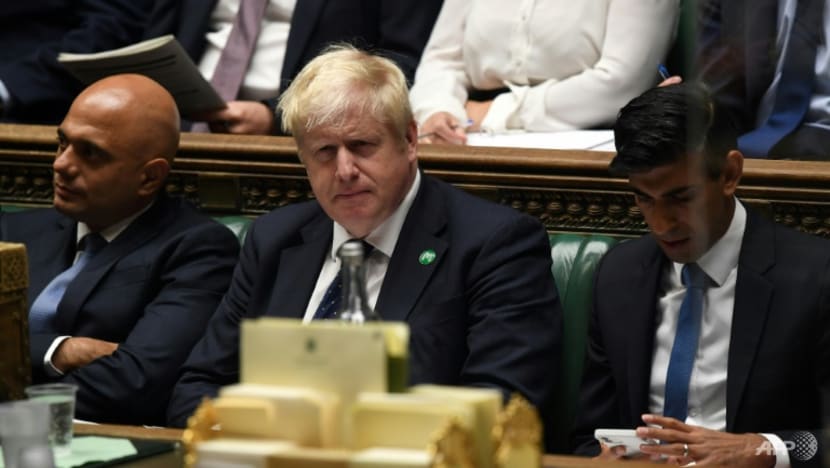 Included in this mix will be a raft of younger pretenders testing their luck. Suella Braverman, the attorney-general and Brexit hardliner, has declared from inside the cabinet, though few in Westminster will bet heavily on her chances.
It is worth noting that there is a high chance the Conservatives are about to elect the country's first ethnic minority prime minister (though some might argue for Disraeli), which would be a remarkable moment.
More important are the dividing lines. No serious contender will resile from Brexit. There may be nuanced approaches between those seeking a more constructive relationship with the EU and those who want confrontation but major policy reverses are unlikely.
But they will also want to show they offer a break from the low standards, chaos, deceit and rule-breaking of the Johnson years. The restoration of standards will also undercut Labour's most potent attack lines. In this case most serious contenders will be an improvement.
OFFERING VOTERS AN OPTIMISTIC VISION IN DARK ECONOMIC MONTHS TO COME
The clearest battle then will be on tax and growth strategies. Many Tories are furious at the high levels of personal and business tax and government spending, forced on the UK by the pandemic.
They argue that this was the departure from true conservative values. This, fundamentally, is what led to the fall in Sunak's standing from his one-time position as heir apparent.
Given the centrality of cost of living concerns to the electorate, MPs will want someone they think can offer voters a convincing and optimistic vision in what are going to be some dark economic months.
Given the importance of newly-won "red wall" seats, contenders will want to show a commitment to delivering the stalled levelling-up agenda and retaining their broad electoral base.
And this is the difficulty because many Tories want a return to lower spending and tax cuts which may run against the retention of that electoral coalition. Today's Tory voters do not want cash-strapped schools or police or an underfunded health or care service.
Linked to economic strategy will be a tussle over net zero climate policy with many on the right wishing to abolish green levies and recommit to fossil fuels. But aside from the moral arguments, elections elsewhere suggest Tories should be wary of straying too far from Johnson's green agenda.
Ultimately, as in all such contests, the winner will be the one who MPs think can restore their electoral fortunes. So the ideal candidate for the party will have a touch of Johnson's star quality but none of his recklessness.
Many have argued that the Tories could still win the next election with a change of leader. We are about to find out if that is true.
Source: Financial Times/ch