Commentary: 'Magic numbers' are clouding the climate debate
The climate crisis has been defined by precise temperature rises and tipping points. Such messaging needs a reset to make it more accurate and relevant to our lives, says Anjana Ahuja for the Financial Times.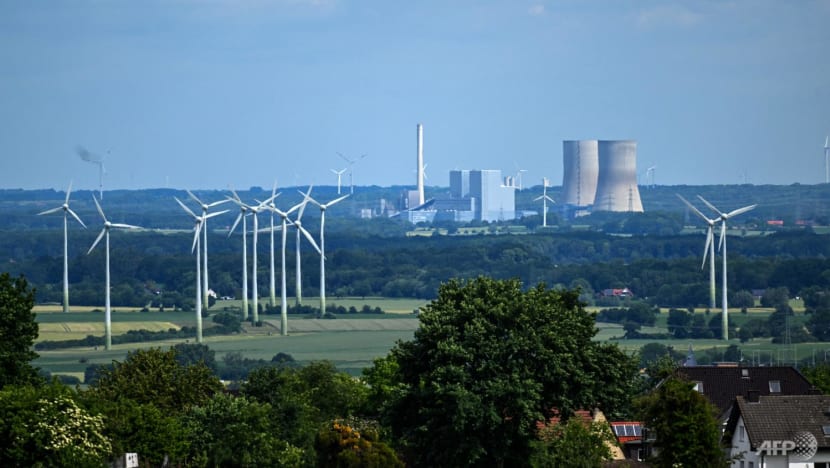 LONDON: Climate change has become an existential crisis of notable exactitude, its parameters mapped out by precise temperature rises, thresholds, deadlines and "tipping points" of no return.
The world should not warm more than 2 degrees Celsius above the pre-industrial average; we have until 2030 to keep the rise in check; Earth has already passed the lower temperature thresholds of five out of 16 tipping points, with potentially ruinous consequences for coral reefs, permafrost and polar ice.
That last finding, revealed in an analysis published earlier this month in the journal Science, deepened the gloom around whether global efforts are sufficient to cap warming fast enough.
But it also elicited a more provocative complaint: That scientists, activists, policymakers and the public have become too fixated on the numbers attached to the climate crisis, for no tangible benefit.
That is the view of Bob Kopp, a climate scientist at Rutgers University in New Jersey. "I worry about (tipping points) feeding this idea that there is this threshold, and below it we're OK, above it we're not," Kopp told the journal, adding that a wrong-headed belief in "magic numbers" could instil a feeling of hopelessness as humanity tiptoes closer to the cut-offs.
Kopp's critique shows that climate messaging needs a fundamental reset to make it more accurate and relevant to our lives.
FEAR DOESN'T DRIVE ACTION IN PREDICTABLE WAYS
Kris De Meyer, director of the Climate Action Unit at University College London, is sympathetic to Kopp's view and is trying to devise a more effective way to use numbers, including an "unusualness index" for unseasonable weather: "Many climate scientists think that if only people were made aware of the problem, even made fearful enough, then they will act, but fear doesn't drive action in predictable ways."
De Meyer adds that "if you draw a line in the sand at 1.5 or 2 degrees Celsius, some people will see it as a line of existential threat and if we go over that, we are in the land of the dragons. In others, it creates a sense that, the closer we get to the boundary, it's too late and we should just give up".
Even the dragon-fearers, he says, do not respond identically. Some will opt for impassioned activism, in the mould of Extinction Rebellion; others may become paralysed by anxiety; some will cope with the threat by rejecting or denying it.
The prospect of overshooting a threshold can also undermine public support for mitigation and increase the clamour for adaptation, including drastic measures such as geoengineering.
Concerns over climate messaging have surfaced before. In 2018, when the Intergovernmental Panel on Climate Change estimated that a 1.5 degrees Celsius rise could happen by 2030, the prospect was quickly framed as "12 years to save the world".
1.5 DEGREES CELISUS IS AN ILLUSORY CLIFF-EDGE
Professor Mike Hulme from Cambridge university, with others, took issue with such "deadline-ism", arguing that "the imagery of deadlines and countdown clocks offers an illusory cliff-edge after which the world heads inevitably to … the collapse of civilisation. The effects of climate change are more likely to be intermittent, slow and gradual".
Fascinatingly, De Meyer is drawing inspiration from risk messaging used in the COVID-19 pandemic, particularly the focus on R, the reproduction number. An R above 1 represents a spreading epidemic; below 1, a shrinking epidemic. That metric was explained and shared regularly with the public, who could incorporate it into personal decision-making.
R reflects an epidemiological reality, he points out, "but with climate, there is no real substance attached to the idea that (a rise) above 1.5 degrees Celsius is disaster and below is safe … 1.5 degrees Celsius doesn't help you to understand why that hot day in April when you went to the beach was an unusual day weather-wise, even though there was no catastrophe".
Together with the wildlife charity WWF and the Quadrature Climate Foundation, he is now exploring several risk metrics, such as an unusualness index, which could be given out on weather forecasts, like UV levels and pollen counts.
Better metrics allow scientists - and journalists - to link abstract climate data with everyday experience, explaining, for example, how Canadian heatwaves last year pushed up pasta prices in the UK.
Another effective strategy may be to swap talking for action. Polls indicated that our risk perceptions during the pandemic were swayed less by actual COVID-19 statistics than by how others, including government, reacted.
Given that ministers are signalling that net zero targets may be ditched in the rush for growth, a decision to abandon action on climate commitments could end up being the worst message of all.
LISTEN - The Climate Conversations: Why Elon Musk called PM Lee about my Tesla car
Source: Financial Times/el