commentary Commentary
Commentary: In high-rise Singapore, take a risk-based approach to fire safety
Responsibility for fire safety should not be limited to engineers and architects alone, two experts from the National University of Singapore's Department of Civil and Environmental Engineering argue.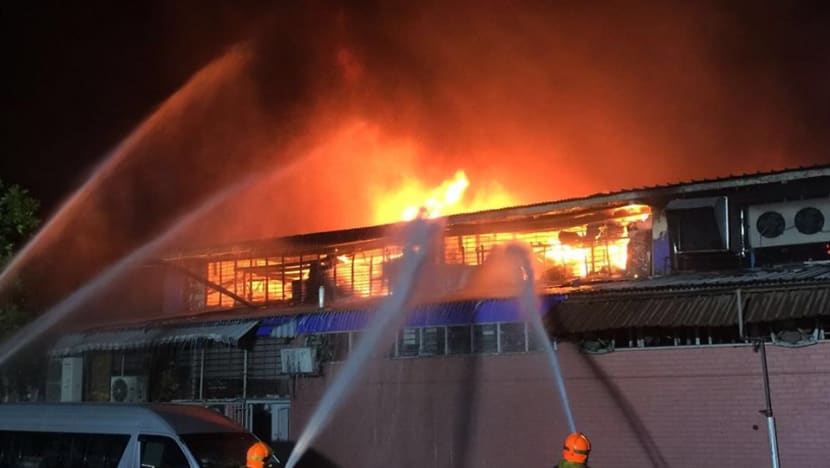 SINGAPORE: Fire safety has dominated discussions following news reports of the fire at an industrial building at 30 Toh Guan Road in Singapore.

It also wasn't that long ago when an incinerator that caught fire in Tuas got Singaporeans concerned about fire safety issues.
Whether it's said or not, the fire that hit high-rise Grenfell Tower in London and killed 79 also certainly had a psychological impact on urbanites all over the world living in densely packed cities. The discovery that the residential block's newly installed cladding may have aided the blaze's intensity and impact have only added fuel to the flames.
While conformity to safety standards is indisputably important, one also wonders, is it possible to be completely safe?
Our view is that engineers and architects have a responsibility to abide by regulations, but even such rules surely have to allow for an acceptable level of risk, so government regulators, architects and building managers need to take a risk-based approach to fire safety.

Beyond that, the onus is on every individual to account for his or her own safety.
THE ARCHITECT'S DILEMMA
Fire safety will always be a critical area of study and practice for researchers and engineers working on building the next major housing development, or the next downtown office block.

Adherence to Singapore's Fire Code is mandatory and there are stringent fire safety standards for construction materials, but it remains a very tight balance between the safety margin, construction costs and the comfort of occupants when it comes to building maintenance.
Take for instance the fact that buildings installed with water sprinkler systems can suppress more than 90 per cent of fire accidents. But many developers do not install these given their high maintenance costs.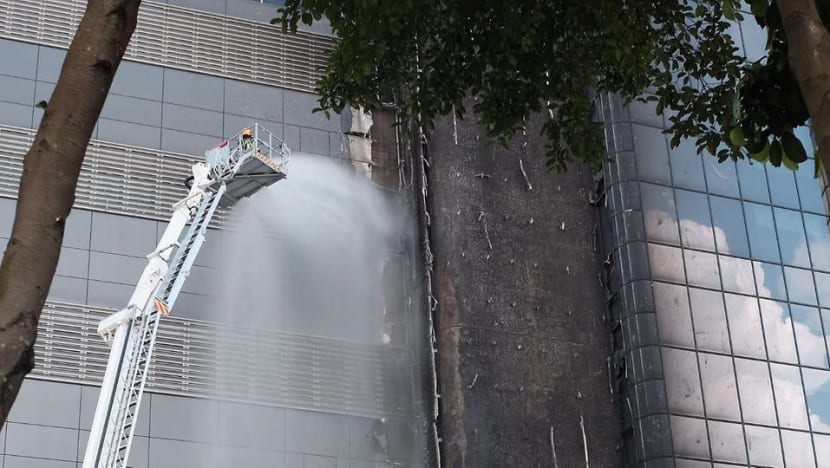 Adding to the challenge is how diverse Singapore's buildings are becoming – just look at the varied landscape when you next take a drive through central Singapore. Ensuring the safety of the occupants of these glass-walled, cylindrical, or interlocking buildings is no straightforward matter.
Building codes are often prescribed based on long-past historical events and experience, and even with regular updating, may sometimes fail to keep pace with innovations and trends in design.

Pre-fab construction has been widely adopted in Singapore, including by the Housing Development Board. 

Yet, when the modular units are put together, a void is created in between units, to allow for electricity and air-conditioning circuits. This void, unfortunately, could also potentially facilitate the spread of fire. 
Many buildings have concave facades in sunny Singapore, to diffuse sunlight and reduce heat levels for its occupants but flames spread faster in such structures.
Glass facades may also contribute to a glittering skyline, but these are the weakest points of a building that can break easily in the event of a fire, significantly accelerating its vertical spread.
Historic sites and heritage buildings may add colour and vibrancy to Singapore streets. But because they were constructed decades ago, measures must be taken to update their structures to keep pace with new regulations.
There is no way around this, but to make increased efforts to update and pre-empt fire safety issues, and leverage new risk-assessment tools. Even the Potala Palace in Lhasa built in 1645 has had reinforcements of fire retardant material added in recent years.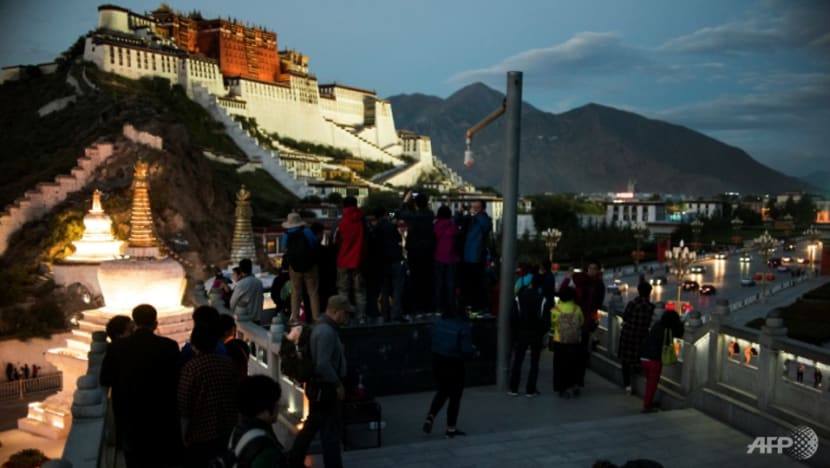 As surely as we will not stop designing the next most elegant, modern skyscraper or tear down old buildings just because fire safety standards have shifted, these examples show the trade-offs we need to make in the effort to secure high-rise buildings in Singapore.

In particular, we should also take care to prevent regulations from becoming overly stringent, imposing unnecessary costs or constraining innovation.

Fire safety guidelines regulate the size of spaces in a building to contain the spread of fire. But several countries including the UK, Australia and New Zealand are adopting performance-based designs, fire simulations and engineering solutions that take a risk-based approach, allowing for innovative design to flourish.
More is not always better, so regulations would benefit engineers if they could target areas of high risk instead of aiming to be comprehensive. As we fire engineers like to say, buildings codes make buildings legal; they do not make them safe.
THE GOVERNMENT'S OBLIGATION
The "zero-tolerance" approach the Singapore authorities have taken in identifying buildings with external cladding that failed to meet fire safety standards should be the norm, and is a good place to start in periodically reviewing past regulations and its adherence in areas of high risk to public safety.

Places with high human traffic such as airport and railway terminals, tunnels and shopping malls should warrant particular scrutiny.
Moving forward, building managers must be responsible for adopting a systematic approach to fire safety, marrying fire prevention measures with fire damage control strategies that fire safety managers should be placed in charge of.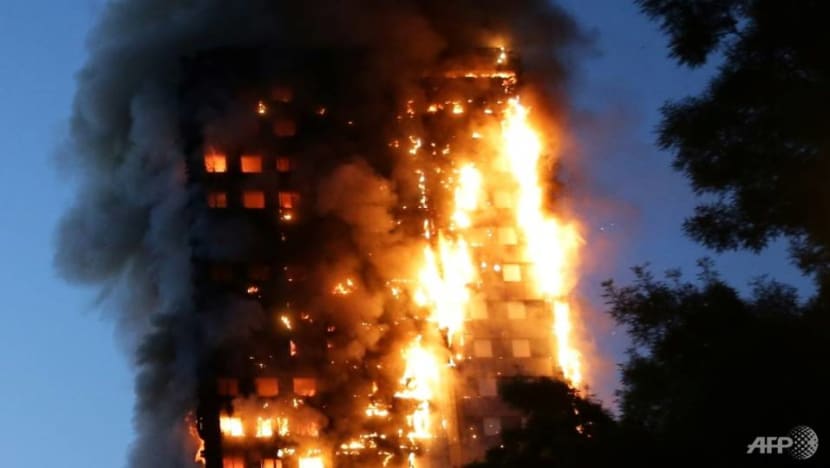 Passive fire protection measures, such the use of fire doors, compartmentalises a fire to curb its spread and protect the building's integrity.

Active fire damage controls such as the installation of automatic sprinklers in the building or having fire extinguishers readily available on all floors will also be key. Maintenance of these is important to ensuring readiness in times of emergency.
Fire safety guides should also be more widely disseminated, to educate building occupants on fire prevention, suppression and efficient evacuation procedures. Mandatory fire drills that are already conducted once or twice a year may also go some way to help Singaporeans build awareness.
THE INDIVIDUAL'S RESPONSIBILITY
Yet, fire drills and fire safety pamphlets, whether they are distributed electronically, slotted into mailboxes, or stuck on noticeboards can only do so much -  the ultimate responsibility of ensuring one's safety falls to the individual in the event of a fire.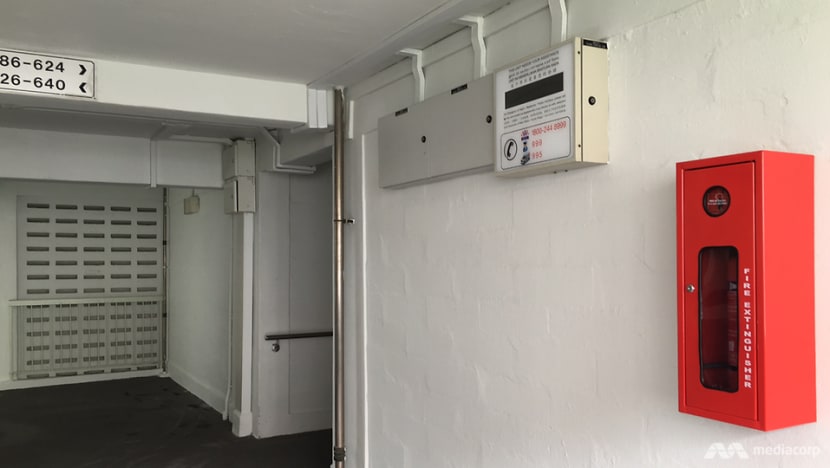 The fire that engulfed a high-rise building in Shanghai's Jing'an district in 2010 illustrates a poignant lesson.
A young couple who lived on the fourth floor who seemed to have ignored the fire alarm thinking it was a drill perished in the fire, yet an elderly couple who resided on the fourteenth floor and decided to evacuate immediately survived.

Safety measures and precautions may seem irrelevant, caught up as we are in our everyday routines, where danger seems so far away. But they could help us beat the odds.
One should not underestimate the importance of knowing where the nearest fire exit is located or how to deal with smoke when escaping a fire. In the end, the ability to assess a situation, and the presence of mind to act decisively stem from prior familiarity with safety measures.
Further, while it may be the furthest thing from one's mind when looking into the purchase of a home or rental of an office space, it would also be prudent to enquire about the safety standards of your building.
When it comes to matters like these, it is better to be safe than to be sorry. This is not the time to fear being labeled kiasi.
Dr J Y Richard Liew is a professor at the Department of Civil and Environmental Engineering, National University of Singapore. Dr Yu Wang is a research fellow in the same department.