commentary Commentary
Commentary: How we nurture children hasn't changed, even if tools have become digital
Technology-facilitated learning is more than a smart device chock-full of educational video games. The principal of Ramakrishna Mission Sarada Kindergarten looks at the possibilities.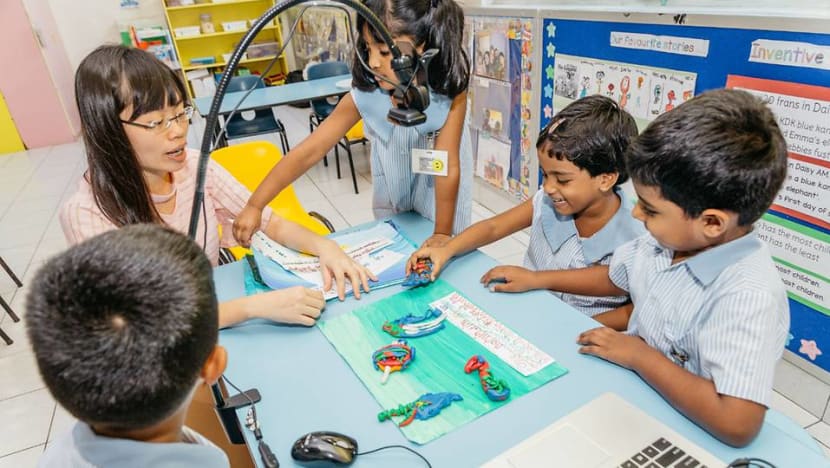 SINGAPORE: Today, it is not uncommon to see iPads or mobile phones deployed as "babysitters" or for young children to use apps and smartwatches to make cashless payments.

For some, this is seen as a threat to learning through play or sensorial experiences, values or behaviour.
However, this is the reality of our increasingly techno-centric world. As Singapore strives to become a Smart Nation, the question is not whether technology is good or bad – but how we can use it meaningfully.
For educators, it means coming to terms with the fact that it is here to stay and exploring how we can maximise its potential as a learning tool to set the right foundations for our children.
We should not be going digital for the sake of it, simply because it is now the new norm. Instead, I firmly believe that digital technology can be leveraged to enhance the very process of learning.
It is common to hear parents express pride in their child's tech-savviness – so many children are "very good" at knowing where to click and how to zoom in or out on computers and mobile devices.

This is well and good, but what about their child's ability to interact well with his or her peers? Does he or she take turns? Can he or she think creatively or solve problems innovatively?
These are important life skills that we should focus on, especially in early childhood. Even as we teach children the digital skills the 21st century demands, we must do it in a way that empowers them, and in concert with learning and building positive behaviours.

Helping children develop a healthy relationship with technology at a young age will better ensure they use it wisely and not be used by it.
INTEGRATED, ENGAGING LEARNING
As educators, we must be mindful of these objectives. Technology in the classroom should only add to the learning experience.

It should provide new means to give children the chance to exercise executive functioning, such as focus and self-control, communication, critical thinking and being self-directed, among others. It should also facilitate ways for children to interact with each other, and not just with a faceless technology platform.
Whatever tools we use in the classroom, we always need to ensure that it gets our children thinking, discussing and questioning.
One approach we have found to be useful in integrating technology meaningfully into the curriculum is teaching pre-schoolers how to make animated films.

Over the last two years, K1 and K2 children at our kindergarten made their own stop-motion animated films. They develop their own story, build the props and characters, shoot the film and refine the storyline.
Technology may be integral to this process, but their learning extends far beyond animation.
As they make their films, the children build a wide range of complex skills without even realising it. They enhance their language skills, develop creativity and exercise analytical thinking in a fun and engaging way.
At every step of the process, whether they are discussing the storyline, or who makes the props or goes next to take a photo for another frame in the story, they learn how to negotiate, delegate tasks and work collaboratively.
In making their film photo by photo, frame by frame, children experience delayed gratification, develop emotional intelligence and learn patience.

This is experiential, integrated, value-centric learning in practice, greatly facilitated by – but not narrowly focused on – digital technology.
NURTURING TECH-SAVVY EDUCATORS
For programmes like these to succeed, early childhood educators must possess the right skills. Again, I am not talking merely about being good with technology, but knowing the right way to use it to enhance learning.
Even as teaching becomes more digital, the educator's touch remains central – perhaps becomes even more so.
The educator's deliverables are changing. As we increasingly recognise the importance of letting every child find his or her own way, the educator's role in facilitating learning cannot be understated.

They need to ask questions to trigger critical thinking and prompt independent thought. It is just as much about knowing when to step in as knowing when to step away so that our children can work things out on their own.
This means educators need to be more critical observers, focused on each child's learning styles and strengths, and acutely aware of his or her character and behavioural traits.

As children learn, the educators must learn too – forming new insights about the children they are responsible for and using these observations to inform better ways of imparting knowledge.
Thus, to enable the best use of technology in the classroom, educators have to arm themselves with a growth mindset, and embrace learning about technology with the perspective of using it to change pedagogy.
We must understand that welcoming technology into our classrooms does not mean we do away with crayons and markers and paint, or the impulse to exercise creativity and expand our imagination that these old tools allow for.
Instead, technology simply broadens our scope, giving us a bigger palette from which to choose from. 
There is a time and place for both tablets and robots, and origami and paint in our classrooms.

It is critical that we have affinity with as wide a range of teaching materials as possible, to prepare our children for a colourful life of learning ahead.
Ms Narayanasamy Pushpavalli is the Principal of Ramakrishna Mission Sarada Kindergarten. She is also one of the Early Childhood Development Agency (ECDA) Fellows, who are pinnacle leaders in the early childhood sector, individuals with rich experience and deep expertise. Ms Pushpavalli was also awarded the SkillsFuture Fellowship in 2017.
​This is the ninth commentary in CNA's series on learning and education.

Read the first commentary on whether Singapore schools should adopt digital textbooks here.
Read the second commentary on how Singapore teachers should manage issues on race in the classroom here.
Read the third commentary on whether our young need expensive enrichment classes here.
Read the fourth commentary on the struggle parents face in choosing a good school for their child here.
Read the fifth commentary on the role parents must play in their child's pre-school years here.
Read the sixth commentary on whether passion and patience are sufficient qualities of an ideal pre-school teacher here.
Read the seventh commentary on whether private higher education is a 'second chance' option in Singapore here. 
Read the eighth commentary on why teachers should sensitise kids at a young age about racial harmony here.