commentary Commentary
Commentary: Technology makes surgical care a reality in distant lands
Video conferencing technology helps us provide critical post-surgery follow-ups to remote parts of the world, say two observers from non-profit organisation Operation Smile.
SINGAPORE: Every 3 minutes, a child somewhere is born with a cleft lip or palate, a fairly common condition affecting 1 in every 500 to 750 newborn infants.

If left untreated, children with cleft conditions can suffer from difficulties in feeding, malnutrition, frequent ear infections leading to hearing loss, speech impairment, social isolation and bullying.

They face higher mortality rates due to higher risk of infections. Their family members are also burdened with the extra care that a child with the condition would require.

In the developed world, cleft lip is an easily treatable condition requiring only a 45-minute surgery, of which the cost is typically covered by insurance. The relatively affordable and easily accessible procedure means that most affected infants would have undergone this simple surgery during early childhood.

The reality however is starkly different in lower-income, rural communities in developing countries, where safe surgery is not an option due to the lack of proper medical facilities, a dearth of qualified medical professionals and limited financial resources.

According to the World Bank, 5 billion people or two-thirds of the global population lack access to safe and affordable surgical care, and only 6 per cent of surgeries performed worldwide every year reach the poorest third of the global population.

That means there are hundreds of thousands of untreated cleft lip patients out there who are bereft of the ability to express a basic human emotion with a smile. As we commemorate World Smile Day on Friday (Oct 5), most of us do not realise that for some, smiles do not come easily, in a literal sense of the word.

HARNESSING TECHNOLOGY FOR HOPE

At Operation Smile, we hope to bridge this gap, one smile at a time. Since 1982, we have been making inroads by extending medical missions to remote corners of the world, performing pro bono cleft lip reconstructive surgery for 270,000 children in villages and rural communities.

If you do the math, our work is far from done as there remain many more children out there who need surgical services. To this end, advancements in technology hold plenty of promise in amplifying our reach on a scale like never before.

However, technology is no silver bullet that we can easily load into our armoury as we tackle the barriers to universal healthcare.

While the possibilities of telemedicine are exciting, we cannot unleash the full potential without widespread internet connectivity, and many of our patients and volunteers live beyond the proverbial last mile of a reliable internet connection.

This means that deploying telemedicine must take on a creative and comprehensive approach in considering how to connect the disconnected to medical care. This includes public-private partnerships with companies, private and state-run telecommunications providers and government agencies who share a common vision.

HOPE IN A FULLY CONNECTED FUTURE

Although we cannot possibly connect to all patients in every remote village until the entirety of the globe is connected via internet, we can narrow the gap and explore avenues to bring post-surgery care closer to them.

Together with unified communications solutions provider Polycom, we are conducting a pilot programme in Morocco where post-surgery speech therapy and check-ups will be conducted remotely via video-conferencing.

Instead of travelling miles to a major capital in order to gain access to care from specialists, patients from rural areas can travel to an Operation Smile centre nearest them, alleviating the financial burden imposed on patients and their families for long-distance travel.

The technology also allows us to train local medical officers or medical volunteers who are closer to the patients and collaborate on crucial activities such as mission planning and execution, impact analysis, quality assurance, medical oversight and even fundraising strategies.

This streamlines the mission planning process, bring about copious time and cost efficiencies and widens access to ancillary health services such as child life psychology and nutritional counselling. 

It also enables us to connect with supporters in real time. While the before and after photos offer visually compelling reminders of the impact of the surgeries we provide, there is magic in directly experiencing it by meeting patients and their families.
Recently, we used video conferencing technology to "transport" several hundred supporters and prospective donors at a fundraising event in New York to our centre in Bogota, Colombia where they were able to meet an infant patient, his anxious parents and the surgeon volunteer who would that evening heal their child. This simply is not possible without high quality video.  
We are also exploring using this same technology to connect surgical experts with unique expertise to operating rooms worldwide, especially for complex cases that may require their input, but logistics do not allow them to be physically there.

In addition to unified communications technology, we are experimenting with emerging technologies such as artificial intelligence by leveraging facial recognition and modelling to streamline facial symmetry analysis for post-surgery evaluation.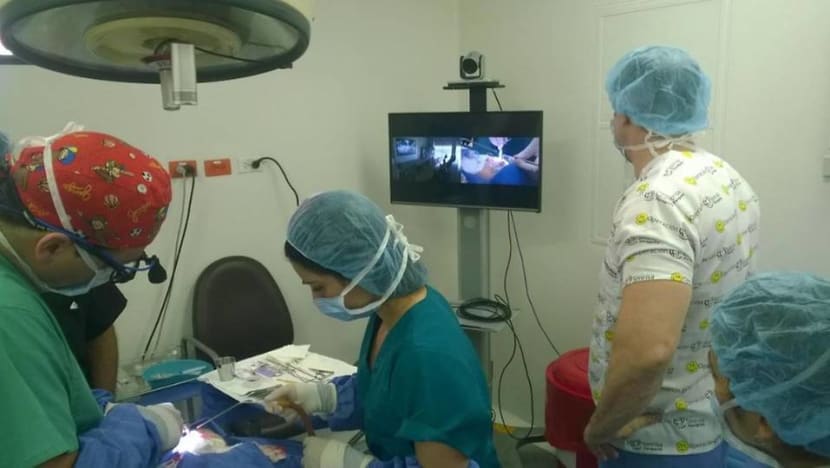 Pilots are also underway in the Philippines, Brazil and Ghana to use mobile apps for locating and recruiting patients.

All these paves the way for future scale in bringing essential treatment to more beneficiaries. 
Technology, we believe, can provide that unique force multiplier that when combined with a dedicated and passionate medical volunteer workforce, will enable us to reach even more patients, bringing additional life changing surgery to tens of thousands of patients in the next five years.

FACING THE FUTURE WITH A SMILE

No one should have to live with the burden of an untreated cleft lip or cleft palate. A simple procedure to repair the cleft can lead to huge improvements in the child's quality of life and future development.

And the benefits go beyond the individual – not only do treated patients experience higher lifetime individual income, they in turn are able to contribute actively to the economy.

One more smile won't change the world, but World Smile Day's vision to encourage individual acts of kindness can make it a better place.

Likewise, technology will not end all the world's healthcare problems tomorrow but deploying it in small and effective ways can narrow the access gap and bring us one step closer to achieving universal healthcare.

Chris Bryant is Senior Vice President, Enterprise Applications and Technology and Viet Nguyen, Vice President for Development, Asia Pacific, both from Operation Smile, a non-profit organisation that provides free surgeries for children and young adults with facial and dental deformities.