commentary Commentary
Commentary: Is there an arms race among navies in Southeast Asia?
In the region's quest for more modern fleets, one expert finds that navy modernisation may be motivated as much by external threats as domestic considerations.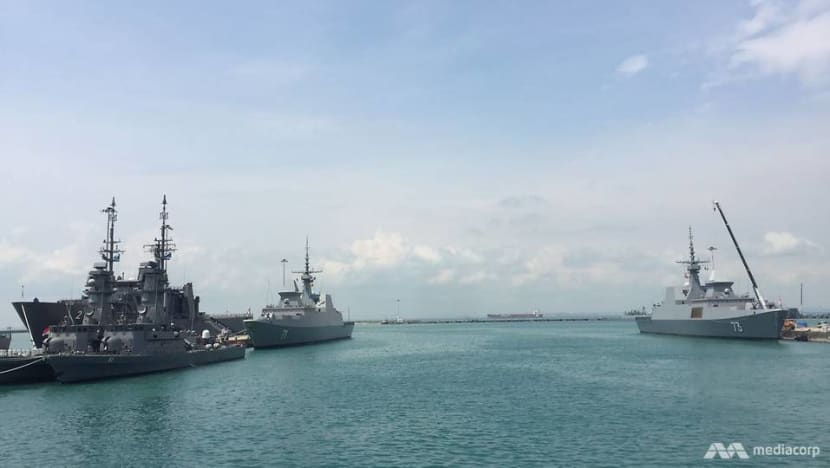 SINGAPORE: Yesterday marked the Republic of Singapore Navy's 50th anniversary. How far this small navy has come since its humble beginnings. It has transformed into a world-class fighting force that safeguards critical sea lanes and cooperates with the most modern navies from all over the world as an equal. It is a rallying point for Singaporeans who have something to feel proud of.

But does the Republic of Singapore Navy's success breed jealousy and contempt, or worse make other countries feel insecure?
TEMPTATION TO USE MILITARY FORCE AS COUNTRIES BUILD UP NAVAL ARSENALS CAN BE HIGH
Discussions about Asia-Pacific naval modernisation often revolve around whether ongoing acquisitions constitute an arms race. This is in no small part inspired by past historical antecedents such as the Anglo-German naval arms race before World War I. Will actions to increase a country's security through growing its naval strength and upgrading its weapon systems lead to other countries to respond with similar measures and inadvertently produce higher tensions that can create conflict, even when no side really desires conflict?
As countries build up their naval arsenals, the temptation to "explore all options" and use military force to achieve political objectives can be high. So experts are rightfully worried whether we're on a cusp of another major conflict, having seen the results of an arms race from 80 years ago. Most wonder as navies today build up even deadlier arsenals, will there be anything left after an all-out war?
Even if we discount the possibility of large-scale warfare, the costs of a small exchange can be significant. In our part of the world, all the more so, competition among countries and their navies can be motivated by territorial disputes in the South China Sea for instance. Many wonder, when tensions are high, a misunderstanding occurs and a small skirmish breaks out, will the men on the ground be able to back away from a bigger fight? Will countries be able to restrain themselves from taking strong shows of force?
Against this backdrop, understanding the motivations behind naval modernisation can provide insights to more accurately assess the risks and consequences of an outbreak of hostilities. For if countries purchase advanced weaponry because of a threat perception, then they are all the more likely to use these weapons when that perceived threat emerges.
If we cast our eye to Southeast Asia, we find that the story isn't that straight-forward. Most experts would agree that the spate of acquisitions here in recent decades actually do not amount to an arms race. But there is certainly a competitive element to it. Threat perceptions is a traditional motivating factor – but not for all regional countries.
So what exactly motivates Southeast Asia countries to modernise their navies? And the unspoken question which no one asks is who are their forces aimed at? Who are they afraid of?
SURPRISING DRIVING FORCES AT WORK – NATIONAL PRESTIGE FOR ONE
China's phenomenal naval build-up, as seen in the recent launch of its latest, home-built aircraft carrier, may be viewed as a direct threat by some Southeast Asian countries, especially South China Sea disputants who may need to consider the prospect of a military confrontation with Beijing over those claims. 
For most, China's naval build-up must be considered for reasons of strategic prudence even if China does not pose a direct military threat. Navies often think about evolving geopolitical uncertainties and the range of conflict scenarios they may be involved in when it comes to deciding which weapon systems to buy, even if they do not intend to get involved. Such a defensive motivation is common to modern professional navies.
For many, it could be a matter of keeping pace with technological trends. A country's purchase of a certain state-of-the-art warship may prompt its neighbour to consider an equivalent purchase – not necessarily because it feels threatened per se by that country, but because of the general danger of falling behind, which may have national security implications.

So on one hand, navies have to keep up with a baseline that is constantly moving up – for they surely cannot bring a knife into a gun fight. But there are also deterrence considerations. If navies keep pace with each other's modernisation, then it means that no one really has an advantage in a fight, so the likelihood of an armed exchange breaking out is lower.
National prestige may constitute an associated factor in this regard, especially when one considers that a warship serves as a symbol of national sovereignty. More often, it goes beyond sovereignty, representing the country's overall modernity, technical maturity and wealth. A modern navy can be a sign that the country has arrived, entered the big leagues and therefore the right to a say on international affairs.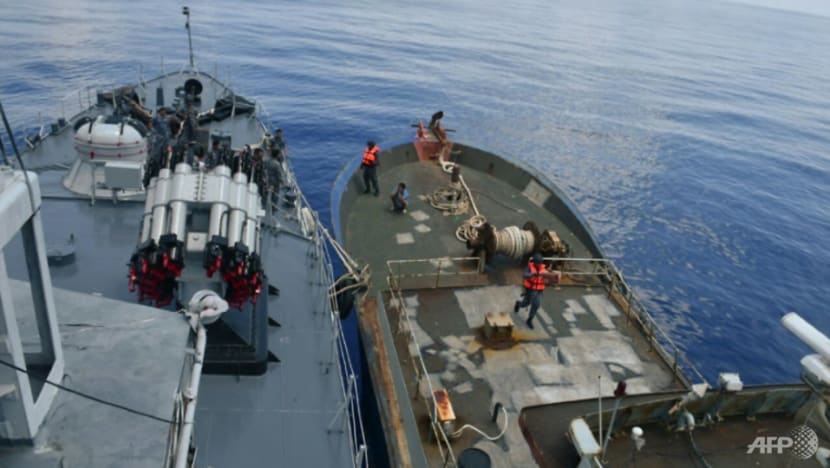 There is also as much a domestic as an external dimension to that – it symbolises an incumbent government's resolve to safeguard the country's interests in the eyes of its domestic constituents. This is an often overlooked point. Southeast Asian ruling elites derive political legitimacy not just through addressing bread-and-butter issues but also safeguarding national maritime interests against external predation.
Leaders of big, rapidly growing economies will also be motivated to "show and tell" and demonstrate that they have been able to build a modern navy with the commensurate wherewithal to protect their country's sea trade and other maritime interests. The narrative such leaders desire is, "the world is a dangerous place but I have shown that I can protect you".
At the end of the day, one may conclude that a whole range of driving forces underpin naval modernisation in Southeast Asia – which is a nuanced but admittedly boring premise. The consequent implication is that the risk of a naval conflict is seemingly low. Those predictions about competitive dynamics spiralling into armed confrontation had been most prevalent in the 1990s, when regional governments were mired in outstanding maritime disputes. 
Context is indeed important in this assessment. While not a predictor of whether conflict will break out tomorrow, today's Southeast Asia has been comparatively peaceful for a few decades now. Interstate disputes have been addressed in a peaceful manner, for example the dispute over the Ligitan and Sipadan islands between Indonesia and Malaysia. Various confidence-building and practical security cooperation mechanisms have emerged – though whether they can be effective remains a matter of debate because they have not been put to the test.
QUEST FOR MODERN FLEETS COMES AT A PRICE
Meanwhile, Southeast Asia will continue to induct new naval armaments. Compared to the rate of acquisitions seen in the 1990s and the early-2000s, the region has seen naval procurement enter a steady state. In recent years, naval modernisation here has been characterised more by incremental, qualitative enhancements to existing force structures. There are a few reasons for this.
First, major recapitalisation effort was already largely undertaken in the 1990s to early 2000s as Southeast Asian navies sought out more balanced capabilities that allow their governments to address maritime challenges across the peace to war spectrum, and across the operational spectrum – aerial, surface and sub-surface. In short, they needed different kinds of weapons to deal with different kinds of scenarios. This is a sensible strategy, just as one mortar bomb will do nothing for you in fending off a robbery.
So it was during this period that Southeast Asian navies acquired various kinds of assets, for instance missile-armed corvettes and frigates, large amphibious crafts and submarines. An observable pattern is that new vessels brought into service since the 1990s have become larger, though not necessarily more numerous. After all, a modern warship is increasingly expensive to operate and maintain. So perhaps there is some truth to the theory that naval modernisation is motivated by "face" – to show that the big ships can protect big national interests to countries where form is more important and usually more effective than substance.
Fewer numbers, but with each platform being more multi-functional has also become the order of the day. For Southeast Asian navies are small to start with in the first place, and they would strive to keep existing assets in service for as long as possible, given the constraints of a limited defence budget.
It is therefore no surprise that practicality and prudence considerations hold large sway in most naval modernisation plans. A warship's service lifespan averages about 20 to 30 years – even longer with proper maintenance. Many of those platforms bought in the 1990s and early 2000s have appreciable lifespan left, so their users will continue utilising them by upgrading their capabilities to cope with evolving threats. While inducting new Littoral Mission Vessels for example, the Republic of Singapore Navy has also modernised its missile corvettes and mine countermeasures vessels bought in the 1990s.
This is a trend observed not just in Southeast Asia, but also elsewhere in the world especially in Western and Northern Europe. As naval technologies become increasingly expensive, shrinking fleets with fewer but larger and more multi-functional vessels have become a norm for now and in the foreseeable future.
NAVIES HAVE TO COMPETE WITH MARITIME LAW ENFORCEMENT AGENCIES FOR FUNDING
A second reason for why naval modernisation has been largely incremental is because some Southeast Asian governments do not just finance the build-ups of their navies, but also a range of other state agencies. Since the early 2000s, there has been an expansion of maritime law enforcement agencies in the region to better deal with maritime scenarios which do not necessitate the use of heavily-equipped warships, which could be less cost-effective compared to less-capable coastguard-type vessels. Indeed, these agencies operate smaller vessels to tackle domestic maritime law enforcement issues including smuggling, illegal dredging and unauthorised anchoring.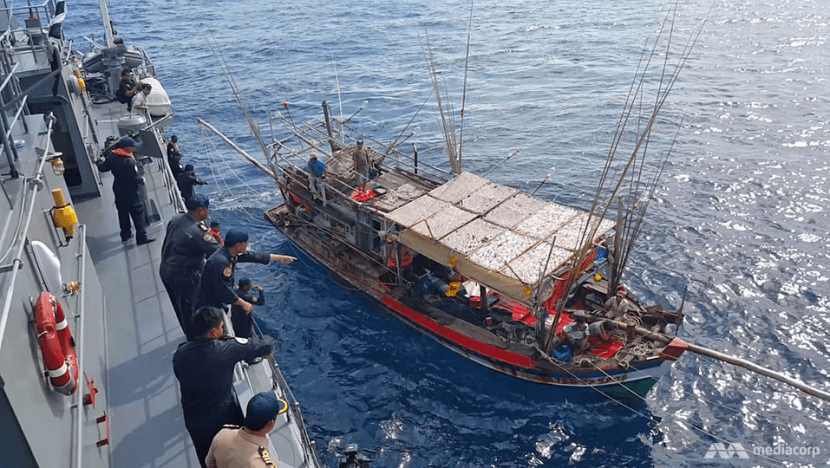 Yet the delineation of duties between navies and maritime law enforcement agencies is not always so clear cut in Southeast Asia. Some regional navies seek to relinquish their maritime law enforcement functions to the newly-formed maritime agencies while keeping its primary warfighting functions. However, many of them continue to perform peacetime constabulary roles against elements such as pirates and illegal fishers. 
The Malaysian Maritime Enforcement Agency (MMEA, also lately known as the Malaysian Coast Guard) is one such example. The fleet was initially built using assets transferred from various agencies, including the Royal Malaysian Navy. But the MMEA continues to suffer from capacity shortfalls that prevent it from fully enforcing the vast Malaysian maritime zone. One recalls that it was the navy not the MMEA that first responded to the reported Chinese coastguard incursion into the South Luconia Shoals in September 2013.
The MMEA's Indonesian and Vietnamese counterparts also face enormous challenges in addressing their capacity shortfalls. They similarly often must compete with navies for funding. And when they have to do so, there is a possibility their mission might be to show value to their financial masters than enforcing the law per se. So they might be incentivised to demonstrate a show of force against incursions, further blurring the lines of responsibility with their navies. One hopes this does not generate a competitive dynamic between these agencies.
BIGGEST CHALLENGES TO SOUTHEAST ASIA NAVIES MAY BE THOSE YOU DON'T FIND AT SEA
Arms race, competition or any other way of characterising the build-ups notwithstanding, Southeast Asian governments look set to persist with the parallel developments of navies and these coastguard-type agencies even as some of them endure fiscal challenges.
In the process, they will clearly face the multifaceted pressure of maintaining and updating small though more balanced and shrinking navies while also expanding their coastguards to cope with a myriad domestic and external security challenges – not necessarily just those confined to the seas.
Koh Swee Lean Collin is a research fellow with the Maritime Security Programme at the S. Rajaratnam School of International Studies at Nanyang Technological University.