commentary Commentary
Commentary: Realisation of realities or deliberate plan? Behind Trump's decision to axe Singapore summit
Official contact between the two countries is unusual and Trump's move to write a letter to the leader of North Korea Kim Jong Un is rare, says one observer.
SEOUL: This week, US President Donald Trump took a step that was rare, if not unheard of, for a leader of the United States.

He wrote a letter addressed directly to the leader of North Korea.

Official contact between the two antagonistic countries is unusual, and Trump took this step for the delivery of a very important bit of news, that the US was pulling out of the summit meeting the two sides had planned to hold on Jun 12 in Singapore.

Perhaps in writing the letter, Trump intended to demonstrate how important the planned summit was to him. He opened the letter by politely addressing Kim as "Mr Chairman," and started with an expression of appreciation for North Korea's efforts to prepare for the summit.

In explaining his reason for the cancellation, Trump wrote:

Sadly, based on the tremendous anger and open hostility displayed in your most recent statement, I feel it is inappropriate, at this time, to have this long-planned meeting.

This was an apparent response to a recent statement run by the North's official media, attributed to the country's vice foreign minister, which said that North Korea "can also make the US taste an appalling tragedy it has neither experienced nor even imagined up to now".

Such language is not becoming of a senior foreign affairs official, and is particularly out of place when talking about a country North Korea is planning to hold a summit with.
READ: A commentary on the glaringly obvious gulf in the lead-up to the Trump-Kim summit.

READ: Calculated decision or cold feet? Why North Korea threatened to can the Trump-Kim summit.

READ: More than personal chemistry needed to change North Korea's old ways, a commentary.

SAVED FROM EMBARRASSMENT IN FACE OF REALITIES

Now, having cancelled the summit of his own accord, Trump has saved himself from possible embarrassment. With the stakes so high, it became inevitable that one side would be disappointed. Trump just made sure it isn't his side that looks like the loser. 

Appearing open to sitting down with a dictatorial regime that has befuddled previous American administrations fed into Trump's image as a leader free from the constraints of conventional politics.

And there is no reason to believe that, if North Korea was committed to negotiating in good faith, Trump wouldn't have been open to carrying out the summit.

But at a late hour, Trump's ambitions ran up against the realities that have for so long made North Korea nearly impossible to negotiate with.

For context, it is worth noting that this statement was likely a response to recent comments by Vice President Mike Pence, who said that North Korea will "only end like the Libyan model ended if Kim Jong Un doesn't make a deal".

North Korean officials are wary of the Libya comparison, as Libya, to them, has long served as an example of why nuclear weapons are so important, having watched how Libyan leader Muammar Gaddafi gave up his nuclear aspirations and was later forced from power, with US support for his removal.

There is little reason to doubt that Trump was genuinely displeased by the North's aggressive rhetoric, but there was more than that to his decision to cancel the summit.

It is likely that, for all his deal-making acumen, Trump realised there was no way he was going to convince Kim to go nuke free.

What got glossed over in much of the coverage of last month's inter-Korean summit, and reports that North Korea had agreed to work toward denuclearisation, was that North Korea had only agreed to negotiate, not to take any concrete steps.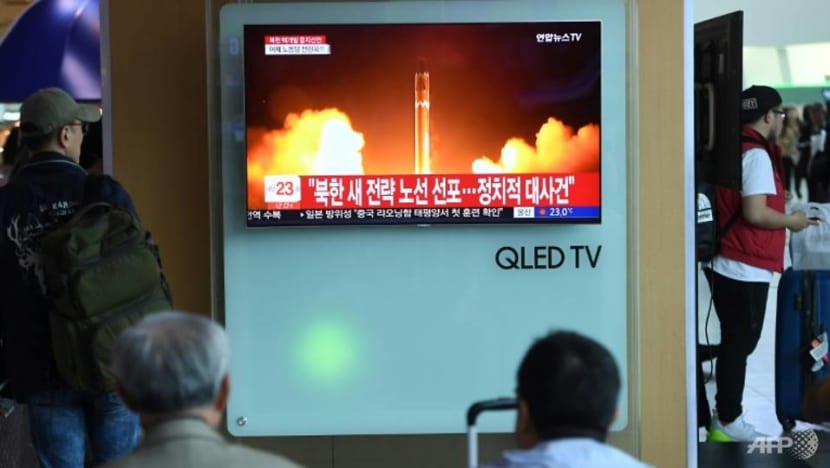 Also, the statement the two sides signed at the summit stipulated that a "nuclear-free Korean peninsula" was the goal, a concept that North Korea considers to include the withdrawal of US troops from South Korea, something neither Seoul nor Washington would agree to.

Therefore, it would have been almost impossible for Trump to leave Singapore with what his supporters, and critics, would consider a satisfactory result, namely, a credible statement from Pyongyang that North Korea would rid itself of nuclear weapons.

WHAT KILLED SUMMIT? EXPECTATION OF A ONE-STROKE SOLUTION

The sad part is that the failed attempt to bring the two sides together on neutral grounds means that face-to-face dialogue is as far off as ever.

While North Korea responded to Trump's cancellation with a measured statement that the door is still open and Pyongyang is still interested in sitting down under the right circumstances, the immovable object of denuclearisation is still in the way, and Trump is, at this juncture, unlikely to invest much political capital in initiating another summit.

It didn't have to be this way. Planning for this summit started to veer off course when it was presented as a potential one-stroke solution to the North Korean nuclear issue.

Both sides early on floated the possibility of getting together to discuss "denuclearisation" when they should have made clear that the proposed summit was little more than exploratory dialogue.

Before taking office, Trump said he would be willing be meet Kim "for a burger", meaning he wouldn't trot out all the formalities of an official meeting, but would be willing to sit down for a chat so the two men could get to know each other.

That kind of informal contact, and outside-the-box thinking, was just what the situation called for. It was overly ambitious for the first-ever US-North Korea summit to even have denuclearisation on the agenda.

It would have been more prudent for the two sides to start with lower-level topics, perhaps including the initiation of some civilian-level exchanges or modest relief of sanctions.

TWO POSSIBILITIES FOR THE WAY FORWARD

So what happens next?

The promising bit of news is that North Korea followed through this week with plans to dismantle its nuclear testing site. Washington and Pyongyang could seize that momentum to begin attempting to organize another summit.

Or North Korea could start testing missiles again, the US could carry out shows of military strength in South Korea, Trump and Kim could go back to trading insults and the old cycle of tensions punctuated by periods of calm could begin anew.

Whatever happens, the sticking point remains the same.

North Korea will cling to its belief that nuclear armament guarantees the regime's security, and it's unlikely that any US president will be able to convince them otherwise.
Steven Borowiec is the politics editor of Korea Expose.