Commentary: Is Trump still the likely Republican presidential candidate with all these inquiries and lawsuits?
Could Donald Trump really be the Republican nominee in the 2024 presidential election? The reality is the party has embraced Trumpism, with or without him, says Yale-NUS College's Trisha Craig.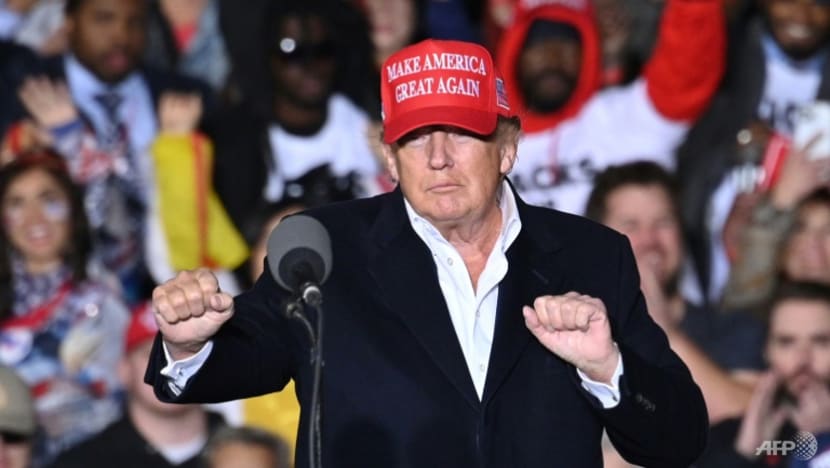 SINGAPORE: The race for the White House is under way, even though the United States presidential election is still more than two years away. Speculation has already begun: Will incumbent President Joe Biden seek re-election? Who are the frontrunners or dark horses to challenge him?
Nowhere has the talk been more fevered than around whether Donald Trump will be the Republican candidate. But could Trump really be a serious contender?
To many, particularly those outside the US, it beggars belief. Trump's role in the Jan 6, 2021 insurrection to overturn the result of a fair and democratic election is becoming increasingly clear and the committee probing the attack voted on Thursday (Oct 13) to subpoena him to provide testimony under oath.
For several months, the former president has been teasing crowds of supporters that he is considering it. Playing coy - hinting at but not actually announcing a run - generates interest in his public events but stymies the campaigns of other potential Republican candidates.
Polling this far from an election has little predictive power but gives insights into voters' mindsets.
Trump leads the Republican pack, with polls in September showing that almost 60 per cent of the party's voters would cast their ballot for him. His closest competitor, Florida Governor Ron DeSantis, although the favourite in the absence of Trump, remains far behind.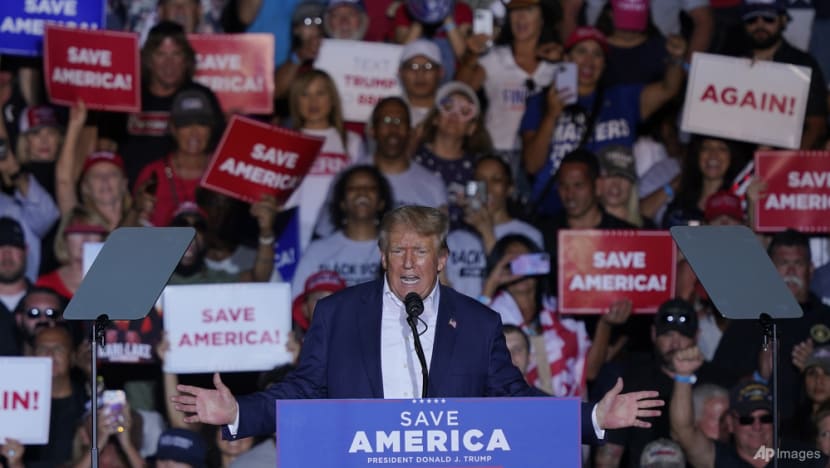 APPEAL TO "MAKE AMERICA GREAT AGAIN" POPULIST BASE
Trump's unbreakable hold on a core of supporters and, to some extent, the Republican party keeps him relevant, despite the litany of allegations about his misdeeds. During his 2016 campaign, Trump famously remarked: "I could stand in the middle of Fifth Avenue and shoot somebody, and I wouldn't lose any voters, ok?"
While this is an exaggeration, it highlights the conundrum facing the party: The party – even Trump's would-be challengers - must appeal to his MAGA (Make American Great Again) populist base to win in the primaries.
This partially explains DeSantis' recent political stunt of flying several dozen Latin American asylum seekers in Texas to an island enclave in liberal Massachusetts. Immigration is a very important issue to conservative Republican voters, and the high profile and cruel nature of the caper helps him establish his MAGA bona fides.
Other potential Republican candidates include former Trump administration officials, such as his vice president Mike Pence, his secretary of state Mike Pompeo and his ambassador to the United Nations Nikki Haley.
The reality is "Trumpism", with or without Trump, is now a key part of the Republican party brand, regardless of who the 2024 nominee turns out to be.
HIGH STAKES IN FOREIGN POLICY
In the realm of foreign policy, the stakes in 2024 are high. While the recent and somewhat unexpected successes of the Ukrainians in the war against Russia have somewhat muted the pro-Russian voices on the American right, a return to "Trumpism" would upend many of the Biden's administration's global relationships.
The early and sustained diplomatic efforts of President Biden's team, particularly Secretary of State Antony Blinken's, to rebuild relationships with traditional allies were crucial in building a coalition of European and East Asian partners to swiftly sanction Russia. One result has been a renewed relevance of North Atlantic Treaty Organization (NATO) – an alliance Trump had threatened to pull out from - and greater European commitment to defence spending, something unthinkable prior to the invasion of Ukraine.
Within six months of his inauguration as president in 2017, Trump announced US withdrawal from the 2015 Paris Agreement on climate change, something Biden moved to reinstate just hours after being sworn in in 2021.
Trump threatened to permanently cut off US funding of the World Health Organization in 2020, the early days of pandemic.
APPEAL TO FAR RIGHT, ALIENATE ALL OTHER VOTERS?
But a general election is a different matter from the Republican primaries. Far right MAGA Republicans may appeal to conservatives but turn off Independent, Democrat and even some moderate Republican voters.
Trump's standing has also taken a hit with the recent inquiry into the storage of highly classified documents at his Mar-a-Lago residence appears to violate, at a minimum, federal acts governing records. Analysis from the Washington Post indicate that Americans increasingly view Trump's actions on the Jan 6 attack and secret documents as illegal, rather than merely unethical.
Almost half (45 per cent) considered Trump to have broken the law. More than 60 per cent of voters overall do not think he should run again.
Already, there are concerns among Republicans that they may fail to retake the Senate as Trump-backed or MAGA-leaning candidates in key battlegrounds like Pennsylvania, Ohio and Georgia are stumbling against Democratic rivals.
Biden's poll numbers are improving. From a summer low of 36 per cent, his approval rating has gone to 45 per cent.
Petrol prices, always an outsized predictor of incumbent popularity, have fallen steadily over the past three months, hitting their lowest levels since March, to some extent calming fears over inflation. The jobs reports remain strong, and the COVID-19 situation, while not over, has calmed down after it exploded to 1.4 million daily cases in January.
Biden has also had some high profile successes in signing Bills on clean energy, infrastructure and driving the technological race against China, especially in semiconductor chips. Democrat voters also seem energised by the Supreme Court's decision to restrict abortion and are more likely to vote.
A REAL THREAT TO DEMOCRACY?
The argument that Trump and the MAGA loyalism he inspires pose a real threat to democracy is gaining traction among Democrats, even while it feels divisive to Republicans. In a July speech to the America First Policy Institute, Trump outlined themes for a second term that should sound alarm bells, such as replacing career civil servants with more pliant appointees and weakening checks on executive power.
A return to a Trump administration would weaken American influence abroad. In moving to a more illiberal version of democracy, it complicates the US' role as global leader of a coalition of democracies to temper powers like China and Russia.
But whether Trump will be the Republican candidate matters less than the fact that Republicans have embraced his playbook.
It is one thing to have Trump or any other Trumpian ideology driving the superpower's actions while the world was economically prosperous and relatively peaceful. It is another thing while the world is the way it is now.
Trisha Craig is Vice President (Engagement) and Senior Lecturer of Social Sciences (Global Affairs) at Yale-NUS College. The views and opinions expressed herein are those of the author and do not represent the views and opinions of Yale-NUS College or any of its subsidiaries or affiliates.