Commentary: Why drones are silent heroes in modern warfare between Ukraine and Russia
No army can stand the test of war without its usual plans of air, land and sea hardware but drone deployment in the Ukraine war is a sign of its greater use, says defence analyst Mike Yeo.
MELBOURNE: The war in Ukraine may be largely a major conventional war involving tanks, artillery and air- and sea-launched missiles, but drones are finding their niche. They've shown to be capable of hurting the enemy despite doubts about their ability to survive against sophisticated air defences.
These drones range from commercial quadcopters used by both sides for observing enemy movements and coordinating artillery strikes, to a combat-proven Turkish-built armed drone operated by Ukraine's air force to whittle down Russian military columns.
And while roving bands of troops armed with hand-held anti-tank and anti-aircraft missiles along with artillery have been the central planks in Ukraine's strategy of trading territory slowly and dearly in exchange for time, drones have done their bit in blunting the Russian drive towards Kyiv.
Many commercial drones used by Ukraine have been donated by those sympathetic to Ukraine's cause, with the Latvian Ministry of Defence helping to organize deliveries of 90 drones donated by commercial companies. Latvia and its neighbouring Baltic states of Estonia and Lithuania are no strangers to unwelcome attention from Russia, having been subject to intimidation, cyberattacks and outright invasion from Moscow in recent times.
SOPHISTICATED CAMERAS THAT GATHER INFORMATION
Commercial drones have become dependable, sophisticated eyes in the sky, and for as little as a few hundred dollars. Even Ukraine's hobbyist drone operators have flocked to the cause en masse.
Drones are being used to observe enemy movements on the frontline and help guide and correct artillery barrages, watching where shells or rockets land and passing back information to shooters on how to correct subsequent rounds for improved accuracy.
In urban or semi-urban settings, ground-based forward observers are not able to observe where the enemy is or where artillery rounds land due to obstructions. In rural areas, line-of-sight surveillance can also be hindered by undulating terrain or vegetation.
Longer-ranged commercial drones can also be used to provide information on targets behind the frontline. A key plank of Ukrainian defence strategy is to target Russian logistics support such as fuel and ammunition resupply convoys and holding points - vital yet easier targets that tend to be unarmoured and lightly armed.
Photos and videos on such strikes have made their rounds on social media. In one of them, Russian supply trucks are shown being hit by a Ukrainian artillery barrage, with at least one exploding in spectacular fashion. The video was geolocated to a point northwest of Kyiv by the online Open Source Intelligence (OSINT) community, in an area where the Russians have been trying to encircle the city and cut off one of the main roads being used to supply Ukraine's capital.  
But this is a fair distance away from the nearest Ukrainian defence positions and beyond the means of ground troops to directly observe.
A drone was also believed to have inadvertently captured the downing of a Russian Mi-24 or Mi-35 Hind helicopter. It is seen flying low when the distinctive smoke trail of a missile reached up from the corner of the screen, hitting the helicopter squarely on its fuselage and sending it crashing into the trees below in a huge orange fireball.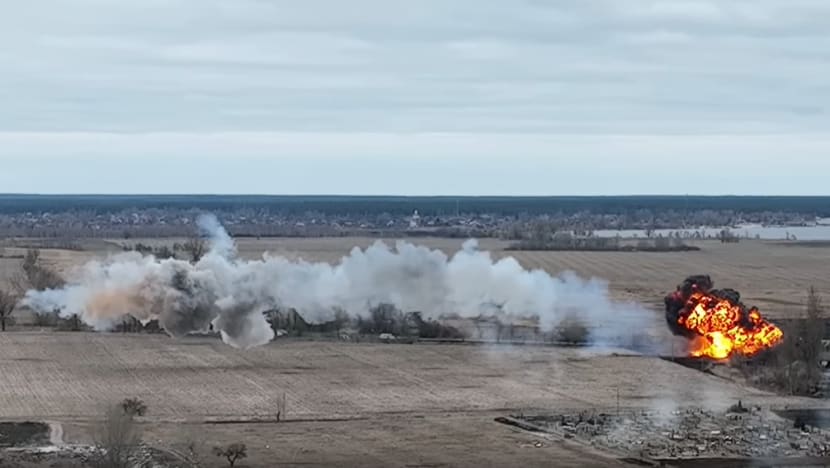 Drone videos showing battlefield successes undoubtedly have propaganda value, bolstering the morale of troops, civilians and even global supporters of the respective sides.
It's also a remarkable display of lessons Ukraine had learnt the hard way from the 2014 and 2015 battles in eastern Ukraine. Troops and vehicles were repeatedly targeted by artillery guided by Russian military drones, despite repeated denials from the Russian government its forces were involved in that conflict.
MILITARY DRONES MAKE THEIR MARK
The Russian side has also used both commercial and military drones in their advance into Ukraine. At least one Russian Orlan-10 military drone has crashed or been shot down, and the wreckage has recovered by the Ukrainians.
The military drone that has made the biggest mark on the conflict so far is the armed Bayraktar TB2 belonging to the Ukrainian Air Force.
The Turkish-built drones, at US$1 million to US$2 million per unit, are cheaper than manned aircraft. They have been used with considerable success in the low-intensity conflicts in Syria and Libya. Ukraine had initially bought 20 TB2 drones with an eye on the semi-regular, slow-burn separatist clashes in eastern Ukraine.
Instead, the non-stealthy, relatively slow (cruise speed of 130 kmh) propeller-driven drones have been thrust into a high intensity conflict against a theoretically high-tech adversary that is well-equipped with sophisticated air defence and electronic warfare equipment.
The TB2s, which can be armed with up to four laser-guided bombs or missiles, have even drawn blood against Russian invasion forces.
Not many videos of Ukrainian TB2 operations and attacks have been released, but the few that have been seen show them knocking out high value Russian targets.
Dutch OSINT researcher Stijn Mitzer, who keeps a running record of equipment losses on both sides during the war in Ukraine, has listed at least 20 Russian targets successfully struck by the TB2s. These include a train carrying fuel, multiple supply trucks and even the advanced Buk mobile surface-to-air missile, the same system that was believed to be responsible for shooting down Malaysian Airlines Flight MH17 in 2014.
Successful TB2 attacks against the Buk and Tor-M2 surface-to-air missile systems in Ukraine mean that the drone has carried on its string of recorded victories over Russian-built air defence systems that started in Syria, Libya and then against Armenian forces in the 2020 war over the enclave of Nagorno-Karabakh.  
The Russians, for their part, have claimed to have brought down several TB2s although the video of only one wreck has been show so far.
EXPLOITING RADAR BLIND SPOTS
The relatively successful employment of the TB2, which Turkey is continuing to deliver to the Ukrainians following the Russian invasion, has surprised some observers like me who have previously questioned their survivability in airspace that is watched over by high-end anti-aircraft weapons.
Many reasons have been suggested for this success, including Russian air defence sensors like radars not being geared towards detecting smaller and slower targets, or the TB2 operators knowing and exploiting known radar blind spots.
Radars failing to detect slower targets certainly have precedence.
The US Navy in the closing days of World War II have recorded the inability of their shipboard radars to detect, track and then guide radar-controlled gunfire against slower trainer aircraft the Japanese were using as night-time kamikazes.
The Japanese trainers were made primarily out of wood and fabric, making them inadvertently stealthier than their faster metal counterparts.
These aircraft, which were pressed into use only due to Japanese desperation, managed several successes, crashing into American ships on several occasions and sinking at least one. 
The modern-day version of those trainers may well be the military drones - small but highly effective despite the apparent odds.
Mike Yeo also writes for US-based defence publication Defense News. He is based in Melbourne.