commentary Commentary
Commentary: Two ideas to level the education playing field
The key to ensuring education in Singapore remains a level playing field is to continue reviewing the measures and structures in our education system, says Nominated Member of Parliament Azmoon Ahmad.
SINGAPORE: The role of education in sustaining social and economic progress in Singapore is being robustly discussed today.
It stems particularly from social phenomena like inequality, which have given rise to concerns whether the playing field will be tilted further in the future economic landscape and if the education system can fix it.
MERITOCRACY AND EQUITY
The argument that meritocracy, despite all its potential to perpetuate achievement gaps in education, remains the best model for nurturing talent, is valid.
Singapore's approach to creating a more level playing field is to uplift the bottom percentiles rather than introduce greater equity by dealing with the advantages that the top ones enjoy.
If uplifting the performance of the struggling ones is to remain the philosophy in attaining more equitable outcomes in education, then its approach needs to be discussed more critically.
Affluent parents have a significant advantage in strategising for their children's educational success and have their social networks to capitalise on.
While it can be argued that no matter what system is implemented, the wealthy will always be better equipped to seize its benefits, the current state of inequality suggests that there is plenty of room for improvement. 
Two features of the education system that are believed to be creating a hierarchy among students are the Primary School Leaving Examination (PSLE) and early streaming.
ALTERNATIVE TO THE PSLE
A toned-down version of the PSLE – the shift from T-score to wider scoring bands – and continuing efforts to make it less of a high-stakes examination is welcomed. However, in whatever form it remains, it is unlikely to eliminate the deeply entrenched focus on grades among parents to get their children into desired programmes or pathways.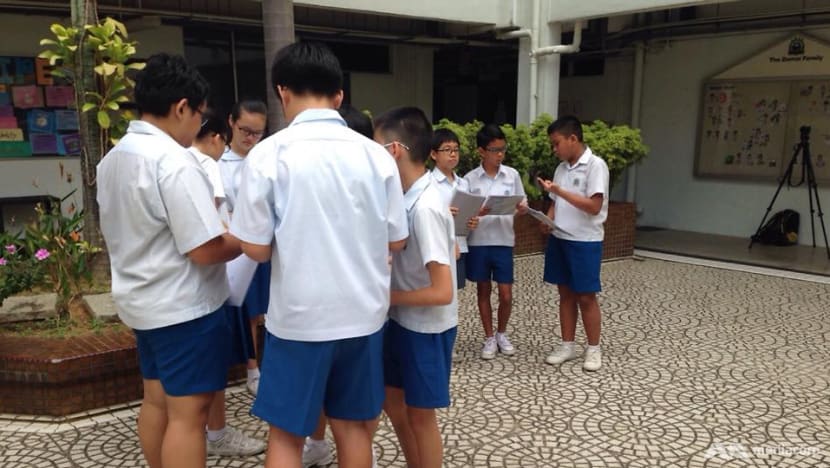 To address this, it is worth revisiting the argument against the PSLE. If the trade-off for scrapping the PSLE is a concern, then the Government may wish to consider a dual system in which the PSLE is made optional. Students vying for the more challenging pathways in secondary schools, like the Integrated Programme, can take the PSLE to boost their chances.
For parents who see the PSLE as an obstacle to a holistic education, I propose a 10-year alternative education system that integrates primary and secondary school education with its own framework for evaluating progress.
This 10-year system should aim to help develop students' capabilities, identify their potential and help them specialise in a subject they are strong in, be it in the fields of arts, science or commerce. It should recognise a broader range of competencies than the binary academic-technical dichotomy that characterises the present secondary school system.    
Instead of a high-stakes examination, periodic assessments, say every two years, are conducted not for the purpose of placement, but to ensure students are making progress and assistance is rendered where necessary.
The decision on whether a student should pursue an academic or vocational track should come at the end of the 10-year programme, by which time knowledge about his or her inclinations would be more valid than that for a 12-year-old.
THE DOWNSIDES OF STREAMING
A key concern with the streaming system at the outset of secondary education is its tendency to lump together lower performing students, which would include the late bloomer, the socioeconomically challenged and the hands-on learner. For this reason, it is risky to label a child as not academically inclined at 12 years of age.
Greater recognition, for instance, need to be accorded to the fact that children from the lower deciles of the income strata have to overcome unfavourable socioeconomic conditions – such as the lack of a conducive study space at home or parental help with schoolwork – to level up with their peers.

Underperformers may be talented students whose need for more time and help should not be taken as signs that they are academically weak and thus lead them to be sorted into lower achievement tracks, something a system of early streaming is prone to doing. This merely compounds the problems they face in education.

Educational pathways should be meaningful. They should be committed to honing abilities or nurturing talent, and should be aimed at helping individuals discover their strengths and stand out.
Educational pathways cannot just offer a longer route towards the same destination, such as a polytechnic or a university. So some thought should be given, for instance, to how the Normal Academic and Normal Technical streams fit with the larger goal of producing individuals with deep skills and talent with their simplified curriculum.
HELP ALL TAKE ADVANTAGE OF EDUCATIONAL PATHWAYS
The education landscape today features many more pathways to educational and personal success than in the past. The definition of merit is being broadened and policies are being introduced to promote greater inclusivity. Efforts are being made to ensure that there are opportunities for all regardless of socioeconomic status.
However, a pertinent question to ask is whether parents from lower socioeconomic backgrounds have the financial and social capital to actively act on the knowledge of these diverse pathways and greater opportunities.
Given that their bandwidth is taxed daily by their struggles to make ends meet, are they being given the necessary help and guidance to make the most out of the changes to an education system that is supposed to make opportunities more accessible to them?
ACTUALISING TALENT DEVELOPMENT
At a more micro-level, parents of lower primary students have been lamenting about how tough school work is for children these days. 
For example, Primary 2 students are now expected to draw problem sum models when, in the past, these were reserved only for older primary students. How can the abstract concept of modelling be effectively and comprehensively explained to an 8-year-old child who is only two years into the primary school system?
The question of whether our education system is inducing stress is not only about well-being but is also of strategic significance. 
If parents are struggling to devote time and resources to ensure their children do homework and pass tests, it leaves less time to undertake the exploratory pursuits which facilitates joy in learning and nurture attributes like an inquisitive mind in children. This is antithetical to the objective of developing talent.
THE FUTURE
A level playing field is not only about being inclusive but also prevents the talent pool from being constricted. Socioeconomic background is a predictor of ability only because existing standardised measures and structures confer recognition to some groups while disadvantaging others.
Hence, going forward, the key is to continue reviewing these measures and structures, and work towards an education system that considers the child holistically and as an individual who is unique.
Azmoon Ahmad is a Nominated Member of Parliament.