Commentary: Women ended England's 56-year football drought. Give them the respect and funding they deserve
Women's football has long been derided by certain sections of football fandom as being nowhere near the standard of men's, but this is no longer the case, says John Duerden.
SEOUL: On Jul 31, England's women achieved what the men failed to do for 56 years – bring home a major football title.
The Lionesses defeated Germany 2-1 at London's Wembley Stadium, making history as they won the UEFA Women's European Championships for the first time.
They did this in front of 87,192 spectators at Wembley – the highest attended match in the tournament's history, beating the men's record too. In England, the viewing figures were also impressive with 23.3 million watching.
In terms of spectacle and atmosphere, it was a match to the men's final of 2021 which saw England lose to Italy in the same stadium. The 1966 World Cup is still the last major trophy that the men have won.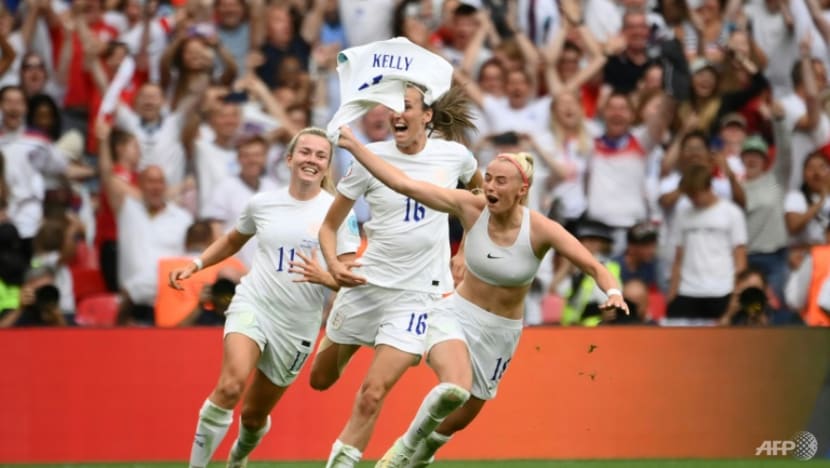 For perhaps the first time, the team was seen as "England" and not just "England's women", with the whole country sharing in the success.
Interest has surged elsewhere with Wales expecting to attract 10,000 fans to a World Cup qualifier against Slovenia in September which would be almost a doubling of its record attendance. 
It has been a busy and important summer for women's football. A day before England won, there were celebrations in Brazil as they won South America's championship, defeating Colombia.
In July, Morocco became the first Arab team to reach the final of the African Women's Nations Cup, losing 2-1 to South Africa but thrilling the nation and attracting more than 50,000 fans to the final.
Women's football has long been derided by certain sections of football fandom as being nowhere near the standard of men's, but the current team has shown that is no longer the case.
"The quality of the England team and the tournament as a whole was fantastic," said Jamie Carragher, former Liverpool star and a leading television pundit. 
NO LONGER A NICHE SPORT
Football still has some way to go to match tennis, one of the few sports in which women match men in terms of profile and earning power. 
In 2021, Naomi Osaka and Serena Williams were the second and third highest-earning tennis stars, bringing home US$60.1 million and US$41.8 million respectively.
Yet, events such as Jul 31's final show that the women's game can no longer be regarded as a niche sport. The recent success in England should feed through to more interest, investment and participation.
Interest in the newly crowned champions was so great following its European Championship victory that the England Football Association's website crashed on Aug 2 shortly after it announced an October match between the Lionesses and the United States.
The online queue for tickets reached more than 45,000, and all general admission tickets were quickly sold out.  
Thrilling a nation by winning a trophy is a necessary step but has to lead to more.
There is now an established professional women's league that attracts some of the best players in the world, but it still needs the millions that have been watching the players, now household names, become European champions to watch the same stars on a more regular basis.
"It's not about getting behind the big tournaments but about watching games week in, week out in the Premier League and can you get those attendances up," said Carragher. "Can you get people into the stadiums, that is the big push that we need."
Last season, Tottenham were the best supported women's team with an average attendance of 8,000 with the men's team bringing in 60,000. Manchester United's women were watched by 4,000 while the men attracted around 75,000.
The men's teams have been going since the 19th century, so it was always going to take time for the women to catch up. Consider too that women were banned from playing football in England from 1921 to 1971, with the Football Association saying it was "unsuitable for women". Already strides have been made since the league's first season in 2011 when the average attendance was 550.
EQUAL OPPORTUNITY
England is an important football nation and is followed around the world and the country needs to set an example in taking the next step. Equal pay in football may be some distance away but the recent success needs to help provide equal opportunities for young girls to take up their sports with the necessary facilities, coaching and support.
"People would always say the standards aren't the same but that is because the funding was never there," said Lucy Abbott, a former player, told Manchester Evening News earlier this week. "This tournament has shown that women deserve the funding just as much as the men do."
The victorious England team on Aug 3 wrote an open letter to the next British Prime Minister (either Liz Truss or Rishi Sunak will replace Boris Johnson on Sep 5), asking for change.
"We want every young girl in the nation to be able to play football at school," the team said.
"Currently only 63 per cent of girls can play football in PE lessons. The reality is we are inspiring young girls to play football, only for many to end up going to school and not being able to play. We ask you and your government to ensure that all girls have access to a minimum of two hours a week PE."
Both prime ministerial candidates fell over themselves to respond quickly and positively.
"Liz wants equal access to all sports for boys and girls, and supports campaigns such as the FA's Let Girls Play campaign," Liz Truss's spokeswoman said. Rishi Sunak has committed himself to a governmental review of the women's game.
A NEW MODEL
Yet while there should be more equality at youth levels and access to infrastructure, that does not mean that the women should blindly copy the male model at elite football.
Popular digital portal Football 365 wrote in an editorial that following the men would be the worst way forward.
"(The men's game) is a financially unhealthy, inflated, foetid, greedy, selfish world, perpetuated by huge TV rights money from companies that radically limit the game's audiences and cash injections from appalling people from appalling states and appalling organisations. A structure that has grotesquely hoarded money at the top, while others starved." 
The challenge is not to have the top women earning similar amounts to the best men, but to start by clubs becoming financially self-sufficient.
Women's football should aim to become better run, more open and inclusive then the men's.  England's win should not be a major step in women's football being the same as their male counterparts but being healthily different.
John Duerden has lived in Asia for more than 20 years and covers the region's sporting scene. He is the author of three books including Lions & Tigers - The History of Football in Singapore and Malaysia (2017).