Commentary: To ace your first job, invest in your workplace relationships
Fresh graduates are seen to be laid-back and passive, expecting employers to take the lead in onboarding. Here's how to change that, says writer John Lim.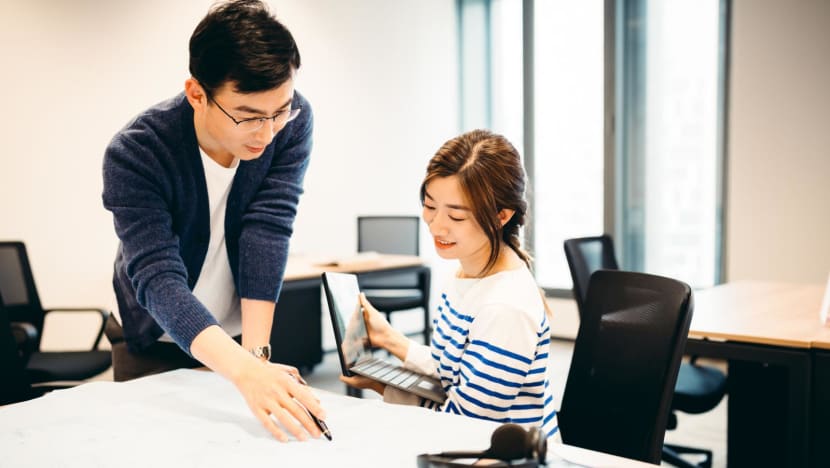 SINGAPORE: I remember one moment during my job search in April 2022, after I had left my first job. 
On my way out after an interview, I passed by a conference room. There were four people speaking to a panel of young adults. The sign outside read "Onboarding Session". 
As I stood outside, looking in, disappointment swept over me. Why didn't my first job have an orientation programme too? 
It was tempting to blame this lack of a formal onboarding for my eventual poor performance as a social worker, which resulted in me being issued with a Performance Improvement Plan (PIP), also known as a "get better or get sacked" plan. 
I was put on this plan for issues such as overbooking myself and openly disagreeing with a manager. To me, these were just personal differences in working style. But to the company, these were cultural nuances that I had to abide by. 
Firm mentors might have taken me aside and told me that these behaviours were unacceptable and would land me in trouble.
But it was also my fault. I was wrong to expect my employer to take responsibility for my transition into full-time work.
ASKING FOR GUIDANCE AT WORK
Being thrust into the working world with little other experiences for reference can bring rude shocks. Fresh graduates may have been in the nurturing cocoon of education for the past 16 years, where the focus is on learning, rather than performing. 
In education, what you need to know is spoon-fed to you, rather than you actively seeking it out. It may explain why some fresh graduates are seen to be laid-back and passive, expecting employers to take the lead in onboarding. 
It raises the question: Do fresh graduates lack guidance at work, or might they be less willing to ask for it?
In a poll conducted by the National Youth Council in February 2021, only 11 per cent of 1,500 respondents aged 16 to 34 indicated that they have participated in formal mentoring programmes. More than 60 per cent of respondents who had not participated in such programmes said they would be open to one.
It appears that young people see the value of mentorships, but have not signed up or asked for such arrangements. In the workplace, it may seem embarrassing to ask for help from those in authority, especially when employees are paid and expected to perform. 
In 2021, a survey led by the Singapore University of Technology and Design (SUTD) and the National Trades Union Congress (NTUC) of young adults aged between 18 and 35 found that many preferred to resolve work-related problems on their own or seek help from friends and colleagues, rather than approach their superiors or organisation.
But graduates may not know their shortcomings until they are flagged. Formal or informal workplace mentors can take the initiative to point out gaps in performance and correct them in a nurturing way.
SMALL CHOICES MATTER AT THE WORKPLACE
Another common challenge for fresh grads is the difficulty in people interactions. During my first probation review, the director pointed out how colleagues mentioned that I was not sociable and approachable. She cited examples such as eating lunch alone, instead of doing it with colleagues. 
Small choices like these may seem like personal preferences, but when such choices are exercised in the workplace, it has an impact on whether you're seen as a good fit for the team. 
Again, this is where the older generation can gently direct the younger generation. In my first internship, a director whom I was not reporting to pointed out how wearing headphones while working made me seem cold and detached.
Advice like that may seem unasked for, but with a younger generation struggling to find their feet in a new environment, it is much appreciated. 
ARE YOUNG WORKERS ENTITLED?
Some seasoned workers may argue that fresh grads are entitled for expecting managers to guide them each step of the way. 
Indeed, Dr Betsy Ng, a researcher at the National Institute of Education, found in her 2022 study of work-ready attributes that "employers are seeking potential employees who are enthusiastic and eager to learn".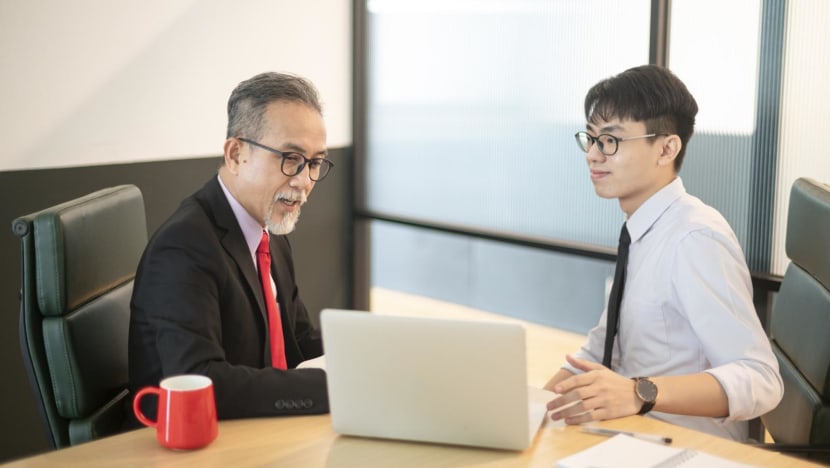 But the enthusiasm and eagerness are present in the majority of young workers. The Youth STEPS study found in 2021 that 61 per cent of Singapore youths agree they can deal with anything that comes their way, compared to 55 per cent during the pandemic.
Perhaps it is more of a two-way street, where the younger generation seeks to learn, while the older generation offers to teach. After all, today's youth have come of age in the crisis of a lifetime - they can be resourceful and game for challenges.
YOUNG PEOPLE HAVE A PART TO PLAY TOO
We, as young people, have our own part to play too. 
While we may feel the pressure to perform from day one, it is better to clarify expectations first. Simply ask what your boss wants from you each day and what the accompanying performance indicators are. This will help you understand how your performance will be graded. 
Starting and nurturing a good relationship with workplace supervisors and colleagues can make this easier. Taking the initiative to shadow colleagues, walking to their tables to ask a quick question, and offering to do meeting minutes even if it seems mundane and pointless. 
Work is not just a transaction where we exchange time for money. Rather, it can be a relationship, where we learn under the tutelage of others more experienced.
Yes, eating lunches with your team may seem like a drag. Admitting that you don't know and asking for help may seem like career damage. Watching veteran colleagues struggle with technology may induce a facepalm. 
Sometimes, smoother transitions may come in being willing to invest and sow time and effort into workplace relationships that aren't just about better performance. Perhaps it's just about becoming a kinder and better person at work.
John Lim is the founder of liveyoungandwell.com, which shares how young working adults can thrive in the transition between school and work.
LISTEN - Work It: The growing pains of transitioning from school to work