Commentary: Do you unfriend someone because they refuse to get vaccinated?
COVID-19 has changed some of our friendships for good. But how do you stop being friends with people you've known for decades, asks Tracy Lee.
SINGAPORE: During the painful circuit breaker in April 2020 that lasted more than two months, phone calls, social media updates, group chats, Zoom calls and care packs helped us stay connected with friends and relatives.
But it was also around this time that we discovered things about our friends we had never been aware of before — like how our viewpoints and values were misaligned, or even completely opposed.
Which comes as a bit of a surprise when you're in your 40s, like I am, and have known these people for years, decades even.
Who would have thought that Susan was such an ardent conspiracy theorist, so vehement in her belief that COVID-19 was just one big ruse for Big Pharma and Tech Giants to make trillions while colluding with governments to usher in a new "surveillance era"?
Or how formerly easy-going Jo had become so fearful that she simply refused to step out of the house to meet anyone – except to take her child to and from school?
And since when did Kong, who's English-educated and hardly speaks Mandarin, become so pro-China, sharing all sorts of information on them via our WhatsApp group chat?
FRAYING FRIENDSHIPS
The pandemic has not only turned our lives inside out, it has also made many of us rethink our friendships and become a lot more selective about who we hang out with.
When restaurant dining resumed, social groups with more than five members had to decide who to exclude, or divide themselves down the middle, with reminders to "not post on social media, otherwise the ones excluded might get upset".
A "hostess with the mostest" friend now makes very calculated decisions on who to invite, based on whether they've bothered to keep in touch and if they make interesting dinner guests.
Many have also come to realise having two or a maximum of five people over for meals, is just more relaxing and results in deeper, more meaningful conversations.
Unable to hang out, have fun together, or exchange confidences face to face, we have seen friends drift apart as ties slowly loosened, frayed, and even snapped.
GOODBYE MY FRIEND?
But can we really cut a friendship over COVID-related differences?
A recent Washington Post article noted: "Vaccine divides can be more threatening to a friendship than a mere disagreement".
Irene Levine, a psychologist and the author of Best Friends Forever: Surviving a Breakup with Your Best Friend said: "In the case of religion or politics, you could just say, 'Let's not talk about it.'"
"No such luxury exists with a coronavirus vaccination, since one person's exposure to an unvaccinated person could affect not just them but people around them, too. Siblings, parents, grandparents, if they're married, or have children."
In other words, this is now not just a difference in values but a real risk to someone's health.
Even though Singapore has achieved one of the world's highest vaccination rates at above 80 per cent, we still have friends who are "anti" or "hesitant".
Two of my childhood friends who are part of a longstanding group chat started an argument about how dangerous COVID-19 really was, and whether vaccines were effective or even necessary. The argument ended when one of them abruptly exited the chat.
She didn't explain but I think what upset her is based on her work. As a doctor who has to endure wearing personal protection equipment all day, and has come across patients who were sick or died because of COVID-19 – she simply had no mental bandwidth to deal with contrarians. Even those who knew her since she was a child.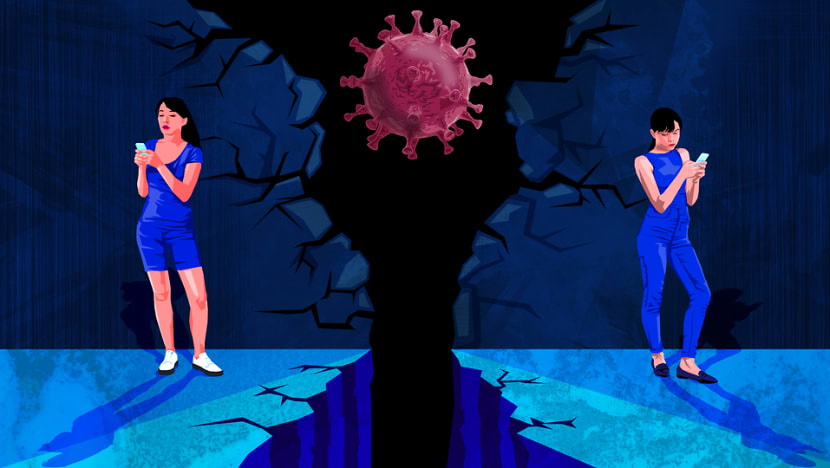 Then there are friends who, once vaccinated, suddenly developed a deathly fear of meeting unvaccinated friends. It's odd because before that everyone was unvaccinated, and no one had any issues meeting.
There are also those who whine incessantly about feeling restless because they're unable to take overseas vacations — these guys get my goat because I can't empathise, especially when so many have way bigger problems like pay cuts, unemployment, financial ruin, illness or bereavement.
HOLD ON A BIT
At no other point in my life have I witnessed so many examples of hysteria, stupidity, bellicosity, hypochondria, or a lack of perspective, popping up within my social networks.
On a good day, I remind my friends about patience, gratitude, and celebrating JOMO (the joy of missing out) instead of FOMO (fear of missing out). I ignore COVID-related group chat messages but reply to personal ones.
And if I really don't feel like engaging a friend who wants to meet up to complain about COVID-19 conspiracies or first world problems, I say I am too busy.
The pandemic has indeed shrunk my social circles, even as 20 months' worth of social restrictions have made me less inclined towards gregariousness.
In lieu of big parties and gatherings, my partner and I read and walked more and bought an annual Wildlife Reserves pass. We cooked up several storms. Hosted, or were hosted to intimate dinners. And gleefully binged on Netflix.
There's routine and regularity in golf, a sport which has always required players (a maximum of four per flight) to keep an arm's length away, or yoga, done alone.
Robin Ian MacDonald Dunbar, a professor of evolutionary psychology at the University of Oxford who has researched friendship for 25 years said the size of personal social networks typically involves "just 1.5 intimates (the people you confide in), five close friends, 15 best friends, 50 good friends, and 150 friends. That's by and large our friendship limit, all our brain and schedules can handle".
Having 15 besties as you get older sounds tedious. Plus, friends who fall off the radar – whether on account of a new relationship, a new baby, a busy career, an overseas posting —  resurface eventually.
Shared history makes for strong friendship cement. There are pals I don't see for months or years on end, but when we catch up one-on-one or in a small group, we jump right into engaging, confessional conversations.
Bonds like these have survived decades, distance and life changes. There's no reason why they shouldn't survive a pandemic.
To cut anyone off completely just because COVID-19 has kept us apart, whether physically or ideologically, is something I've never done, and am uninclined to. 
In these unpredictable and unprecedented times, we can afford to be more forgiving. After all, that's what friends are for right?
Tracy Lee is a freelance writer who writes about food, travel, fashion and beauty.