Commentary: How long can Japan remain closed to foreigners?
Public attitudes blaming foreigners for the COVID-19 spread could harden into xenophobia as coronavirus cases surge, a researcher says.
OSAKA: As one of the first countries to shut borders when the Omicron outbreak emerged in November 2021, Japan has maintained some of the strictest travel restrictions in the world.
No foreigners are allowed into the country until end-February. Visas for foreign students, workers, and spouses of foreigners who do not have a long-term status of residence too have been suspended.
Families have been separated as a result. A friend's American fiancé, who had quit her job in the US and was preparing to join him in married life in Osaka, suddenly had her visa revoked in December 2021.
Calling Japan's move epidemiologically incomprehensible last month, WHO Health Emergencies Programme chief Mike Ryan criticised the move to adopt a nationality-based criteria for travel. He called for more thorough pre-departure and post-arrival testing as a better means to contain the virus instead.
Yet despite international criticism, there is strong domestic support for such nationality differentiated measures. Eight in 10 supported the travel ban on foreigners when it was first announced.
A public opinion poll released by NHK last Tuesday (Jan 11) also showed two-thirds supporting the government's COVID-19 response, a sharp turn from the poor approval ratings that have plagued the Shinzo Abe and Yoshihide Suga administrations blamed for a lacklustre response to contain Japan from imported coronavirus cases.
Prime Minister Fumio Kishida knows this and has publicly claimed victory for what he calls "the harshest waterfront measures in the G7", which he says has allowed Japan to minimise the influx of the Omicron strain while allowing time for the country to prepare for a surge in infections.
The prime minister is riding a dangerous tiger. While the intention might have been to narrow the number of people entering the country as Japan's quarantine system at airports and other places have weak capacities, upholding a blanket entry ban on foreign nationals may aggravate xenophobic sentiments, Japan Society for the Promotion of Science Isami Sawai said this month after signing a petition to authorities to lift the ban.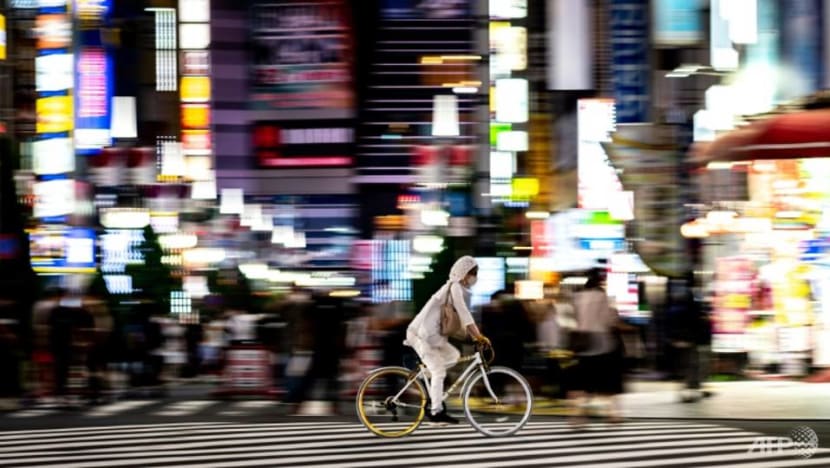 CURBS ON FOREIGN WORKERS HAVE ECONOMIC IMPLICATIONS
Japan has long been wary of immigration, but a declining birthrate and ageing population has seen a nascent shift towards accepting more foreign workers, with this number more than doubling in the seven years before 2020.
But like many open countries that rely on migrant workers, the coronavirus has seen a reversal of manpower flows.
Between the end-2020 and June 2021, the Immigration Services Agency of Japan reported a decrease of technical intern trainees and foreign students of 6.4 per cent and 18.9 per cent respectively as many went home.
With the issuance of new visas suspended, the labour crunch will only compound. Industries such as engineering, metal work, construction and food manufacturing, which rely heavily on these trainees for labour, have been screaming about the shortage of manpower.
Yet Japan's strong economic rebound in 2021 and optimistic sentiments following its expansionary Budget announced last month, which redistributes wealth towards the middle class, masks these stormy clouds on the horizon.
Job postings have increased, with the tight labour market potentially seeing wages go up as businesses compete for a small pool of workers. And so Japan might see little economic incentive to lift those travel bans for foreigners.
POLITICAL HUBRIS
The positive national mood is a welcome break for most Japanese, after the country swerved dangerously close to a COVID-19 disaster in persisting to host the Tokyo Olympics. Infections plummeted in September.
Much of this has been attributed to an impressive public health campaign leading to soaring vaccination rates, as well as compliance with the wearing of masks without explicit rules.
Yet, Japan's success has also created a sense of manifest destiny, that some sort of a superior moral code among the Japanese has allowed the country to rein in the coronavirus.
Japan's relative heterogeneity where foreigners make up only 2 per cent of the population, a longstanding inward-looking attitude and lack of understanding over the global COVID-19 situation has provided fertile grounds for political grandstanding. 
The business community is calling out this hubris. On the same day that prime minister Kishida announced the continuation of the travel ban, Hiroshi Mikitani, president of the Japan Association of New Economy and Rakuten CEO tweeted: "What is the point of not letting in new foreigners now? Do you want to shut Japan off from the rest of the world?"
Coming at a time when new daily infections were hovering around 6,400, he also subsequently criticised the Japanese government for being out-of-touch as advanced economies in Europe and the United States were beginning to relax border controls as local community spread became the dominant source of new cases.
He further warned that Japan risked looking like a closed-off country, which could have wider implications in attracting talent and spurring innovation in the long term.
THE AWKWARD SITUATION WITH AMERICAN BASES
While Japan wrings its hands over the wider ramifications of staying closed to foreigners, the presence of US bases has brought this dilemma into sharper focus. 
A major community outbreak in Okinawa, home to some 70 per cent of US military bases in the country, has been traced back to the Makiminato service area, in Camp Hansen, Camp Zukeran and Kadena Air Bases. At last count, there have been at least 3,863 infections at US bases in Okinawa. 
News that US troops were free to move in and out under a separate testing and quarantine regime, with Japan and the US only agreeing to restrict movements of US military personnel on Jan 9, have understandably sparked outrage.
Japanese citizens get no special dispensation when they return from overseas and neither should anyone else.
But the politicisation of COVID-19 is creating an ugly situation. Okinawa Governor Denny Tamaki has called for a review of the US-Japan Status of Forces Agreement.
Foreign Minister Yoshimasa Hayashi has blamed the clusters at US military facilities for causing the resurgence of infections in surrounding Hiroshima and Yamaguchi prefectures.
While the government, backed by public opinion, has implemented strict border measures and banned foreigners from entering the country, it has been overwhelmed with accusations that the Japan-US Status of Forces Agreement creates a gaping hole for US military personnel entering and leaving the country. 
But would Japan truly relook longstanding arrangements that have provided an important security umbrella for the country because of popular public sentiments? Japanese leaders should tackle public attitudes that foreigners are bringing COVID-19 into the country before these harden. 
A FINE BALANCE GOING FORWARD
The public health considerations that have driven a cautious approach are understandable in the world's oldest country, which have many vulnerable citizens. Three in 10 in Japan are 65 and above. 
But closing off physical contact in this manner could harm Japan's relations with the world and only serve to reward xenophobia. Testing, vaccinating and mask-wearing are better bulwarks against the Omicron variant.
There are bright spots suggesting the Japanese government may be trying to crack open the envelop on allowing foreigners back in.
Authorities announced an easing of restrictions for the entry of new foreign students into Japan this week.
Preferential spots will be given to government-sponsored students unable to advance or graduate in their home countries unless they obtain credits in Japan, with privately financed students, who account for more than 90 per cent of all foreign students, prioritised next.
Japan was beginning to receive accolades for its management of the coronavirus late last year. With cases surging to new record highs, the real test lies ahead as estimates suggest Japan could reach a new peak in the coming weeks.
The country's response then, including whether travel bans on foreigners remain, will show its true character.
Yuka Hasegawa is a researcher based in Osaka who writes on social issues and politics in Japan.