commentary Commentary
Commentary: A tale of deja vu, two Koreas two decades later, same unaccomplished goals
North Korean leader Kim Jong Un and South Korean President Moon Jae-in will meet on Friday's inter-Korean summit, but don't expect any substantial, ground breaking agreement, says one observer.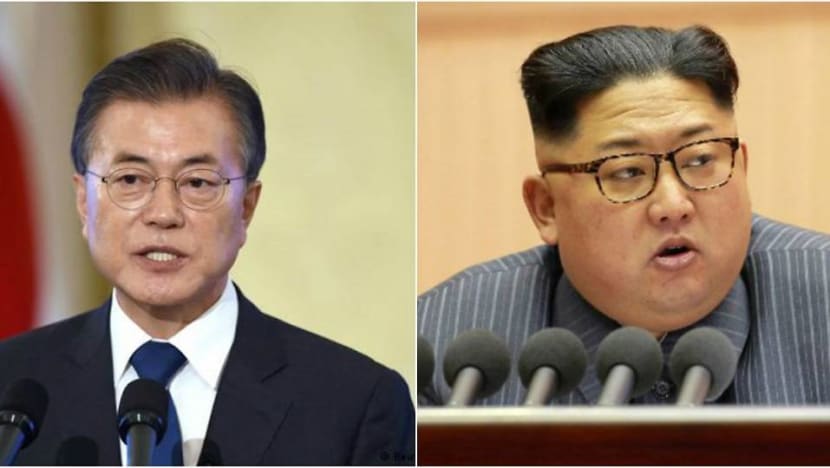 SEOUL: Over the weekend, Pyongyang made a tantalising announcement that heightened expectations for this week's summit between the leaders of South and North Korea.
The North's official state media carried a pledge to suspend all nuclear and long-range missile tests, which have in recent years made North Korea subject to ever harsher international sanctions and isolation.
The outside world, including United States President Donald Trump, warmly welcomed the move, but as is always the case with North Korea, the devil was in the details.
In announcing the stoppage, North Korean leader Kim Jong Un said that the country has already reached a sufficient level of nuclear development and that there was no need to conduct further tests.
The most important takeaway therefore was that North Korea will hold off on developing new nuclear weapons and made no promise to give up its nukes entirely, or to satisfy South Korea and the US's wish the North make a formal commitment to denuclearise.
And while this spring of diplomacy between the two Koreas and the US is welcome as a break from months of jitters over the possibility of war, a look at the history of inter-Korean summits shows that Seoul and Pyongyang will be hard pressed to come away from Friday's meeting with much of anything substantial. 
Despite saying all the right things, North Korea isn't about to give up the nuclear weapons it has invested so much in developing.
READ: A commentary on the promise inter-Korea talks bring.
PAST SUMMITS 'EMOTIONAL'

At Friday's meeting, the leaders of South and North Korea, respectively a 65-year-old former human rights lawyer and the 34-year-old inheritor of a despotic dynasty, will sit down for a historic meeting. 
They will exchange views on the prospects of ridding North Korea of its nuclear weapons, formally ending the 1950 to 1953 Korean War and maintaining the spirit of inter-Korean cooperation seen since the Pyeongchang Olympics earlier this year.

READ: A commentary on the embarrassing gap between North and South Korea seen in the Winter Olympics.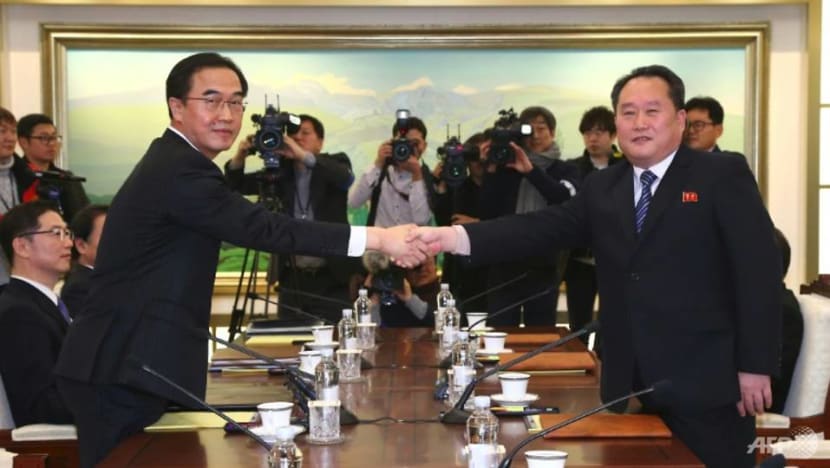 The first two summits, held in 2000 and 2007, were long on emotional resonance but short on tangible accomplishments.

The 2000 meeting was the first time leaders of the two Koreas met since the end of the Korean War, at a time when just sitting down as equals was a meaningful gesture after decades of mutual hostility and recrimination.

The 2000 meeting was the first time leaders of the two Koreas met since the end of the Korean War, at a time when just sitting down as equals was a meaningful gesture after decades of mutual hostility and recrimination.
Those talks were cordial, with the two sides exchanging gifts and refraining from discussion of any subject that might upset the other. 
The summit concluded with the announcement of a joint statement that contained pledges to cooperate economically, address humanitarian issues such as holding reunions for divided families, and work together to eventually reunify the Korean peninsula.
If that all sounds hopeful but a bit vague, that's because it was.
After all, summits between leaders are not the place to iron out the nuts and bolts of inter-government agreements; that yeoman's work is generally not the purview of heads of state.
While the statement was short on specifics, it was still early in the game and proponents of inter-Korean engagement hoped that the terms of the statement would provide a basis for cooperation and pave the way to sustained peace.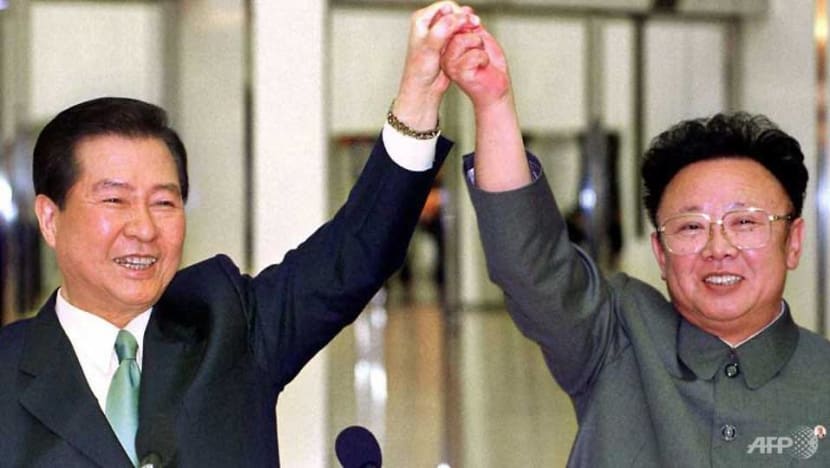 CHANGED ATMOSPHERE IN 2007
The atmosphere had changed by 2007, when the next summit was held. 
The previous year, North Korea had conducted its first nuclear test, and the inter-Korean summit that year was focussed mostly on talk of implementing agreements reached earlier at the Six-party Talks, a multilateral forum aimed at convincing North Korea to denuclearise.
In 2005, through the Six-party Talks, North Korea had already secured an agreement whereby it would receive economic and energy aid in exchange for dismantling its nuclear programme.
The participants in the 2007 summit, South Korean President Roh Moo-hyun and North Korean leader Kim Jong Il, wrapped up their meeting with the signing of an eight-point peace agreement, making pledges that will sound familiar to anyone following the news leading up to this week's summit, based mainly around formally ending the Korean War and establishing a durable peace.
So how did we get here, more than a decade later and still labouring to accomplish those same things?
NO INTEREST IN DENUCLEARISATION
Well, in the intervening years North Korea stepped up its pursuit of nuclear armament, making it clear that it had no real interest in denuclearisation.

In South Korea, starting in 2008, conservative leaders took power and cut off inter-Korean cooperation.
Many have pointed the finger at North Korea as the culprit in the sinking of a South Korean warship in 2010, in which 46 sailors died. That same year, the two sides exchanged fire over their maritime border, and four South Koreans died on a Yellow Sea island.
But now there's another left-leaning leader in power in Seoul, and North Korea, for reasons no one is entirely clear on yet, seems keen to play nice.
HIGHER STAKES
When they sit down on Friday, the stakes will be higher than in 2000 and 2007, because North Korea's nuclear programme is leaps and bounds more advanced than under either of the two previous summits.

Also, the United States currently has a government that is less predictable than its predecessors and could be more willing to enact a strike on North Korea if Pyongyang makes no credible move toward denuclearisation.
But there is unlikely to be any binding agreement from this agreement. North Korea can always, as it has in the past, back away from agreements, and any future South Korean administration could abandon pledges made under this government.
There is also the wrinkle that this summit is, unlike summits customarily, not being preceded by working-level talks among lower-ranking officials. The two Koreas' relative estrangement means that less than the usual amount of preparation has gone into the agenda for this meeting, hindering the prospects for advances from the outset.
While a groundbreaking agreement is unlikely, Friday's summit is still in no way a waste of time. 
Any cordial interaction between the two Koreas has to be evaluated with the caveat that peaceful contact is preferable to war, and this summit is worthwhile even if it does nothing more than stave off conflict.
Steven Borowiec is the politics editor of Korea Expose.