commentary Commentary
Commentary: Did the KL-Singapore high-speed rail unravel because of costs? Note other railways in Asia
Political economist Khor Yu Leng takes a look at the economics of the HSR between Singapore and Malaysia and how it compares to other notable high-speed rail networks in Asia.
KUALA LUMPUR: Prime Minister Mahathir Mohamad sent shock waves when he announced in May that Malaysia will scrap the Kuala Lumpur-Singapore high-speed rail (HSR) project on account of its high cost.

Its purported price tag is simply too expensive for Malaysia, he said.
While official figures of the project's expected costs from MyHSR Corp – the Malaysia Government's project delivery vehicle for the HSR – have not been revealed, a price tag of RM70 billion to RM110 billion (S$24 billion to S$37 billion) has been widely cited.
SHOCK WAVES
Few expected that the project would unravel and in such a rapid manner.
Just two days before Malaysia's historic general election – a stunning loss for Najib Razak and the 60-year-old Barisan Nasional regime – Singapore's Land Transport Authority (LTA) had issued tenders for the design and construction of its HSR terminus.
On Apr 5, two days before the dissolution of the Malaysia parliament, MyHSR Corp awarded its northern alignment (from Kuala Lumpur to Johor) to Malaysian consortium Gamuda-Malaysian Resources Corporation consortium while its southern portion to another Malaysian consortium Syarikat Pembenaan Yeoh Tiong Lay-TH Properties, with package terms to be finalised.

Shelving the HSR project is consistent with the Malaysian government's approach to review all mega infrastructure projects. Dr Mahathir also announced in May that the Greater Klang Valley rail transit line MRT3 will be cancelled and that the Malaysian government was putting on hold the China-backed East Coast Rail Link (ECRL).

The market was equally caught by surprise by this slew of announcements. Malaysia public-listed construction and related companies saw their share prices fall.
In a recent interview with the Nikkei Asian Review on Jun 11, Dr Mahathir said a HSR between Singapore and Malaysia will be needed in the future but it is a project that Malaysia could ill afford presently.
"We cannot say we will never have high-speed rail in Malaysia. What we can do is we can postpone the project because it is far too costly at this moment," he added.
Is the project really too costly?
HOW COSTLY IS THE HSR?
The KL–Singapore HSR alignment will be approximately 350km, with 335km running through Bandar Malaysia, Sepang-Putrajaya, Seremban, Melaka, Batu Pahat, Muar and Iskandar Puteri in Malaysia. The final 15km in Singapore ends in Jurong East.

The HSR is expected to offer three types of services: A non-stop 90-minute express service, an inter-city service, and a shuttle service between Iskandar Puteri and Jurong East.
It projects 22 million passengers per year by year 10 of operations.
Many of these passengers may be current travellers who transverse Kuala Lumpur and Singapore by air – about four million annually with return economy-class ticket prices ranging from US$50 to US$65 (S$68 to S$89).

A ball park cost of the HSR's construction would be about RM60 billion, without including land acquisition and loan interest, according to UOB Kay Hian Malaysia Research. Industry experts estimate land acquisition might rack up RM5 billion to RM10 billion more, and financing costs are expected to push the all-in costs to around RM110 billion.
CHEAPER IN CHINA?
Experts have compared costs of the HSR to Chinese equivalents.
China currently has more than 25,000 km of HSR rail network with construction costs one-third lower than in most countries, according to the World Bank. With maximum speeds of 350kmh, its HSR costs averages about US$17 million to US$21 million per km even with a high ratio of viaducts and tunnels, and boasts lower ticket prices.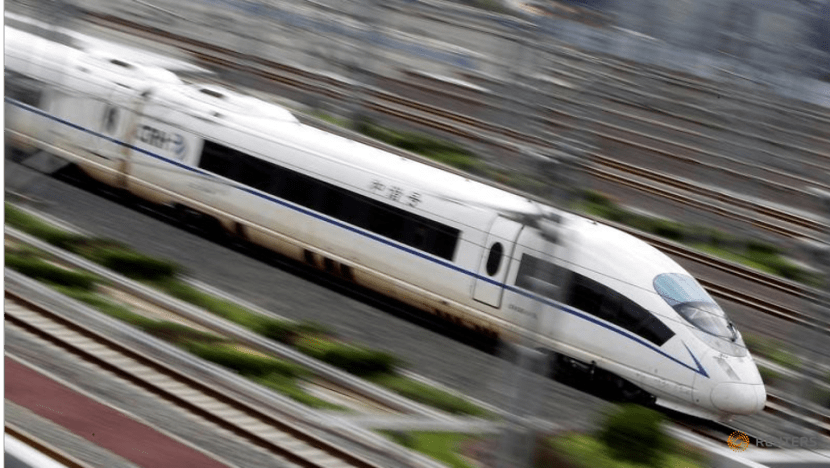 Compared to their Chinese counterparts, the KL-Singapore HSR appears to have a higher proportion of costs devoted to systems engineering and land acquisition – making up 29 per cent and 12 per cent of total costs respectively compared to 18 per cent and 4 to 9 per cent respectively for Chinese HSR projects.
The fact is these Chinese projects enjoy massive economies of scale. Lower manpower costs, and an energised domestic construction and equipment supply community that can build and adopt innovative techniques have driven cost down.
Large volumes and the ability to amortise capital investment in high-cost construction equipment over a number of projects coupled with local equipment, building materials, systems and rolling stocks, also brought down costs for China.
Data from the World Bank's 2014 report also points out that Europe HSR projects (with speed of 300kmh or above) cost between US$25 million to US$39 million per km, while in the US, the recent California HSR was estimated at US$52 million per km but it has risen more since.
HOW CAN COSTS BE BROUGHT DOWN?
Strong concerns in Malaysia about the HSR's absolute cost, which is almost double that of a typical China HSR project, have led to a scramble among Malaysia-based railway experts to review the KL-Singapore HSR with some proposing as much as a 30 per cent cost-cutting.
Severe cost-saving alternatives and a rethinking of the HSR project, such as upgrading the existing KTM rail network for a less-than high-speed rail, to cut existing HSR project costs by two thirds have also been raised.
This track upgrade proposal, pegged by experts at US$15 million per km, echoes Indonesia's ongoing examination of its Jakarta-Surabaya project, estimated at US$10 million per km for the 780km track across Java.
TAIWAN – A CAUTIONARY TALE
A cautionary model to look to is the privately financed Taipei-Kaohsiung HSR – which has a comparable length, number of stations, travel time (for both express and intercity) and costs.

Taiwan's US$15 billion HSR began operation in 2007 cutting through the hilly coastal terrain of western Taiwan. 

Taiwan's tab of US$43 million per km is similar to the per km cost for the KL-Singapore.

Taiwan also spent on some eye-catching train stations, in the same vein that Malaysia had plans for a few iconic HSR stations.
Both are also similar in that they have costly elevated superstructures (for about half or more of the track) and some tunnelling. 
But Taiwan's HSR had to overcome significant engineering challenges because it passes through highly uneven terrain in an earthquake prone region.
What Taiwan had going for it was its high population density. Within months of operations, its HSR was able to capture travellers between the two cities of Taipei and Kaohsiung with its low standard fare of US$48 (the average one-way flight was US$67) and its reliable schedule.
But this has resulted in the huge cannibalisation of air travel – as airlines have also reduced flights between Taipei and Kaohsiung. While it has achieved a ridership of 48 million in 2017, the privately funded project has also run into financial difficulties.
WIDER DISCUSSION IN MALAYSIA
There will no doubt be a wider discussion on the socio-economic implications of a HSR or medium-speed rail – including a review of its cost-benefit analysis, the ticket price and its financing structure as well as the purported benefits in job creation, industry growth and economic collaboration.
The Mahathir administration is in a good position to review the project, so as to improve the livelihoods of the average Malaysian and look into surrounding issues that include sustainability and affordability.
Khor Yu Leng is an independent economist at Segi Enam Advisors.