commentary Commentary
Commentary: Lecturing Aung San Suu Kyi on press freedom wasn't Pence's best moment
US Vice-President Mike Pence would have done better to stay on message and focus on keeping the pressure on Myanmar to find a lasting solution to the Rohingya crisis instead, says Nehginpao Kipgen.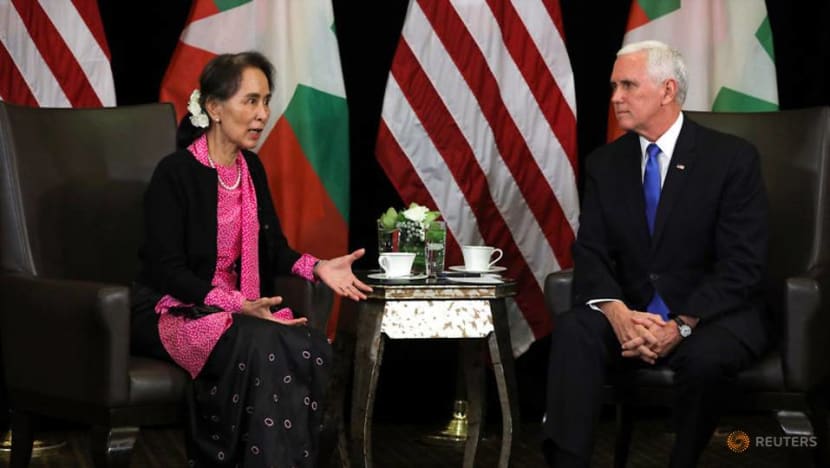 NEW DELHI: On the sidelines of the 33rd Association of Southeast Asian Nations (ASEAN) summit in Singapore, the US and Myanmar took their differences to another level, particularly on the Rohingya crisis and press freedom.    

During the meeting between US Vice-President Mike Pence and Myanmar's State Counsellor this week, Pence told Aung San Suu Kyi that: 
The violence and persecution by military and vigilantes that resulted in driving 700,000 Rohingya to Bangladesh is without excuse.

Pence then went on to say: "I am anxious to hear the progress that you are making of holding those accountable who are responsible for the violence that displaced so many hundreds of thousands and created such suffering, including the loss of life."     

Since the Rohingya crisis became an international issue, this strong position taken by Pence is consistent with the US's expressed critical position on Myanmar's treatment of the Rohingya people.
Then US Secretary of State Rex Tillerson last year described the military operation on the Rohingya "horrendous atrocities" and "ethnic cleansing". 
The US has also imposed sanctions on four Myanmar military and police commanders and two army units, accusing them of "ethnic cleansing" and widespread human rights abuses.     

MEDIA FREEDOM?

It is understandable that the US might have been frustrated with the lack of any concrete movement on the Rohingya crisis and Pence's strong words at this point in time would have not only been warranted but also strongly supported by many other countries.   

A UN fact-finding mission report, just released in September, has alleged that the Myanmar army operations in Rakhine had "genocidal intent" and called for the Myanmar military commander-in-chief and some other generals to face justice. 

Myanmar and Bangladesh might have agreed to repatriate the Rohingya refugees this month but conditions on the ground where the Rohingya might be relocated to have been considered by human rights groups, including the UN refugee agency, to be premature.
But the conversation raised some eyebrows when Pence then pivoted to the issue of press freedom and said that Washington wanted to see a free and democratic press in Myanmar, highlighting that the imprisonment of journalists last year - no doubt an indirect reference to the arrest of two Reuters journalists Wa Lone and Kyaw Soe Oo - is "deeply troubling" for millions of Americans.       

The US vice-president added that "In America, we believe in our democratic institutions and ideals, including a free and independent press."

Ang San Suu Kyi responded calmly and steadily: 
Of course people have different points of view but the point is that you should exchange these views and try to understand each other better … In a way, we can say that we understand our country better than any other country does and I'm sure you will say the same of yours, that you understand your country better than anybody else.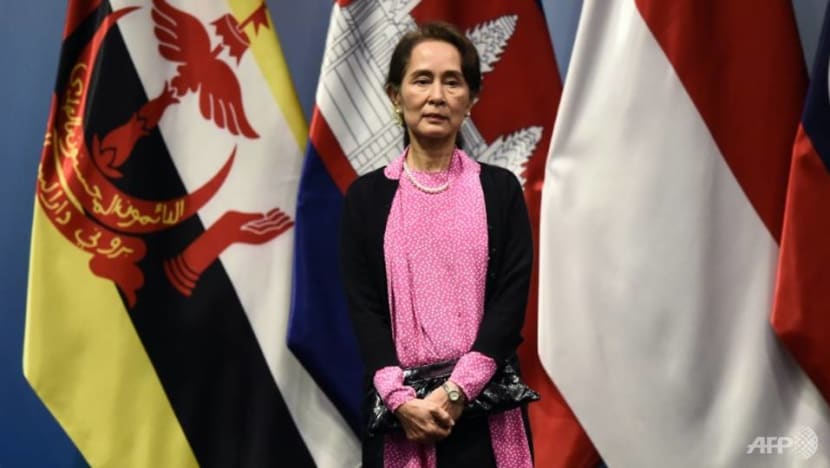 UNCOMFORTABLE QUESTIONS

It is not the first time the US has openly criticised another country for certain practices they deemed out of line with American interests, principles or values, nor the first time US political leadership has publicly censured another leader the US government had supported for many years. 
Indeed, since the new Trump administration took over – that modus operandi is par for the course.

But the exchange does raise some uncomfortable questions when US President Donald Trump hasn't had the best relationship with some American press over the past two years, to put it mildly.

He has repeatedly demonstrated open frustration at some, unabashedly berated and belittled others, and sought to ban a few from the White House. His growing hostility has drawn expressed concerns from many in the news and intelligentsia community.

As Pence lectured Aung San Suu Kyi about press freedom, no doubt many will recall Trump's latest tussle with CNN White House Correspondent Jim Acosta just last week after Acosta pressed him and repeated questions on Russia.

The latest in a string of confrontational exchanges between the White House and the media, the White House's suspension of his press pass drew huge protest from CNN, which was supported by other news outlets including Fox News.

But it wasn't just the retaliatory nature of the White House's action but how quick authorities were to level aspersions on Acosta and his character.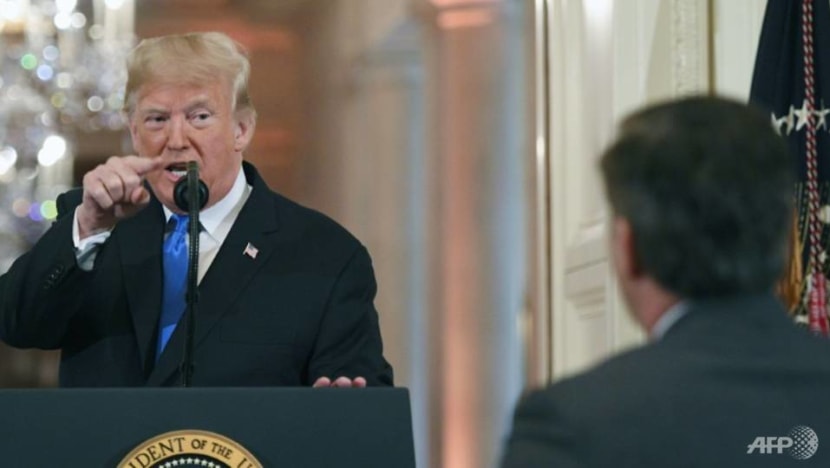 Last week, White House Press Secretary Sarah Huckabee accused Acosta for laying his hands on a White House intern during the exchange – but the supporting video was later found to be doctored.

These developments have taken a serious turn when the White House Correspondents' Association has collectively criticised President Trump's action and CNN has filed a lawsuit to regain Acosta's access to the White House.

In light of these developments, it seems odd for Pence to lecture Myanmar for its poor treatment of the press.     

STAY ON MESSAGE ON THE ROHINGYA

Now that the US has raised the issue with Myanmar so openly, it might actually be harder for Aung San Suu Kyi to find a resolution and free the journalists without looking like she bowed to US pressure.
She's in a hard place because the two journalists were found guilty of breaching the Official Secrets Act by Myanmar courts and sentenced to seven years in prison – they had broken Myanmar's laws. 
There may be room for a presidential pardon, and their lawyers have also appealed, so the case isn't closed. But what Pence has done now is to place Aung San Suu Kyi under greater and unhelpful scrutiny.
There might have been understandable concerns that the Reuters pair had been locked up because of their coverage on the Rohingya crisis.

Still, for Pence to conflate both sets of issues regarding the Rohingya crisis and the imprisonment of these journalists seems unproductive and clumsy.
Pence's remarks on the freedom of press served only to focus international attention on the US's seemingly hypocritical stance on media freedom.

It would have been better if Mike Pence had stayed on message to focus on the Rohingya crisis instead and zoom in on holding the Myanmar military, which was behind the clearance operation that drove away hundreds of thousands of Rohingya, accountable.

Dr Nehginpao Kipgen is associate professor and executive director of the Center for Southeast Asian Studies, Jindal School of International Affairs, OP Jindal Global University. He is the author of three books on Myanmar, including Democratisation of Myanmar.