commentary Commentary
Commentary: Playing palm oil politics ahead of Malaysia's general elections
A recent European Union effort to exclude palm-based biofuels and Malaysia's reaction suggests a strong contest is underway in courting FELDA voters, says one observer.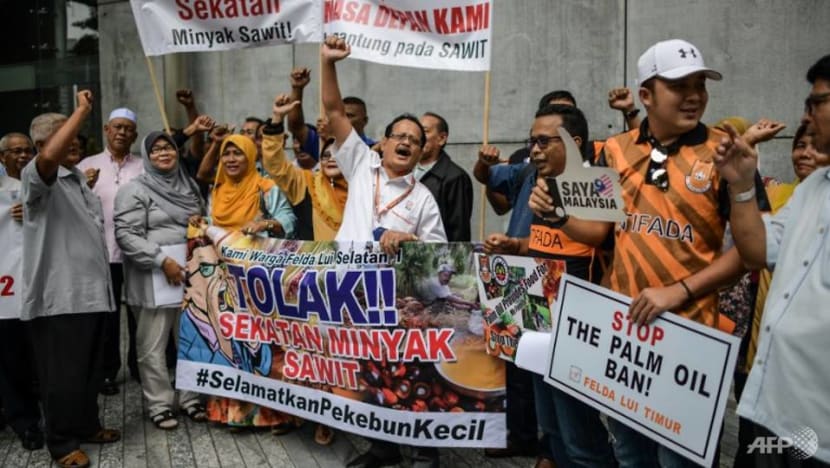 KUALA LUMPUR: In January, a rare protest by Malay and indigenous oil palm farmers in downtown Kuala Lumpur made news headlines.  
Two thousand Federal Land Development Authority (FELDA) settlers and smallholders, armed with 103,078 signatures, protested the European Union Parliament's efforts to fast track the exclusion of palm-based biofuels in its Renewable Energy Directive II policy revision.
Malaysia's palm oil producers view the decision to exclude palm-based biofuels ahead of competitor oils as discriminatory.
Malaysia's Minister for Plantation Industries and Commodities Mah Siew Keong labelled the decision "crop apartheid".

While the EU's policy revision is still subject to contestation with a year-end legislative target, Malaysian and Indonesian palm oil players are justified in their fears. The EU's energy demand for palm oil from Malaysia and Indonesia is worth about US$1.5 billion per year.
Malaysia's market share is 30 per cent and a notional loss would total about US$256 for each of Malaysia's 650,000 smallholders.
Under current income estimates, this would represent 5 per cent of a FELDA settler's annual income from oil palm.
BN STRUGGLES TO KEEP FELDA VOTES
Just over 110,000 FELDA settlers are part of a major interest group in Malay politics.
Dubbed the anak emas or "golden children", the settlers benefited from a post-colonial socio-economic boost in the 1960s, 70s and 80s that saw landless peasants, poor fishermen, veterans and their families resettled onto professionally planted four-hectare rubber or oil palm holdings.
Beyond a resettlement and plantation programme, FELDA is an important voting bank for the long-ruling coalition Barisan Nasional (BN) — its proverbial "rural fortress".
In the last general election in 2013, FELDA villages voted 60 to 90 per cent in favour of incumbents from the United Malays National Organisation (UMNO).
The European Union's policy revision and other palm oil issues add to the ruling coalition's struggle to maintain popular support in the lead up to the next general election, scheduled for May 9.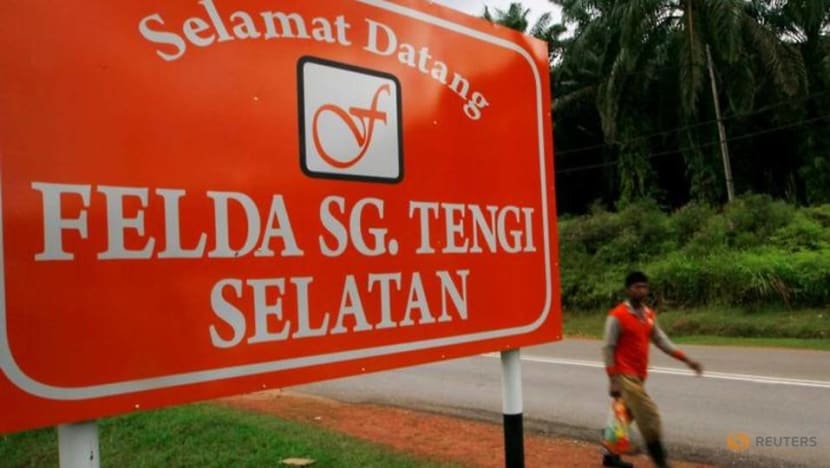 Prime Minister Najib Razak's administration has been hamstrung by the 1Malaysia Development Berhad scandal and multiple headline crises at FELDA Global Ventures Holdings Berhad.
Prior to the FELDA Global Ventures crises in mid-2017, a survey by INVOKE Malaysia suggested a limited increase in support for the UMNO–BN coalition in FELDA-associated constituencies.
Now, opposition politicians estimate 5 to 15 per cent decline in support for UMNO–BN among rural Malays, especially outside FELDA settlements.
The opposition People's Justice Party Vice-President Rafizi Ramli reckons that rural voter support for UMNO–BN in kampung biasa (regular, non-FELDA villages) could be about 5 to 10 per cent lower than in FELDA settlements.
While it is no surprise given its popularity woes that UMNO–BN is becoming more vocal about protecting domestic palm oil interests, the Najib administration's efforts to deal with the EU palm oil issue are being questioned.
Opposition politician Rais Hussin noted that "talk of a European Parliament ban had been obvious at least since 2012" and criticised the government's neglect of the farmers' plight.
Yet despite the concern among politicians about Malaysia's palm oil export market, these issues do not seem acute in the minds of average planters and smallholders.
BREAD-AND-BUTTER ISSUES
Most farmers are unaware of the macroeconomic and policy trends impacting their livelihoods.
Even well-to-do estate owners are disconnected from such concerns and take a sanguine view. For them, palm oil has always weathered market challenges.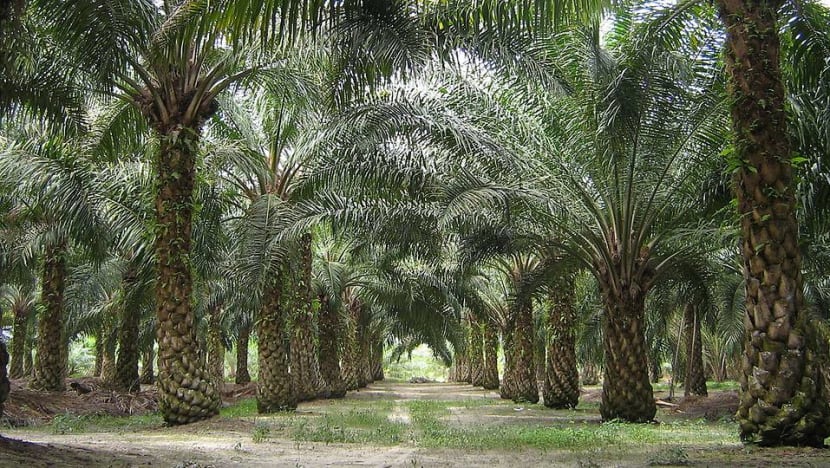 A relatively low cost of production means a wide profit-margin buffer for farmers and estate owners.
Unlike other commodity crops, palm oil has not turned a loss in decades.
These conditions indicate that any shifts in the EU's palm oil policy should not affect the Najib administration's political prospects. Political analysts agree that "fortress FELDA" should hold for the upcoming general election.
Shrewd FELDA farmers, aware of their political leverage, grouse about other issues. Recently the focus is on their RM50,000 (US$12,900) loans.
In the 2013 general election, settlers took issue with oil extraction rates to angle for better prices. It may well be bread-and-butter issues, rather than the EU policy revision, that weigh heavily on the minds of FELDA and other rural voters when they head to the polls in May.
SOCIAL MEDIA CHANGING HOW RURAL VOTES WILL SWING
The Malay vote will be contested in the 14th general election. Rural voters are increasingly using smartphones and social media, especially in the coastal belts and southern peninsular Malaysia.

With an estimated 68 per cent of the country now able to access social media, up from 15 per cent in 2013, channels of communication in rural areas may start to shift from traditional sources to messages and videos on platforms such as WhatsApp.

Led by Mahathir's "Parti Bunga", opposition politicians have had unprecedented access to FELDA areas.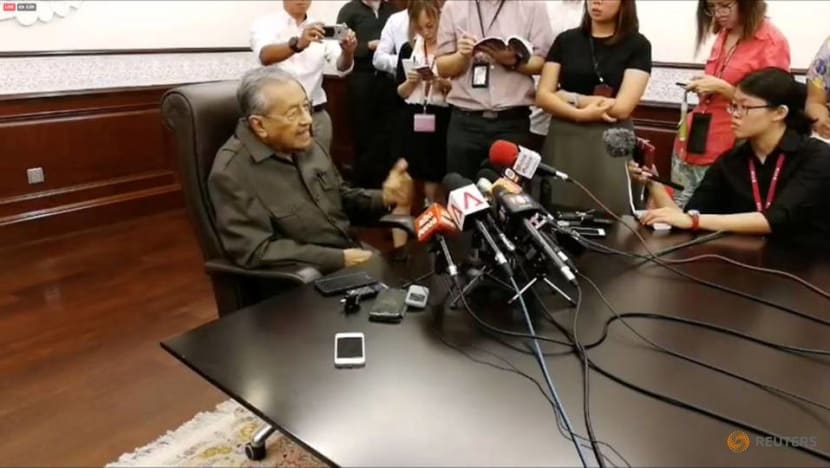 YouTube videos of Mahathir's speeches to FELDA schemes have been viewed over 10,000 times each, and in the past week or so, they have been preceded by BN's paid advertisements.
Registration challenges have unexpectedly pushed the opposition Pakatan Harapan coalition gather under one flag — that of Anwar Ibrahim's Parti Keadilan Rakyat.
All eyes are on how Mahathir and others in the opposition appeal to Malay discontent.
This include potentially mobilising the children of FELDA settlers, non-FELDA rural voters (with less privileged access to extra resources and transfers) and semi-urban Malays with high debt burdens compounded by rising housing and commuting costs.
Khor Yu Leng is political economist at Segi Enam Advisors. This commentary first appeared on East Asia Forum.