Commentary: Treat neighbour noise as a public health issue
New research indicates sleep disruption can lead to long-term health problems. If prevention is better than cure, then benchmarks for neighbourhood noise levels are a step in the right direction, say NUS researchers Fan Yi and Wang Jiaxuan.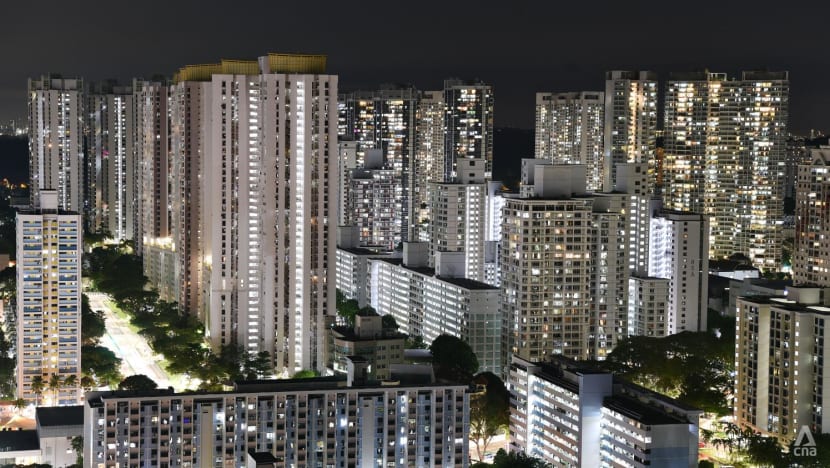 SINGAPORE: Home renovations, slamming doors, inconsiderate shouting and even piano practice - in densely populated Singapore, some may feel trapped by the inevitable noise from neighbours. Around 70,000 complaints are made to various government agencies each year about excessive noise.
According to the Housing & Development Board (HDB), the number of noise-related complaints increased from 400 cases a month in 2019, to 2,500 in 2020 to 3,200 in 2021. This has been attributed to people spending more time at home during the COVID-19 pandemic.
But noisy neighbours can be more than just a source of frustration when we work from home or a general nuisance, especially when they affect our sleep.
ILL HEALTH IN THE LONG RUN
New research indicates that sleep disruption by neighbour noise do not just give us a headache or make us irritable the next day – they can lead to many long-term health issues.
In a study by one of us (Assistant Professor Fan Yi) and Associate Professor Diana Weinhold from the London School of Economics, we investigated the causal relationship between self-reported sleep disruption and health. This was based on a longitudinal survey involving more than 5,000 Dutch adults over five years that recorded their self-reported exposure to neighbour noise and street noise, and their health outcomes.
The findings suggested that neighbour noise is positively linked to sleep disruption, which can lead to ill health in the long run.
Sleep disruption can further cause cardiovascular problems, auto-immune diseases such as arthritis, and lung disease. Many observational studies have found strong correlations between sleep disruption and the risk of obesity, diabetes and cognitive dysfunction.
We know that uninterrupted sleep is essential to allow the body to rest and help maintain the brain's normal functioning. And it is a vicious cycle: Sleep disruption affects how our body secretes hormones, such as cortisol, widely known as the stress hormone, which could lead to more poor sleep quality.
TACKLING NOISE POLLUTION
Seen through this perspective, taking steps to address noise pollution that disrupts sleep can contribute to improved public health outcomes. And in health, prevention is better than cure.
In Singapore, there are rules that restrict the hours for heavy construction and noisy home renovation work and efforts have been made to reduce other street noise.
The Land Transport Authority is working on installing 27km of noise barriers along elevated sections of MRT lines. The barriers are expected to reduce noise levels by passing trains - important when the last trains run until after midnight.
But solutions to combat neighbour noise can be less straightforward. Cases in the public eye often involve uncooperative neighbours.
The course of action for those unable to settle the noise dispute amicably is usually mediation services at the Community Mediation Centre. A third party mediator can help the parties understand the situation and their role in it to achieve a mutually acceptable result.
Seeking legal recourse through the Community Disputes Resolution Tribunal can be a last resort, but requires more time and effort (such as to gather evidence).
LOOKING AT OVERSEAS EXPERIENCE
Neighbour noise can be a problem anywhere in the world. In the United Kingdom, if the noise is deemed a statutory nuisance, noisy residents can be issued an abatement order, with a fine imposed if the order is broken.
The challenge then is how to prove the noise "unreasonable and substantially" interferes with home life or is "prejudicial to health". A 2016/2017 UK study indicated nearly 280,000 statutory nuisance complaints in one year were about noise, but less than 3 per cent resulted in abatement orders.
At night, complaints about noise above permitted levels but are not a statutory nuisance can also result in warning notices. But the quality and quantity of night time noise enforcement varies considerably.
The UK's broader noise policy aims to minimise noise "as far as reasonably practical", using tools such as traffic smoothing measures and even rubber bin lids. Organisations, like the Noise Abatement Society and the UK Noise Association, and media outlets, actively disseminate information about the health effects of noise.
The Netherlands tracks the percentage of population who are highly annoyed by traffic noise and aims to keep this percentage stable through statutory framework and guidelines.
MAKING NOISE CONTROL POLICIES MORE ROBUST
To guide environmental health improvement efforts and make Singapore's noise control (including neighbour noise) policies more robust, another of our studies, published in the Journal of Environmental Planning and Management, proposed four pillars.
First, provide information. Accurate information on the health impact of noise pollution and clear information on unacceptable noise disturbances and good community norms will help in reducing noise disputes.
Second, increase public awareness of noise problems. There could be posters and advertisements on reducing noise and tips to maintain good neighbourhood ties. The International Noise Awareness Day, celebrated on the last Wednesday of April, is an example of a global campaign that raises awareness of the effects of noise.
The Community Advisory Panel on Neighbourhood Noise set up this year to propose benchmarks for neighbourhood noise levels is a step in the right direction for both providing information and raising awareness. The benchmarks will then inform public advisories, shape community expectations and facilitate mediation when there are conflicts over noise issues.
Third, coordinate among agencies to set and enforce noise limits in residential settings. Though residents can seek help from different parties such as grassroots, mediators and police, some cases reported in local media show that this does not always solve the dispute efficiently.
Though mediation is less considered currently, the hope is that most cases can be successfully resolved by mediation for community harmony. The authorities have indicated they may make mediation mandatory before the next step of the tribunal.
Last, enhance noise controlling tools such as regulations and laws. These are generally well-established in Singapore, set up to prevent severe noise pollution, including construction and industrial noise. From Apr 1, 2023, new vehicle noise standards will also be imposed.
SMALL MATTER WITH GREAT RIPPLE EFFECT
With many working at least partially from home post-pandemic, more regulations may be necessary to regulate neighbour noise.
It may not be a constant affliction for all of us, but no one can tell if we may be affected when new neighbours move in or pick up new hobbies.
Neighbour noise should be viewed as a public health issue, and prevention is better than cure. As the International Noise Awareness Day puts it, "You have to make some noise to end it".
Fan Yi is an assistant professor of real estate at the National University of Singapore (NUS) Business School. Wang Jiaxuan is a research assistant who recently obtained her Master's degree in urban planning at NUS. The opinions expressed are those of the writers and do not represent the views and opinions of NUS.