Commentary: It's curious how Singapore went crazy for the Omega x Swatch MoonSwatch
Singaporeans are no strangers to queueing up for the good stuff so why did this collaboration spark such a frenzied response? Writer Karen Tee explores the heated emotions not just in Singapore, but around the world.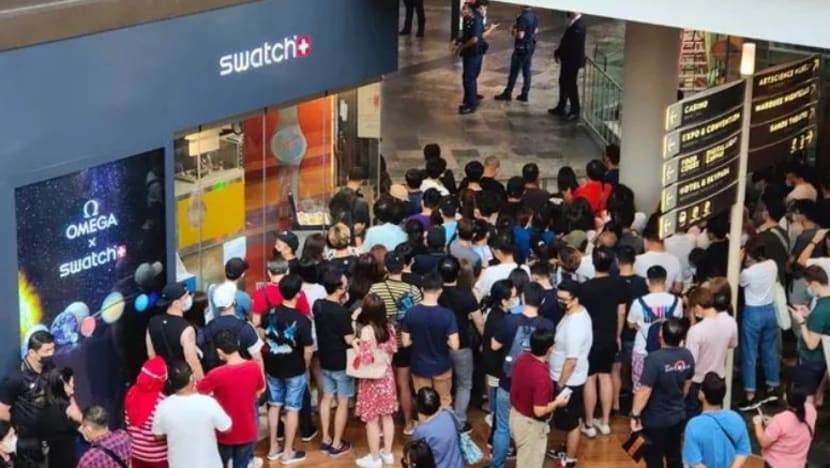 SINGAPORE: Getting in line is pretty much Singapore's national sport. From queuing up for McDonald's Hello Kitty plush figurines to getting a fix of popular dishes such as Hill Street Tai Wah Pork Noodles or IKEA meatballs, it almost seems de rigueur to test one's endurance to prove worthy of accessing the coveted item.
I too am no stranger to queuing up. I used to camp overnight outside H&M to get first dibs on their limited edition designer collaborations. At unfamiliar hawker centres, queues are simply the wisdom of the crowd. I get in the longest line and trust my fellow foodies know exactly where the good stuff is.
But when reports of the rowdy crowds at last week's chaotic Omega x Swatch MoonSwatch collaboration launch surfaced, like many others, I was baffled. Inspired by the original Omega Speedmaster Moonwatch, which many horological aficionados consider to be a classic in their collections, the MoonSwatch range features 11 models in different colours, made from Swatch's bioceramic material.
In Singapore, the police had to be called in to manage the situation, with a man even shouting threateningly at several officers, which we can agree was uncalled for. This ugly scene was repeated at Swatch stores around the world. At least one London store had to close due to safety concerns.
RARE WATCH COLLABORATION GETS FANS EXCITED
One reason why this launch roused such passionate emotions - and surprising hostility among shoppers - could be that such affordable crossovers are practically unheard of in the rarefied watch industry.
Fashion lovers have long been accustomed to lower-priced designer collaborations by high street brands. For instance, H&M has leveraged its mass market expertise to offer prolific collections by brands including Simone Rocha, Moschino and Giambattista Valli sans the luxury price tag.
This is why we shopaholics know the drill - lines are typically orderly and there is a sense of camaraderie even when queuing for long hours.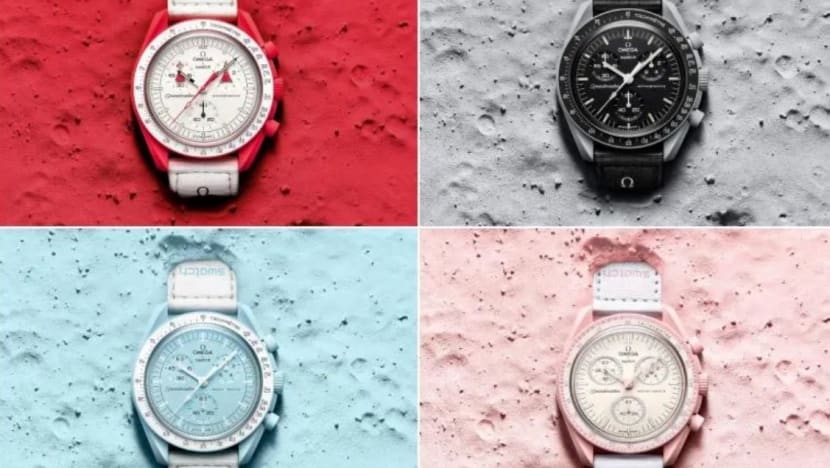 However, with collectible timepieces typically costing thousands of dollars, due to the intricate proprietary craftsmanship required and prestigious heritage, it can be challenging for watchmakers to slash prices so dramatically.
So, with the MoonSwatch range going at S$372 a pop compared to the original Omega version, which starts from S$9,000, it is no wonder the launch not only broke the internet, but had people coming out in droves all around the world, just for a (literal) fighting chance to get their hands on them.
The outpouring of interest in this collaboration is clearly excellent publicity for Omega and Swatch. MoonSwatch will likely go down in history as one of the most anticipated watch launches of all time.
NOT LIMITED EDITION - SWATCH'S SLY MARKETING PLOY?
Still, it would be remiss not to bring up how Swatch was somewhat disingenuous in their marketing. In the lead up to the launch, the brand emphasised that this range would be launched only at select boutiques around the world.
It was only after people became unruly - when they discovered that each store would not have sufficient stock for all who had stood in line - that Swatch was forced to issue clarifications on social media.
The MoonSwatch range was not actually a limited edition collection but would be restocked in time to come. Netizens may have mocked the crazed shoppers after the fact, but it's little wonder fans had the impression the pieces were actually scarce.
Certainly, knowing that this is not a one-off launch would not have deterred the most FOMO ("fear of missing out") individuals who simply must have bragging rights at being the first to slap this timepiece on their wrist. Just look at the queues that never fail to pop up at Apple each time a new iPhone model is released, even though we know full well these are hardly limited edition pieces.
But telling customers clearly that the MoonSwatch is not a limited edition range would likely have helped to thin out the crowds of those who didn't mind buying their watch another day. It might have prevented ugly scenes of brawls and not drawn on precious public resources by bringing in the police.
KEEPING RESELLERS IN CHECK
Not surprisingly, reselling of the MoonSwatch kicked in almost immediately. Just like with coveted Nike sneakers or Supreme collectibles, scalpers around the world started selling the watches at dramatically marked up prices that range from S$1,000 up to over S$5,000.
Most of the time, genuine collectors will tut disapprovingly at this unscrupulous practice and move on to the next better thing.
Somehow, it was different this time. Perhaps the jacked up price tags were so egregious that resellers themselves began to speak up about it. Or potential buyers sending a signal to prevent those who hadn't heard the latest news from being duped.
Some have jokingly pointed out that buyers might as well buy the original Omega watch if they are willing to pay thousands for a watch.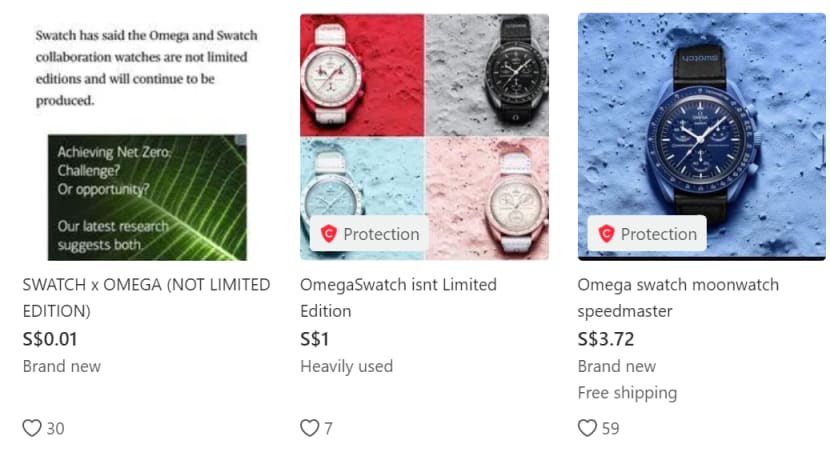 In Singapore and Malaysia, several users on online classifieds marketplace, Carousell, have also taken the time to post "public service announcement" listings for the MoonSwatch that warn would-be buyers not to pay resellers more than retail price since restocks are on the way.
It has been the one rare spark of good heartedness in this entire debacle and more hearteningly, could be a sign that the reselling community too is making the effort to keep things honest.
After all, flipping products at astronomical prices has been one of the least savoury aspects of the hype culture. So, even though it is unlikely that this singular incident will put an end to this practice, at least the broad popularity of the MoonSwatch could raise awareness among consumers and warn resellers that their peers are watching them too.
More importantly, having resellers themselves speak up about price gouging is a good reminder that the main aim of the circular economy is to encourage people to recycle and reuse unwanted things instead of throwing them away.
So perhaps some good will come out of this curious case of the MoonSwatch craze - that we take one small step towards making our consumerist planet a more sustainable place to live in.
Karen Tee is a freelance lifestyle and travel journalist based in Singapore.