commentary Commentary
Commentary: The English Premier League and European football have a disgusting racism problem
Football authorities have pointed out that racism in the game reflects racism in society but the sport could work harder to become more inclusive, says John Duerden.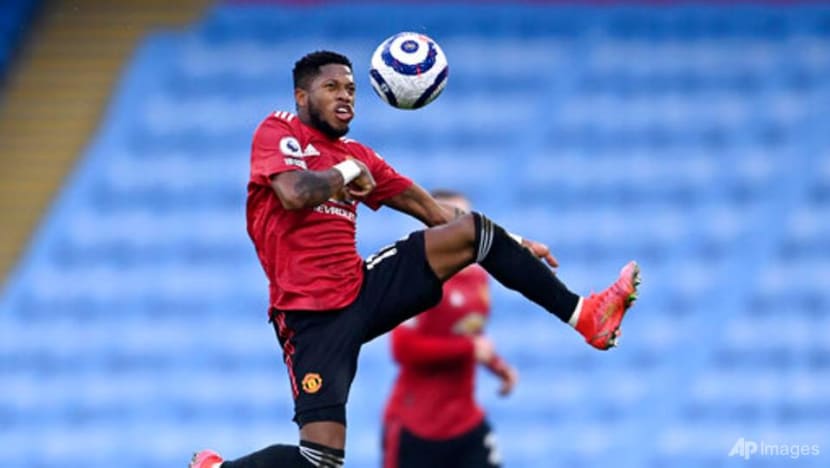 SINGAPORE: In European football, incidents of racial discrimination, either on the pitch or online, are a regular feature of every season. Frequently, there are depressing headlines detailing the abuse of black players. 
It has long been an issue. In England, racist abuse became more common in stadiums in the 1970s and 1980s when black players started to play for clubs and the England national team.  
There are infamous images of Liverpool star John Barnes back-heeling a banana skin that had been thrown on the pitch. 
In 2017, black striker Cyrille Regis, a prolific striker in England in the 1970s to 1980s, recalled the reaction when he was first called up for the national team.  
"The worst for me was getting my first England cap and receiving a bullet through the post saying 'if you put your foot on our Wembley turf, you'll get one of these for your knees,'" Regis told media. 
"But in England I think we've come a long, long way from where we were in the seventies." 
While bullets may be a thing of the past, bananas, their skins and monkey chants aren't. 
In October 2019, the English national team almost walked off the pitch when their black players – particularly Tyrone Mings and Marcus Rashford – were subject to verbal abuses and monkey chants by opposing fans in a match against Bulgaria. 
But even in England and even its Premier League, the world's most popular and cosmopolitan domestic competition, may not have come as far as Regis thought. 
Last season there were, according to the Home Office, 2,663 football games and in 287 of them, at least one hate crime was recorded. 
There are some that receive little attention but many do – there were a 150 per cent increase in arrests made over this period for racist or indecent chanting. Even then, it's not enough.

Jonathan Liew writing in The Guardian on Mar 23 explained how racist incidents play out in the media. 
"Statements are issued. Governing bodies, broadcasters and public figures clamber over each other to offer their condemnation, often by way of a fancy social media graphic. And then, like any wave, the anger subsides. The news cycle gets bored. Racism carries on, and so does everyone else. Until the next wave, at least." 
The latest cycle includes Manchester United star Fred who was racially abused online after making a mistake that led to a Leicester City goal as United were eliminated from the FA Cup on Sunday (Mar 21). 
This came three days after similar headlines were made in the UEFA Europa League game as Slavia Prague eliminated Glasgow Rangers. 
Few cared about the result as Rangers star Glen Kamara said that during the game Slavia defender Ondrej Kudela covered his mouth and then racially abused him. 
Kudela admits using offensive language but denies saying anything discriminatory.

"As a player I do not expect myself, nor any other to have to tolerate racial hatred on or off the pitch in 2021," Kamara, who left the field visibly upset and angry, said in a statement. 
"If UEFA genuinely wants to "show racism the red card", then it's time to stop the tokenism and take a zero-tolerance approach."

STILL MUCH TO DO ONLINE AND OFFLINE

Football is not holding its breath. UEFA has been criticised in the past for handing out lenient punishments for on-field racist incidents such as the 75,000 euros fine and one game played behind closed doors to Bulgaria in 2019 for its fans racist behaviour in the England game.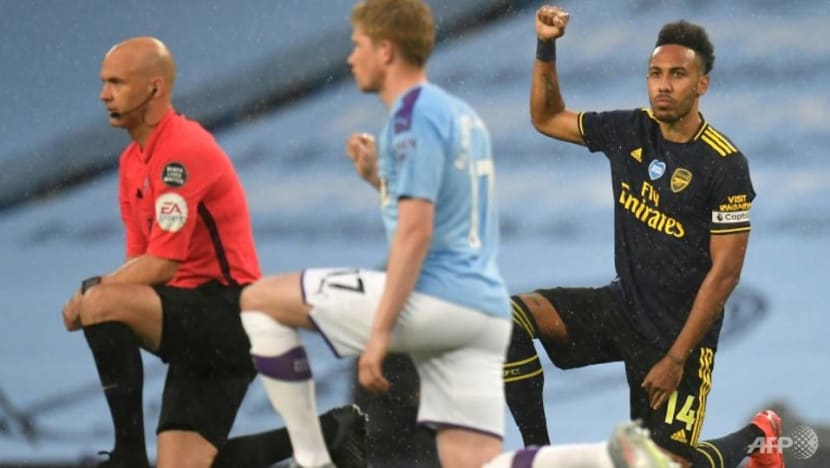 Partly due to the perceived inaction of official bodies, there have been independent organisations set-up to combat racism.

In 1996, Shaka Hislop, then goalkeeper for Newcastle United and Trinidad and Tobago, founded a charity Show Racism the Red Card aimed at fighting racism. 
There is also Kick It Out in England that started campaigning against racism in football in 1993. 

"Racism and abuse of players has been, sadly, a part of our game for as long as we can remember, ever since black players first started in the game," said Hislop. 
"You are now seeing that abuse moved to online, because of the anonymity that is afforded to so many of these social media platforms." 
Indeed, racism in football has moved to social media platforms such as Facebook, Instagram and Twitter where fans can interact directly with players. Racist abusers, who can be located anywhere around the world, can target players at any time. 
Football bosses want these companies to be more active in tackling the issue.  
"Tackling online hate is a priority for football, and I believe social media companies need to do more," said English Premier League (EPL) Chief Executive Richard Masters in February. 
His views were part of an open letter that the Premier League, the Football Association and other bodies wrote to the CEOs of Facebook and Twitter, calling upon them to do more to combat racism on their platforms. 
PLAYER POWER
So far little has happened and players have taken the matter into their own hands. Well, knees. 
Since last season, they have been kneeling before kick-off to show their support for the Black Lives Matter movement, which started taking the knee after the practice spread from the United States where it was used to protest racism. 
While England international Raheem Sterling hailed its adoption as a massive step last June, it has not been without controversy. 
In December, fans of Millwall, in England's second tier, booed the kneeling players as disapproval of their action against racism.

A growing number of clubs have since stopped taking the knee, not because of displeasure from fans but because, as explained in a statement from Derby County in March, it wasn't making a difference.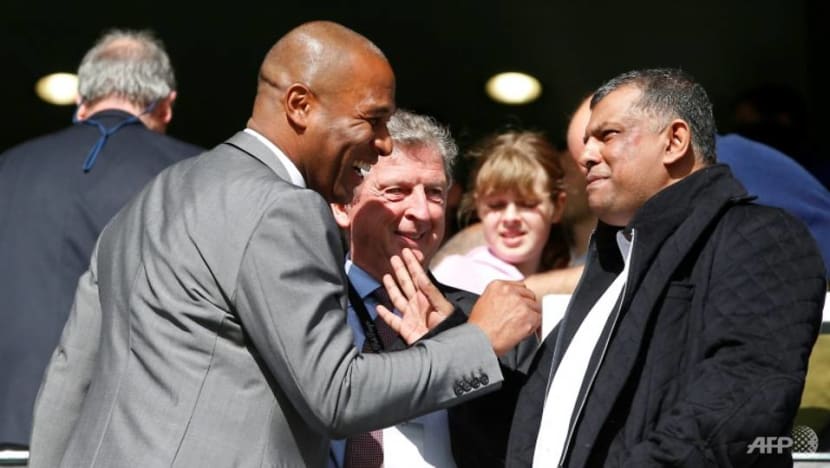 "This decision has been made because the symbolic gesture of taking a knee is not enough; more needs to be done and we are committed to playing an important role in this." 
It followed a similar comment from Crystal Palace star Wilfrid Zaha in February as he said. "It's becoming something that we just do now. It feels like we are isolating ourselves from these things that are not working anyway."

MORE DIVERSITY OFF THE PITCH
Football authorities have pointed out that racism in the game reflects racism in society but the sport could work harder to become more inclusive. 
For instance, there is a distinct lack of black coaches in the professional game. 
Around 25 per cent to 30 per cent of professional players in England are black but there is only one minority coach in the EPL - Nuno Espirito Santo at Wolverhampton Wanderers.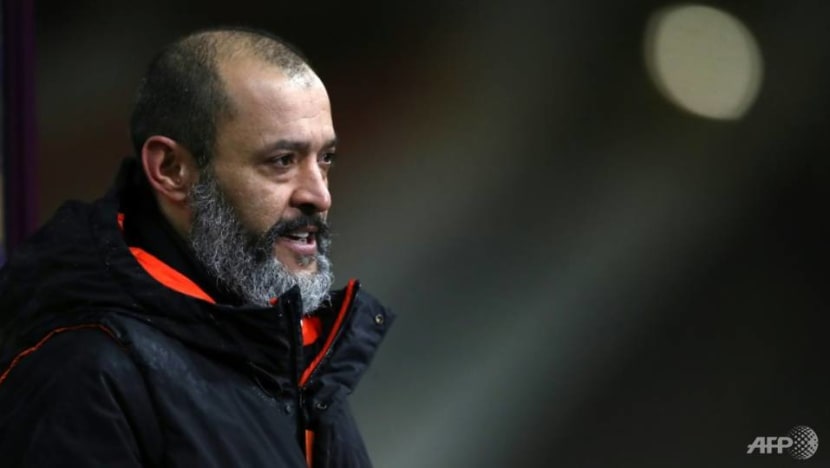 In almost three decades of the EPL, only nine black managers have been hired to lead clubs.

The situation is just as bad across English football. At present, there are only six black head coaches in the 92 clubs in the top English professional leagues – a dismal statistic. 
One of the problems is that while black players do well in the game, many of them don't have the same opportunities to transition to management or coaching when they retire. 
Former Liverpool and England striker Stan Collymore explained this lack of diversity by comparing the fortunes of four contemporary ex-England players: black players Sol Campbell and Ashley Cole and white players Steven Gerrard and Frank Lampard. 
Collymore pointed out that while both Gerrard and Lampard were fast-tracked to high-profile managerial careers at Glasgow Rangers and Chelsea respectively after hanging up their boots, Campbell has had to start his management career with Macclesfield at the ­bottom of League Two and Cole only got a chance to work with Chelsea's youth academy.

"White former players get opportunities that simply don't exist for their black counterparts," Collymore wrote in a column in the Daily Mirror.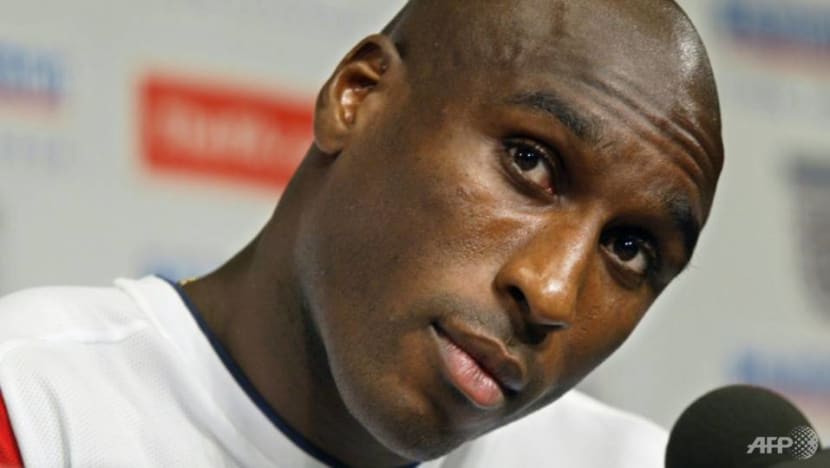 "There is, and always has been, a disconnect between owners and black former players. If men as decorated as Cole and Campbell face a struggle, it's even harder for those who weren't very good to get an audience with owners."
The situation is similar when it comes to football associations and organisations that decide the future of the sport across Europe. 

Former Netherlands international Clarence Seedorf, who was one of the most decorated and admired players in the 1990s and early 2000s, in February criticised the lack of black representation at influential levels in European football.

"For coaches there are no equal opportunities: If we look at the figures, there are no Black people in the positions of greatest power in football... The best results can come from diversity."

That has been proven on the pitch but there is still a long way to go off it. 
Football may not be able to tackle the issue of racism by itself but it could do a lot more. 
It has to start by ensuring that there are enough minority voices among the people who set the rules and govern the game. 
That may seem symbolic, but it is a powerful gesture that can go a long way in introducing empathy for victims of racism in all levels of the sport.
John Duerden has lived in Asia for 20 years and covers the region's sporting scene. He is the author of three books including Lions & Tigers - The History of Football in Singapore and Malaysia (2017).