commentary Commentary
Commentary: Do K-pop stars hold the key to moving North Korean leader Kim Jong Un?
Korean pop group Red Velvet was among the many who performed in Pyongyang last week. Korea Expose's Steven Borowiec discusses their impact in bringing North and South Korea together.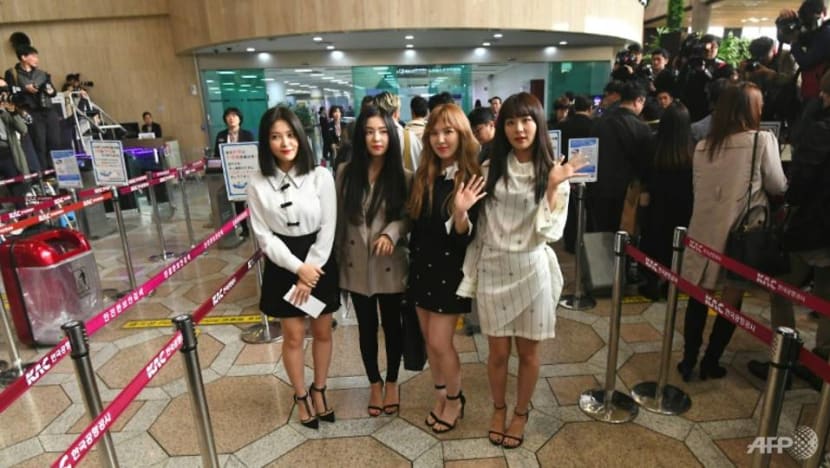 SEOUL: The East Pyongyang Grand Theatre in the North Korean capital is normally a venue for performances that glorify the country's ruling dynasty, including recitals of warbling vocals and traditional Korean instruments.
This week, the venue hosted a very different kind of performance.
Korean pop ground Red Velvet was part of a large group of South Korean performers that travelled to the North for performances as part of a series of engagements the two Koreas have held in recent months, most notably a North Korean delegation that attended the Pyeongchang Olympics in South Korea.
The South Koreans' trip to Pyongyang is part of the table-setting for a summit between the leaders of the two countries, scheduled for late this month.
One question worth pondering is, how much of an impact can K-pop have in bringing the two sides together, considering how successful Korean cultural exports have been in places like China, Japan and Southeast Asia?
READ: A commentary on Southeast Asia's romance with Korean drama shows.
BUILDING TRUST
Cultural exchanges have long been part of how liberal South Korean governments have sought to engage with North Korea.
The idea is that ground-level exchanges can help the two sides build trust, and that by exposing people on both sides of the border to the other side's culture, the exchanges can help regular people become familiar with the other side beyond its politics and narrow, however slightly, the cultural gap that has grown over decades of division.
In a way it is surprising that North Korea would allow a K-pop group to perform on its soil.
North Koreans who escape their homeland and make it to the South sometimes cite South Korean music, movies and TV shows as part of what motivated them to flee, as such materials paint a picture of a land that is far freer, shinier and sexier than the drab North.
Presenting North Koreans with images of young, attractive women in less-than-conservative attire is also not a new propaganda tactic. The DMZ Museum in South Korea's Gangwon Province exhibits pamphlets from the 1970s and 1980s of glamorous South Korean women, meant to entice North Koreans into defecting to the South.
SOFT POWER
Much more recently, the South Korean military has used loudspeakers to blare K-pop across the border into North Korea, deploying the sugary melodies as a kind of soft-power weapon.
Videos indicate that the South Korean performers dressed modestly this week in the North, and weren't overly suggestive in their dance moves.
K-pop has resonated throughout the rest of Asia in part because it presents an ideal of cool that is distinctly Asian, and doesn't come from the West.
But North Korea is a unique market. One big difference between North Korea and elsewhere is that no matter how enticed North Koreans may be by seeing South Korean performers in their capital, South Korean music, movies and television still can't be legally imported to the country.
North Koreans also generally don't have unimpeded access to the internet, meaning they can't just download or read up on the latest tunes.
There is also the matter of ideology. While they share language and history, having been separated for so long, South and North Korea have grown into culturally different places.
North Korea prides itself on resisting foreign influences, of being more purely Korean than its southern counterpart, which it at times criticises for its openness to the outside world, particularly the United States.

A BIGGER QUESTION
Some in North Korea would see a wholehearted embrace of K-pop as a betrayal of their country's uniqueness, and its commitment to keeping the Korean race uncorrupted by outsiders.
While most North Koreans have an emotional and practical wish to get closer to the South, they also still have an interest in retaining their own identity.
North Korean leader Kim Jong Un attended the concert in Pyongyang, along with his wife, Ri Sol Ju, who was a member of a North Korean singing troupe. 
North Korean leaders have historically been known to have soft spots for pretty women who sing and dance, which may explain why the current leader signed off on Red Velvet's visit.
After the performance, Kim reportedly said he was "deeply moved," using language often used by Koreans to express vague feelings of emotional gratification.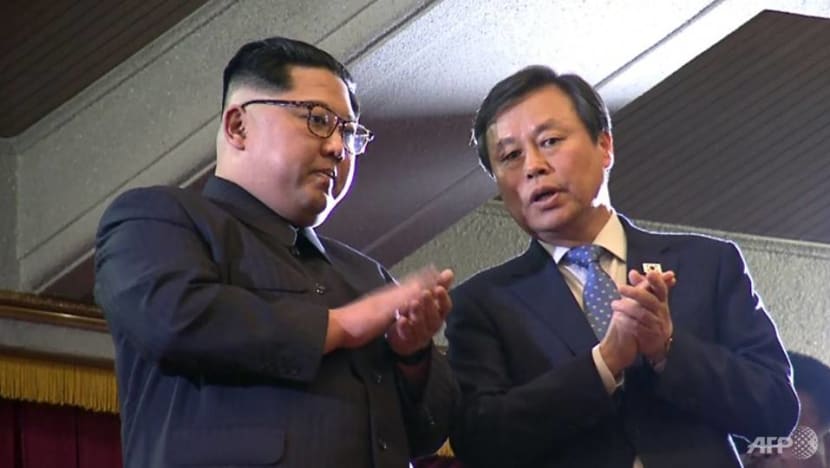 A bigger question is if, in upcoming talks with South Korea and the United States, Kim will be sufficiently moved to discuss taking real steps to dismantle North Korea's nuclear programme, and thereby allow cultural exchanges to continue past this current moment of rapprochement.
The current flurry of diplomatic and cultural exchange have been welcomed in South Korea as it has brought the peninsula back from what was starting to feel like the brink of war, but there remain significant obstacles toward lasting peace.
Beyond Kim, perhaps in East Pyongyang Grand Theatre this week there were lower-ranking North Korean officials who glimpsed, for the first time in person, the culture of a society where praising the leader is not paramount, and where entertainers sing songs of longing for romantic love and personal fulfillment, topics that are still taboo in North Korea's top-down cultural landscape.
Maybe moving forward, those officials will be less rigid in enforcing the laws of the land, and K-pop can effect some loosening of North Korean society.
But for all Kim's kind words, he is still unlikely to give up his nukes.
The show was a success, but this stage, it's all symbolism, and in the coming weeks, the harder tasks will be tackled at the negotiating table. 
Steven Borowiec is the politics editor of Korea Expose. ​​​​​​​