Commentary: US must be troubled by stronger Russia-China ties
Russia-China ties are strengthening, making any move by the US to drive the two apart unlikely to be successful, says NTU RSIS' Chris Cheang.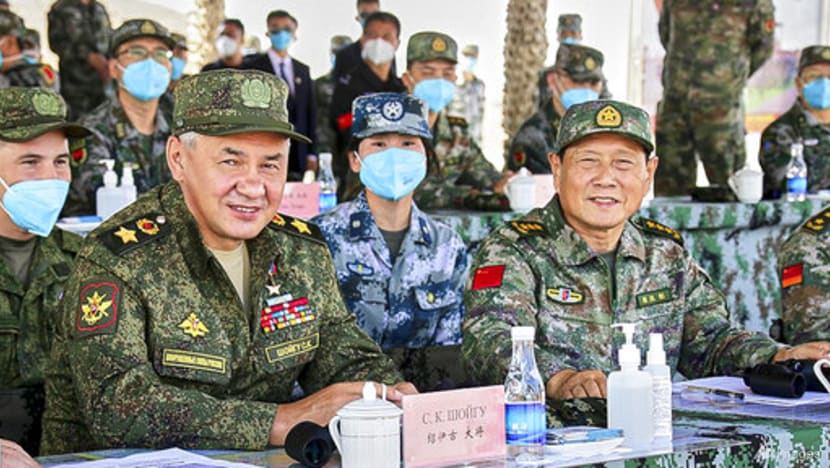 SINGAPORE: In 1972, President Richard Nixon upset the geopolitical apple cart by embarking on a visit to China.
His visit paved the way for a normalisation of relations and set the stage for US-China cooperation against the Soviet Union at the height of the Cold War.
Today, President Joe Biden has made competing with China "to win the 21st century," the US' top foreign policy priority.
Given current tensions in US-China relations, could the US engage Russia as a hedge against China, and once again play the "Nixon card," this time against China?
PEELING RUSSIA AWAY FROM CHINA
The idea of prying Russia away to counter-balance China's growing strength sounds plausible in theory. Russia and China share an uneasy history, Russia having been one of the European powers which sought to carve-up China in the 19th century.
While they were linked by a common communist ideology, nationalism mixed with ideological differences led to a short but brutal a border war in 1969, followed by mutual suspicion and hostility which ended with the Soviet Union's collapse in 1991.
Russia is said to fear and resent a stronger China today. It is also believed to suspiciously eye China's growing economic strength in Central Asia, its historic sphere of influence.
In the Arctic, increased Chinese geo-economic interest could collide with Russia's desire to remain a leading power in the mineral-rich and strategic region.
STRONGER RUSSO-CHINA TIES SINCE 2000
And yet, Russia will likely stay the current course with China.
Bilateral relations have strengthened since President Vladimir Putin assumed power in 2000, making an about-turn concerning China and reaching a grand bargain with the US, unlikely.  
Three recent developments in particular signal that both sides remain resistant to any moves to drive a wedge between them.
First, top Chinese Communist Party official Yang Jiechi, attended the 16th bilateral strategic and security consultations in May 2021, just a few weeks before the June Geneva Summit between Presidents Putin and Biden.
Second, both sides took pains to emphasise how the 20-year Treaty of Good Neighbourliness and Friendly Cooperation between Russia and China, signed by Presidents Putin and Jiang Zemin in 2001, has formed the basis of relations in the Putin epoch.
In the run-up to the Treaty's 20th anniversary, Presidents Putin and Xi Jinping held a video-conference at the end of June.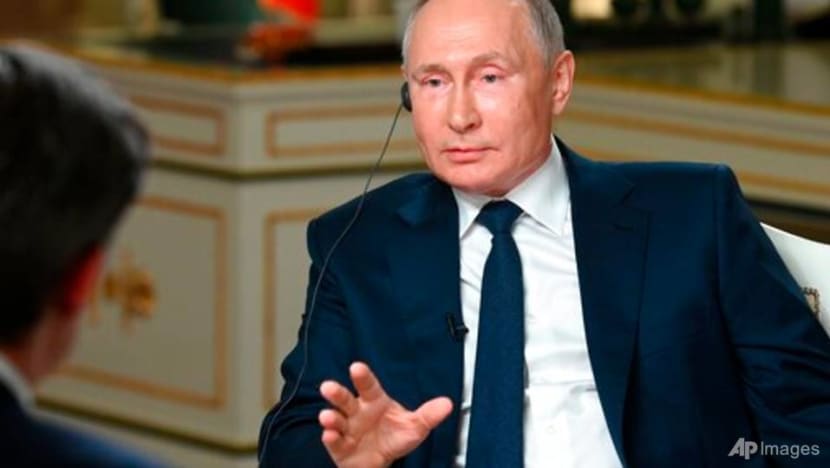 Describing the current global situation as one of "major turbulence", President Xi observed that both countries provided "firm mutual support to each other on matters touching upon our topical interests" and that both countries continue to "implement fruitful strategic cooperation" to "effectively protect our common interests".
In turn, President Putin noted that the Treaty affirmed the "mutual support in protecting state unity and territorial integrity", respect for the sovereign right to choose one's social order and development path, as well as non-interference in each other's domestic affairs".
He highlighted that the Treaty would be automatically extended in February 2022 for the next five years.
He also stressed that "we have managed to elevate Russian-Chinese relations to an unprecedented height and to make them an example of 21st century interstate cooperation".
STRONGER DEFENCE, TECHNOLOGY AND TRADE RELATIONS
The third major development was the August  counter-terrorism exercises in China between both militaries.
Although such joint war-games have been conducted since 2005, this exercise in Northwest China was reportedly the first time Chinese main battle equipment were used by foreign forces showcasing a new level of interoperability. More than 10,000 troops were involved.
Defence industry links once undergirded the military relationship. Russia was previously a major arms supplier although China's imports of Russian weaponry have declined as it turned to develop its own indigenous capabilities modelled on Russian technology.
Nevertheless, China's purchase of Russia's advanced SU-35 fighter jets and S-400 air defence systems, and reported Russian assistance with new missile launch detection technology, show Russia's continued importance in this area.
Other areas of cooperation include Huawei's partnership with MTS, Russia's largest mobile network operator. Both signed a 5G technology agreement in 2019 and reportedly activated 5G networks at 14 iconic locations in Moscow.
Both countries are also said to be working on developing alternative global navigation satellite systems, with a memorandum of understanding on cooperation in the construction of an international lunar research station signed in March.
Bilateral trade continue to make up the most visible sign of growth in bilateral relationship, with trade in 2020 totalling almost US$108 billion, showing how much Russia needs China. Energy – especially gas and nuclear energy - accounts for over 70 per cent of Russian exports to China.
Both countries aim to reach US$200 billion of trade by 2024, a trajectory likely to be accelerated by Western sanctions forcing Russia to turn to China. (In contrast, US-Russia trade was valued at only US$21 billion in 2020.)
RUSSIA SEES THE WEST AS THE THREAT
The other factor limiting any role Russia can play in any US attempts to use it against China is natural Russian suspicions of the West, reflected by the recent publication of its National Security Strategy in July.
Approved by President Putin, the Kremlin describes it as "the basic strategic planning document" that identifies Russia's national interests, strategic national priorities, objectives and tasks to ensure its national security and sustainable development in the long-term.
Apart from socio-economic policies, it outlines Russia's foreign and defence policies and describes the West and NATO as a threat, in view of the expansion of NATO's military infrastructure close to Russia's borders.
It also cites the US' global missile defence system as a threat to strategic stability, including the abandonment of its international obligations in arms control.
While it might have taken some comfort from the Biden Administration's agreement to extend the new Strategic Arms Reduction (START) treaty for another five years, Russia remains opposed to perceived US efforts to weaken Russia's nuclear deterrence by deploying ballistic missile defence systems in Europe and the Asia-Pacific.
The US withdrawal from the Anti-Ballistic Missile Treaty in 2002, the Intermediate-range Nuclear Force Treaty (INF) in 2019 and Open Skies Treaty in 2020 have also been viewed with suspicion by Moscow.
After all, these agreements had not only enshrined Russia's status as a world power but also contributed to strategic stability, in Russia's worldview.
Perceived attempts by the West to undermine Russia's body politic by spreading its cultural and ethical influence, are also seen as unfriendly.
Close to Russia's heart is Ukraine; so long as the US opposes Russia's policies there, the scenario of Russia choosing the US over China is out of the question.
The NSS's references to Western threats to Russian security mean both sides will have to reckon with another six years of tension.
On the other hand, China's leaders can breathe easier, knowing that bilateral relations will continue to grow while a thaw in Russo-US ties to the detriment of China's geopolitical interests, is unlikely.
Against this background, unless the US chooses to abandon its current approach to Russia, Moscow-Beijing relations will not undergo any fundamental change.  
Chris Cheang is a Senior Fellow in RSIS, NTU.