Commentary: What's wrong with a female athlete with short hair?
The gender wars in South Korea have unleashed criticism against An San, a beloved national athlete, making her response all the more incredible, says Steven Borowiec.
SEOUL: As South Korean archer An San gets set to shoot an arrow, she pulls the string of her bow back until it rests on her lip, her right hand tucked under her chin and her eyes trained on what's in front of her.
In a split second, she lets the arrow fly and finishes with it dead centre of the target board.
Last week at the Tokyo Olympics, An repeated this routine with incredible precision. With each shot, her posture was perfectly poised and her steely glare unshaken.
Coming up with deadly accurate shots at many high-pressure moments, she went away with three gold medals.
An has been the unexpected star of the team representing South Korea, archery's international powerhouse.
Yet for a number of viewers in An's country, the salient aspect of her performance was not her stunning ability to deliver under pressure, but her hair.
PUBLIC OUTRAGE
While many middle-aged and elderly South Korean women wear their hair short, it is atypical for a young woman to rock a short-cropped style like An, who is 20, does.
"So what?" you might ask. Why does an athlete's hairstyle warrant analysis?
How An, or any other public figure, chooses to wear her hair really shouldn't matter, but in South Korea, short hair can be a statement, a defiance of conventional norms and a show of support for the women's rights movement.
And yet, only in Korea would association with a progressive movement be offensive.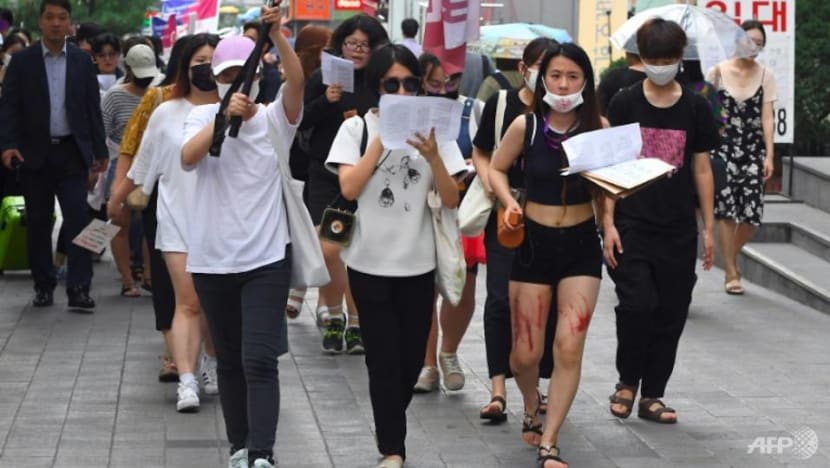 It doesn't not help that An also hails from the city of Gwangju, a customarily left-wing part of the country, and had in the past expressed support for victims of the 2014 Sewol ferry sinking, a cause associated with the political left.
Already suspicious over whether her short hair was a deliberate political expression, users who looked over Instagram also found that she'd use Internet expressions associated with feminism, such as an onomatopoeia that is used to mock gruff patterns of male speech.
All this has led to An becoming a target of online insults and criticism, with some netizens even calling on authorities to revoke her medals.
WHY FEMINISM IS A LOADED CONCEPT
"Feminist" is a loaded word packed with political baggage in South Korea.
To conservative South Koreans, a "feminist" is not someone who wishes well for women and espouses ideals of equal treatment, but a man-hating, domineering and self-interested charlatan who unfairly capitalises on her gender to seize new opportunities, while belittling the opposite sex in the process.
Such groups point to Megalia, a trailblazing but now defunct feminist website, which shot to prominence since 2015 and took the mocking symbol of two pinching fingers, an offensive sexual innuendo to men.
The group has successfully shut down Soranet, South Korea's biggest porn site and elicited an apology from Maxim on a cover that glamourised sexual violence, using provocative means to shame and silence critics.
This emergence of feminist voices seem overdue in a country that ranks way below the global average on the 2018 Global Gender Gap report and has seen a series of high-profile sexual assault prosecutions in recent years.
But Megalia's use of disparaging tactics, which has seen governments orders for offensive posts to be deleted, has earned the women's movement infamy
Sensitivities surrounding gender are high. In a recent controversy in May, convenience store chain GS25 apologised after running an advertisement using an image similar to Megalia's symbol.
That reckoning has also created a strong counter-culture pushback. Sixty-two percent of male respondents to a recent Realmeter public opinion poll said that they "reject" feminism, with this statistic being particularly high among men in their 20s - where 77 per cent claimed to reject feminism, far more than just over half of men in their 50s and older.
Is the rise of women in South Korea really coming at an expense to South Korean men? While one is tempted to dismiss such sentiments, the concerns of young men have become a central political issue in South Korea as the country gears up for a presidential election next year.
The main, conservative opposition People Power Party has appointed the youngest leader in its history, 36-year-old Lee Jun-seok, in an apparent effort to appeal to young men.
LISTEN: How do you break the news to someone that compromising pictures of them were found online?
Lee has spoken out against what he sees as the excesses of feminism and tapped on a well of frustrations of a generation of young guys who feel disadvantaged. Poll data indicates that Lee has strong support from men in their 20s.
MEN'S GRIEVANCES
Feelings of inadequacy are pronounced among young South Korean men, who have experienced greater insecurity, heightened competition for jobs and a loss of power in society amid a slowing economy.
The anxieties of early adulthood, coupled with the stresses of long working hours in South Korea, can take a toll. Youths entering the workforce trying to establish themselves in this era of inequality and a raging pandemic face huge challenges amid increasing youth unemployment of 9.9 per cent.
There is no excuse for misogynistic behaviour but discussions on gender can be polarising. I have interviewed young South Korean men who feel keenly that women have it much easier in this country because they do not have to complete a roughly two-year compulsory military service.
So is An the power-hungry feminist her trolls make her out to be? Was her short hair a statement of gender superiority? There's no evidence to suggest that, and she has declined to answer questions on the online furor.
Under these circumstances, it is a marvel An scored a hat-trick. The controversy sparked by her hairstyle was already raging when An competed in her final event at the women's individual in archery on Friday (Jul 30).
When it came time to shoot, she was poised as ever, displaying none of the frayed nerves her critics wished upon her. She tackled a full five-set match with the game decided on a sudden death shoot-off.
While she was mostly unknown before the Olympics, the mastery and steadiness An displayed in Tokyo was nothing new - it was honed through countless hours of practice.
Instead of leaving nasty comments online in an attempt to bring her down or hoping for her to stumble, any frustrated young men would therefore be wise to follow her example.
Do as she does: Keep your eye on the target and let go of the victim mentality.
Steven Borowiec is a journalist based in Seoul.
Catch the Olympics Games Tokyo 2020 LIVE with 14 dedicated channels on meWATCH. Sign in now at mewatch.sg/tokyo2020 and get into the action with Mediacorp, Singapore's Olympics Network