commentary Commentary
Commentary: Sexual harassment in South Korea exposes hypocrisy and culture of intimidation
The epidemic of sexual harassment in South Korea has reached fever peaks this week. One commentator discusses the sexual misconduct allegations and the culture of misogyny in South Korea.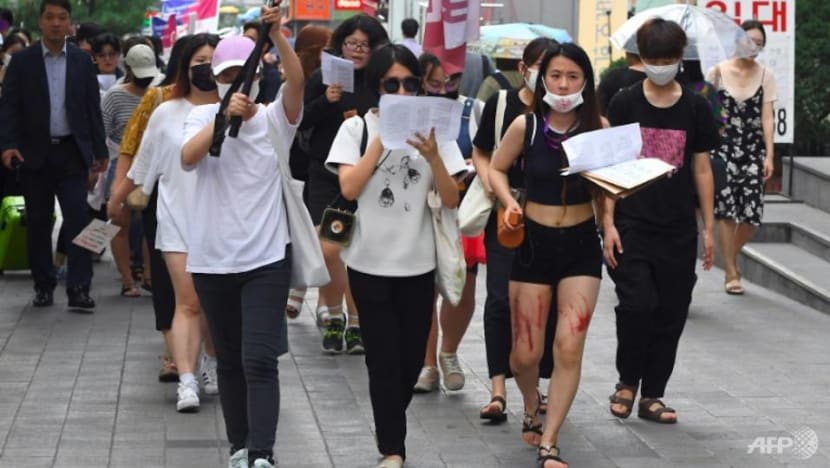 SEOUL: Almost every Korean woman I know has at least one story.
It could be of a creepy guy from their school days who routinely pushed them to drink heavily or a colleague they wouldn't dare sit next to at a company dinner. 
Or a time they were followed home late at night, and narrowly managed to scurry safely into their building.
In hearing these stories over the years, it became clear to me that in most, if not all, of these cases, the man involved had some kind of leverage over the woman, in many cases a function of holding a more senior position in their school or workplace.
While in the past most such stories were only shared quietly among friends, part of what South Korean government officials have described as a "hidden" plague of sexual abuse that victimises women, more are now being aired publicly, escalating a national debate on gender relations and leading to the downfall of one powerful man after another. 

REELING FROM SCANDALS

While South Korean feminist activists have been speaking out for years about what they see as an epidemic of sexual violence in the country, the growing #MeToo movement in the country was sparked in late January when a prosecutor appeared on a popular television programme with a story of how a senior male colleague had groped her years earlier.
Now, the country's ruling party is reeling from scandals which implicated more than one prominent politician.

The most headline-grabbing case came last week, when An Hee-jung, a provincial governor who had been a rising political star, was publicly accused of rape by his secretary. He initially denied the claims before apologising and resigning his governorship.
The allegations facing An also indicated hypocrisy. An, a former activist and married father of two, had built his political identity around notions of progressivism, and an expressed determination to create a fairer South Korea where the disadvantaged don't suffer domination by the powerful.
That An could have committed such acts indicated something deeply wrong at the heart of South Korea's organisational culture. 
It wasn't just shady businessmen who harbour unhealthy attitudes about the women subordinate to them, but also the supposed voice of enlightened reform.

And An is far from the only one. Lawmaker Min Byung-doo of the ruling Democratic Party has offered to resign after a woman accused him of having sexually assaulted her years earlier.
The allegations currently shaking the country's politics come after a series of prominent cultural figures fell from grace after being accused of sexual misconduct, among them the country's best-known poet, Ko Un, internationally feted filmmaker Kim Ki-duk and prominent theatre director Lee Youn-taek. 
A Catholic priest has also been accused of sexual violence.
UNDER PRESSURE
Giving the boiling scandals, the Moon administration is under pressure to make changes, and prove its commitment to gender equality is sincere.

President Moon Jae-in has spoken out in support of the Me Too, and appointed more women to his administration, including the coveted position of Minister of Foreign Affairs, but now must carry out actual policies to make changes.
Among the new measures are a doubling of the maximum penalty for abuse of power for sex from five to 10 years in prison, an increase of two to five years for sexual harassment, and an extension of the statute of limitations from five to seven years.
The government is also working to change the culture inside workplaces, having established a hotline where instances of sexual violence or intimidation can be reported, and has mandated official government investigations of workplaces.
Poll data indicates there is broad public support for these initiatives, with 76 per cent of women and 73 per cent of men telling pollster Realmeter that they support the #MeToo movement. 
The data shows more women are reporting having suffered sexual harassment, with the number of reported cases rising from 249 in 2012 to 552 in 2016. But despite the higher number of reports, the conviction rate remains at rock-bottom; of the 552 reported cases in 2016, only one resulted in a conviction.
That could be why South Korean women have taken up the #MeToo campaign, out of a belief that only through public naming and shaming could they achieve some sense of justice for victims and punish perpetrators. 
Along with seeking measures to discourage and penalise perpetrators, South Korea must also seek to determine the underlying causes of sexual violence. 
UNDERLYING CAUSES

One non-obvious factor is the growing competition in South Korea's job market. Over the past 20 years, stable, well-paid jobs have become far less plentiful, and more women have gone to university and competed with men for employment.

This has engendered resentment among some young South Korean men, who unlike their female counterparts, are required to devote two years of their early adulthood to military service, and led to online expressions of anger and misogyny.

Also, personal interactions in South Korea are still governed by an informal system of age-based hierarchy, and throughout the country's history, customary gender roles have typically left women with less clout than their male family members, colleagues and intimate partners.

READ: A commentary on the growth and inequality IMF reforms brought to South Korea. 
Beyond punishing a limited number of perpetrators, a grander achievement for the #MeToo movement and the government would be to effect a more horizontal culture in South Korea, where no one feels entitled to harm or disrespect anyone else because they are older, more influential or physically stronger.

While the Moon government's policies could take months or years to bear fruit, the government has at least made a strong statement that sexual misconduct is not something to be hidden or tolerated.
Steven Borowiec is the politics editor of Korea Expose. ​​​​​​​