Commentary: There's something brewing in Singapore's coffee scene
Luckin Coffee, Tim Hortons and Coach Cafe are entering Singapore's already crowded coffee scene. Singapore University of Social Sciences' marketing faculty Dr Wang Peng and Assoc Prof Vanessa Liu look at the stiff competition they face.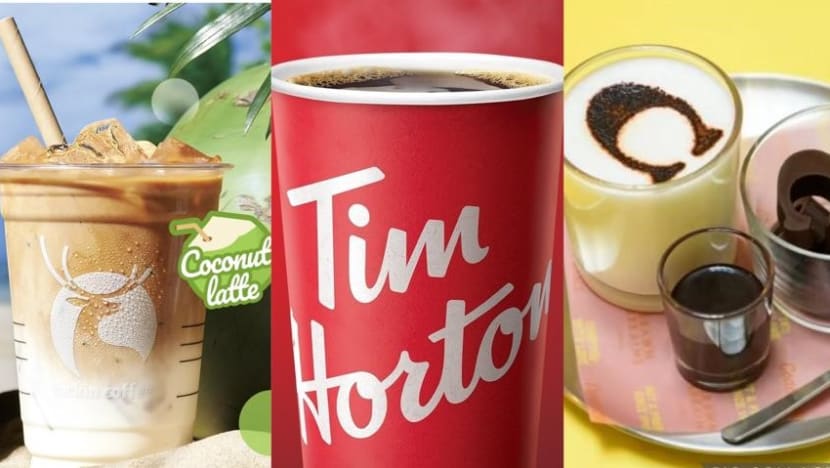 SINGAPORE: There's something brewing in Singapore's already crowded coffee scene.
Luckin Coffee, nicknamed "the Starbucks of China", made its debut in Singapore with two outlets at Marina Square and Ngee Ann City on Mar 31, with several more openings planned by the end of April.
Joining in the scene this month will be Canadian coffee chain Tim Hortons, which in addition to Singapore, also plans to open outlets in Malaysia and Indonesia.
Then there's luxury fashion retailer Coach, which on Apr 13 opened the brand's first Coach Cafe in Singapore, on Keong Saik Road. Japanese specialty roastery and cafe Takagi Coffee opened at 100 AM mall in Tanjong Pagar on Mar 23. And Krispy Kreme, which arrived in Singapore in October 2013 and has largely operated takeaway stores, on Apr 6 opened a cafe in Suntec City.
There is definitely no shortage of cafes and coffee joints in Singapore.
Including Tim Hortons, Singapore houses seven of the top 10 most popular coffee chains worldwide. Add local players, independent cafes and speciality offerings to the mix and the question comes to mind: What continues to draw these mega coffee names to our shores? How can they differentiate themselves in an already crowded market?
LUCRATIVE MARKET
Coffee is a widely favoured beverage in Singapore, enjoyed by individuals of all ages, genders, and income brackets. From a S$1 (US$0.75) cup of kopi in a hawker centre to a mug of hand-ground precision brew in a boutique coffee house for tens of dollars, consumers in Singapore are spoilt for choice where it comes to out-of-home coffee consumption.
It's therefore no surprise that Singapore residents consume about 2.6kg of coffee per capita a year.
Singapore's coffee segment is estimated to bring in US$2 billion in revenue this year, according to data from Statista. By 2025, out-of-home consumption is expected to account for 93 per cent of spending in the coffee sector in Singapore.
Since the 2000s, marked as the third wave of coffee consumption, coffee has become more than just a mere caffeine boost. It has become a sensory experience, a symbol of taste, an artisanal approach, a bespoke lifestyle, defining our finer pursuits in life.
People are getting more particular about the types of beans used, roast levels and brewing methods that can bring out the special aroma and taste of their desire.
Lighter roasts and plant-based milk alternatives are gaining traction with the burgeoning health-conscious segment. Certified coffee has also seen higher demand in recent years due to the growing environmental and ethical awareness among consumers.
Moreover, cafes are not only competing on the quality of their coffee but also on their ability to provide a novel social or work environment for their customers. For example, Soul Coffee, thanks to its 3D immersive environment and horoscope readings last year, has become a must-clock-in destination for Instagrammers.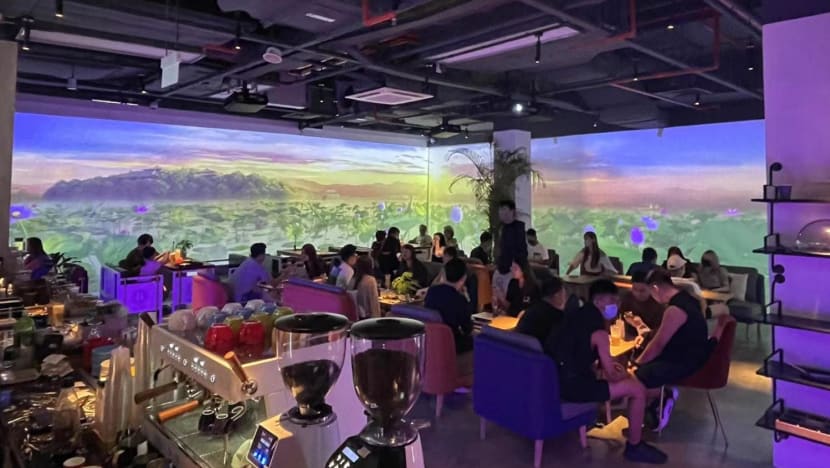 STRATEGIC LOCATION FOR INTERNATIONAL COFFEE CHAIN BRANDS
Strategically located, Singapore is a prime launching pad for coffee chains aiming to venture into the Southeast Asian market, where yearly coffee consumption is projected to grow by 8 per cent from 2022 to 2025.
Singapore has long appealed to international brands for its low tax rates, few capital constraints, and welcoming attitude toward foreign investors.
The expat and tourism communities also fuel the local market as coffee ranks among the most consumed beverages globally, with an average of 42.6 litres consumed per person annually.
Moreover, Singapore is a well-recognised city for companies to establish an international brand presence, especially for those like Luckin Coffee aiming to relist in the United States.
But it is crucial for coffee chains entering Singapore to cater to the preferences of their target customer base if they want to stand out in this highly competitive market. Coffee chains can differentiate themselves from others with their unique product lines, marketing strategy and advertising tactics.
LUCKIN COFFEE VS STARBUCKS
Luckin Coffee quickly drew customers' attention by offering a S$0.99-a-cup promotion for first purchases via their mobile app. Mandarin social media platform Xiaohongshu was flooded with posts of its signature drink the coconut latte, and key opinion leaders on TikTok photographed the long queues in front of its new booths. One consumer reportedly queued three hours for a cup of coffee.
Luckin Coffee boasts the largest number of stores among all coffee chains in China but was second in revenue after Starbucks last year - will the rivalry between the two giants spread to Singapore?
While Starbucks emphasises the coffee culture and community spirit, Luckin uses digital technologies to quantify different ingredients and flavours, allowing them to track beverage trends accurately.
Starbucks benefits from the premium value that the Third Space brings, whereby its customers enjoy a sense of community enabled by an informal place of gathering beyond home and work. It is not uncommon to see people spending hours in Starbucks to socialise, study or work.
Luckin Coffee, on the other hand, appeals to the busy white collars in the central business district area through its easy online purchasing and delivery service. Interestingly, although Luckin Coffee is cheaper than Starbucks in China, its price point is higher than its rival in Singapore. 
CHALLENGES AND RISKS
Will Luckin Coffee continue to attract the same amount of attention after the hype over its S$0.99 welcome promotion blows over?
How can new brands compete with established players in Singapore's coffee chain industry without the advantage of being the first movers?
Last year, a total of 3,335 local food and beverage companies registered with the Accounting and Corporate Regulatory Authority. During the same period, 2,749 businesses in the same sector shuttered. This illustrates the challenges of the sector.
Moreover, the coffee chains can't get away from the increasing costs of rent from Orchard Road to fringe areas, and the perennial labour shortage problem in the service sector.
This game of survival will not go down easy on any player in our little red dot, if one does not have the staying power to last.
Wang Peng is Lecturer and Vanessa Liu is Head (Marketing Programmes) and Associate Professor at School of Business, Singapore University of Social Sciences.