Commentary: A Singapore football club just beat a South Korean team - here's why that's huge
After sweeping the Singapore Premier League, the Lion City Sailors are making waves in the Asian Champions League and that's ultimately a win for Singapore football, says John Duerden.
SEOUL: There is plenty of talk in football, especially from new owners. And the Lion City Sailors had lots to say in 2020 when they burst onto the Singapore scene. 
"We want to represent our nation with pride in the Asian Champions League," said Lion City Sailors chairman and Sea Limited billionaire Forrest Li in 2020. 
"We hope we can become successful, not just in Singapore, but in the region. It is about bringing the fans together," said CEO Chun-Liang Chew. "We want to have success in the Asian Champions League and our vision is to be Asian champion."
And it looks like it's not just talk. The Sailors emphatically defeated South Korea's Daegu FC 3-0 in the group stage of the Asian Football Confederation Champions League (ACL) on Monday (Apr 18). 
This was just Singapore's second-ever win since the tournament started in 2003. More importantly, this was the first time that a Singapore team beat a team from South Korea – the country with 12 Asian championships and a 2002 FIFA World Cup semi-final under its belt. 
Daegu may be more of a K League Leicester City – rather than the powerhouse Manchester City or Liverpool equivalent – but they are a force to be reckoned with, finishing in the top five of one of the strongest leagues in Asia for the past three seasons.
EVERY WIN PULLS UP SINGAPORE FOOTBALL
Singapore football fans should go wild. But why should they, when the Sailors are a privately owned team?
Is this overstating the significance of one match? In the three ACL matches played so far, the Sailors have won only this bout.
There's reason to believe that every bit of progress the Sailors make at home and in Asia will pull up other local clubs. It shows them how good planning and investment can help them beat teams from the best Asian leagues.
Sure, continental victory has only happened once for the Sailors so far. But for it to happen habitually, it has to happen for the first time. 
Just look at Guangzhou Evergrande, the first Chinese club to win the ACL in 2013. Club president Liu Yongzhou told me in 2011 that investments in the club were focused on becoming a force in Asia. The rest, he said, would take care of itself. Guangzhou was a second-tier Chinese team in 2010 and continental champions by 2013.
Guangzhou, which won again in 2015, became hailed around the world as Asia's first "superclub". They signed deals with European behemoth Real Madrid and their success inspired other clubs in China to try and follow suit. 
The Lion City Sailors are following Guangzhou's blueprint – signing quality players and coaches who know how to succeed in major international tournaments. Their Asian ambitions were clear when they replaced Aurelio Vidmar, who led Adelaide United to the 2008 ACL final, with Kim Do-hoon, who led Ulsan Horangi to the title in 2020.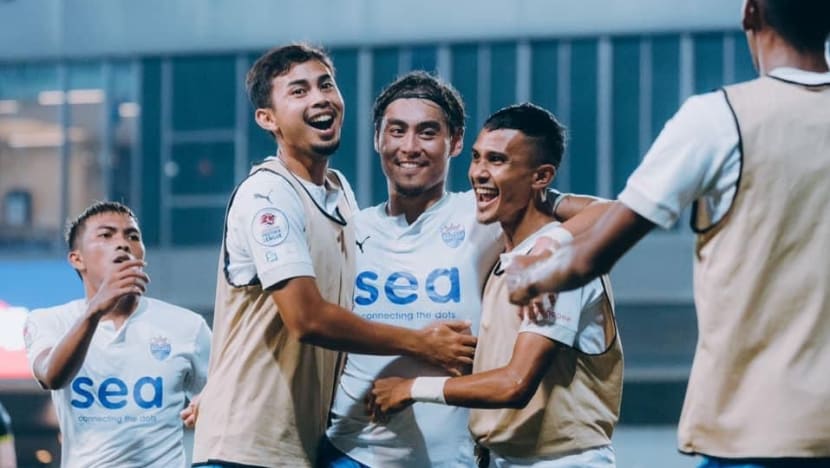 MORE SINGAPOREAN TEAMS AND PLAYERS AT THE ASIAN LEVEL?
The Lion City Sailors understand that ambition is not only healthy, it is necessary. 
Every victory improves a country's club coefficient, a system of points used to determine the ranking of each league in Asia. The higher the ranking, the more spots a league is allocated in future Champions League tournaments. 
Currently third in their group, the Lion City Sailors still have a chance of becoming the first Singapore team to reach the second round of the ACL. If so, Singapore's coefficient will likely rise and who knows, we could see two local teams qualifying for the next Asian Champions League.
The title for the Sailors may be some distance away, but the recent results suggest that it's conceivably within grasp. Singapore clubs can not only be competitive on the Asian stage but also afford to be ambitious. 
Playing at an international level is vital when nine Sailors were named in Singapore's most recent national squad, including Song Ui-young who scored against Daegu, goalkeeper Hassan Sunny and captain Hariss Harun. 
Star national players, Ikhsan and Irfan Fandi, both play for Thailand powerhouse BG Pathum United, which are currently top in their ACL group.
Singapore's victory against arch-rivals Pahang to clinch the championship is arguably its greatest match in history. Abbas Saad and several die-hard fans relive their experiences with CNA938's Aslam Shah:
EYES ON FIFA WORLD CUP
Singapore's eyes are already on qualifying for the 2034 FIFA World Cup, as an "aspirational target".
In 2026, Asia's allocation at the World Cup is expected to jump from four to eight. Beating the likes of Japan and South Korea to take one of the four spots was never really on the cards. 
But there is no reason why Singapore can't aim to compete with the likes of the United Arab Emirates and Oman (who finished in the top eight in qualification for the 2022 World Cup) in 2026 and beyond. 
The healthier a club scene, the better a national team tends to be. It is no coincidence that South Korea, Japan and Saudi Arabia have the best three records at the World Cup as well as the Asian Champions League.
Whatever comes next for the Sailors in the ACL, Singapore needs more local clubs to follow in the footsteps of the Sailors and have Asia in their ambitions. The same investment may not be possible, but it is to be hoped that national pride and international success will attract more investors, sponsors and fans to further those ambitions.
The Lion City Sailors' achievements should bring Asian Champions League into our football conversation as much as the UEFA Champions League. For the first time, a local club has identified Asia as a priority and Singapore should be encouraged that it is following up on those promises.
Perhaps the Sailors' official site put it best after the victory against Daegu: "Cannot? Can."
John Duerden is a Seoul-based writer who covers the region's sporting scene. He is the author of four books including Lions & Tigers - The History of Football in Singapore and Malaysia (2017).