Commentary: Burning paper offerings isn't the only way to celebrate Hungry Ghost Festival
Spiritual belief is just one aspect of Hungry Ghost Festival - rituals for the seventh lunar month can be made more progressive and socially responsible, says writer Desiree Koh.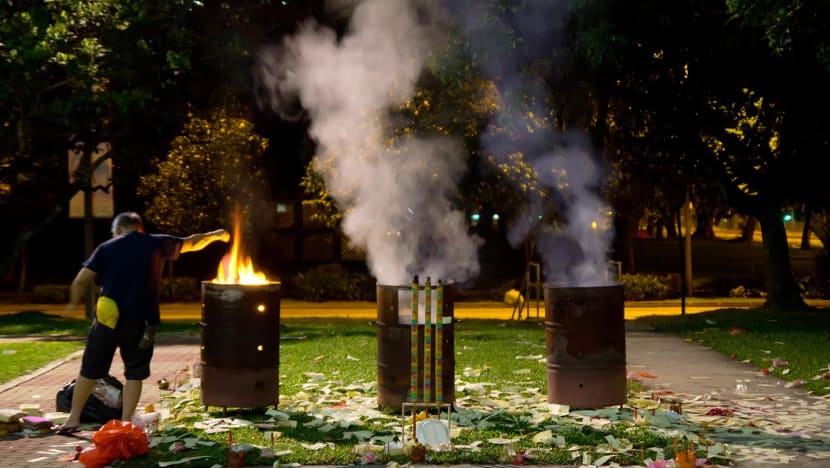 SINGAPORE: When I was a child, every year my grandmother would count down to the 15th day of the seventh lunar month, when tormented spirits are released from purgatory into the mortal realm.
Don't go swimming, she reminded, as unhappy apparitions may yank us underwater and away. Please come home by sundown, she beseeched, so vindictive phantoms bent on wreaking misfortune on the living couldn't pick on us. Never, ever step on roadside joss paper and food offerings for them, because hell hath no fury like anguished souls scorned.
On the first day of the Hungry Ghost Festival, we helped her make our own offerings and burn paper effigies replicating material luxuries like clothes, mahjong sets and toiletries, to these "good brothers and sisters" from another world. By appeasing them, we warded off bad luck, as long as we were on our best behaviour.
My family's Hungry Ghost rituals are mild compared to what unfurls across Singapore. In recent years, paper effigies have gotten bigger and flashier: Louis Vuitton bags, the latest iPhones, jackpot machines, 50-inch smart TVs, condominium blocks – based on the myth that offerings should increase annually to show greater gratitude to ancestors and to receive bigger blessings from the deceased.
If two stacks of joss paper "currency" were burned for the spirits' spending money last year, you better gift at least three this season, the thinking goes. Food offerings along HDB flat corridors, housing estate communal areas and roadsides are left out as long as possible to ensure spirits tuck in to their hearts' content.
And that's why the festival is also an inferno of disgruntled sentiments from annoyed resignation to a 2015 Change.org petition asking for Hungry Ghost rituals to be banned. Smoky odours and soot find their way into flats and linger for weeks. Bits of ash land in kopitiam diners' food. Rats and other pests help themselves to leftovers. Cleaners work triply hard to clean public spaces.
Some doctors have noted more incidences of respiratory conditions and eye irritations during the seventh lunar month. A 2015 Nanyang Technological University study found that the amount of joss paper burned in this period can spike the Pollutant Standards Index by as much as 60 per cent.
Is it time for cooling measures?
LISTEN - Daily Cuts: Joss paper burning and how to do it responsibly
TIME OF TRIBUTE FOR THOSE BEFORE US
Like most Singaporean Chinese baby boomers, my parents grew up bound to a blend of Taoist beliefs and colloquial superstitions, typically defence mechanisms against any misfortune wrought by disrespecting deities and ghosts. They checklisted temple and home altar rituals for smooth-sailing and answered prayers.
But as they learned more about Buddhism, they adopted a more optimistic and pragmatic approach. Instead of fearing repercussion for being ungracious mortal hosts, the seventh lunar month is now a time of tribute to those before us and exuding positive energy to help them towards favourable rebirth.
But spiritual belief is just one aspect of Hungry Ghost Festival celebrations. The Alliance for Action on Norms for Joss Paper Burning, founded in 2022 comprising various Chinese organisations in Singapore, has said charitable donations are an alternative offering observers can make.
For several years, my dad and his friends organised auction banquets, donating proceeds to a different charity each year. These were full of karaoke-fuelled merry-making, and we filled tables with expatriate friends eager for full cultural immersion. Like locals wise to the game, they also bagged auction wins from Singapore Sweep tickets to kitchen appliances.
Clans, town councils, associations and other civic organisations host more traditional dinners with prayers. For participants, these double as vibrant social events while doing due diligence for Hungry Ghosts.
A MORE PROGRESSIVE AND SOCIALLY RESPONSIBLE FESTIVAL
Just as getai, live performances for entertaining otherworldly visitors, has evolved from classic Chinese opera and puppet shows to flamboyant song and dance routines, Hungry Ghost Festival can also transform into a more progressive and socially responsible event. We must treasure this unique spectacle in all its extravagance.
The Municipal Services Office reported an encouraging 13 per cent drop in complaints about air pollution and littering during the 2022 festival, but we can do even better. We can focus on quality, not quantity – environmentally-friendly joss sticks, a small curation of joss paper effigies, and sincerity in prayers and observances.
All of these remain true to the root significance of Hungry Ghost Festival, a time for thanksgiving, filial piety and sharing with those who need a little boost, whether humans, animals or wandering spirits.
Less shackled to superstition and more a connection between heritage and contemporary values, Hungry Ghost celebrations can live on vibrantly, inclusively and sustainably for generations to come. This year for the first time, San Francisco's Chinatown is hosting a Hungry Ghost parade, as well as month-long workshops and prayer rituals to foster cross-cultural solidarity.
There's definitely a nostalgic charm to haphazard splays of colourful effigies, elaborately decorated joss candles and the greatest hits of Chinese deliciousness everywhere. I have deeply missed Ah Ma's air-tight haunting-prevention measures for the last 15 years.
But what better way to remember her kindness by wishing it forward with compassion and thoughtfulness? Positive actions and feelings are gifts that keep on giving, and actually, they're just as festive and seasonal any time of year, not just the seventh lunar month.
Desiree Koh is a freelance writer based in Singapore.