Commentary: Someone has filmed you in public without your consent. Is it illegal?
Local actress Ching Shu Yi recently confronted a man for allegedly filming her without consent. Lawyers Gloria James and Noelle Teoh look at what the laws say about taking photos or videos of people in public.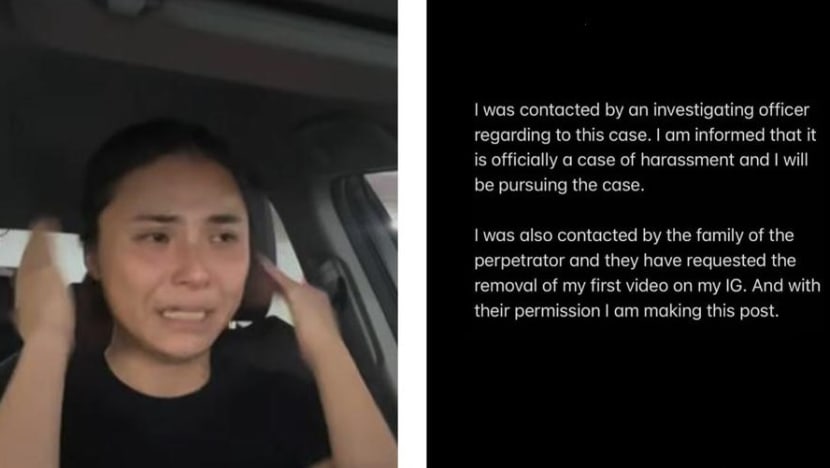 SINGAPORE: Due to the advancements in mobile camera technology, it has become both effortless and common for many to film or photograph items that capture their interest when they are out in public.
As the lens turns outwards, however, it also captures - intentionally or not - strangers and passersby engaged in their own activities.
Recently, an incident involving local actress Ching Shu Yi, who has appeared in shows such as Tanglin and Reunion, went viral on social media. She had confronted a man for allegedly filming her at a shop in Plaza Singapura, leading to fervent online discourse about the legality of photographing or filming someone in public.
While netizens praised Ms Ching for her bravery, some also pointed out that it's legal to take non-obscene photos of people in public without their consent.
What does the law say about taking photos or filming people in public? When does it count as voyeurism, and when does it not? When does it become harassment?
WHEN DO ACTIONS CROSS THE LINE?
In Singapore, despite popular belief, it is typically not against the law to take videos or photographs of another person in public without their consent. However, there are times when it crosses the line.
It is an offence to take videos or photographs of someone in a private place, such as in a bathroom or a changing room, or when they are engaged in a private act, such as showering, changing, using the toilet or breastfeeding.
It is also an offence to take videos or photographs of someone's genital region, breasts or buttocks, regardless of whether it is covered or exposed, in circumstances where these body parts would not otherwise be visible to others. Such photographs or videos, commonly referred to as "voyeuristic" pictures or videos, would attract serious legal consequences for the offender. There are also additional penalties if the person being filmed or photographed is a minor and when these recordings and/or photographs are being circulated for a malicious purpose.
In April, an architect was sentenced to 10 months' jail for uploading intimate pictures he took of two women on an online sex forum. The women had agreed to pose for him, on the condition that he would not share the pictures.
Additionally, taking videos or photographs of someone else may also be an offence, if it was done with the intention of harassing or intimidating the person, thereby causing them to feel uncomfortable or distressed.
NOT ILLEGAL, BUT IS IT MORALLY RIGHT?
While it is generally not illegal to take videos or photographs of someone in public, some people believe that it is morally wrong to do so and that it is an invasion of privacy. Similarly, others feel it is alright to take videos and photographs of someone else in public as long as the content is not obscene or harmful.
Even if these videos or photographs are not obscene or harmful, one should still be conscious of the possible implications on the persons in those videos or photographs, especially if negative behaviour is captured.
This includes how it may affect them at work or in school, and how it may affect their friends and family members. Ultimately, it is a personal choice whether or not to take a video or photograph of someone else in public but one needs to be aware of the moral and legal implications. If the situation permits, it would only be right to seek consent before any videos or photographs are taken, particularly if it involves a child.
What then can you do if you find yourself the unwilling subject of a non-obscene video or photograph?
Approach the situation calmly and politely request that the other party stop taking pictures or videos of you. You may also ask them to delete any footage and/or photographs they have already taken. It is important to avoid shouting, being argumentative, intimidating, or aggressive.
Likewise, refrain from engaging in any physical altercation, such as trying to take their devices from them or pushing them forcibly. If the person persists in filming or photographing you, you may wish to call the police for assistance or to file a report.
While you might need certain information from the person to file your report, it is important to understand that you do not have the right to demand their personal identification documents or prevent them from leaving. If you have made a police report for a crime but your case is not taken up for further investigation or prosecution, you can choose to file a Magistrate's Complaint to give directions for further action. Additionally, you may also consider taking legal action against the person for any emotional distress or financial losses suffered.
Is it illegal to film someone in public? Listen to Daily Cuts:
DON'T STAY SILENT
Importantly, if you witness someone else being the target of obscene or harmful videos or photographs, do not stay silent.
Instead, draw attention to the perpetrator, inform the person being recorded, and/or report the incident to the police so that the perpetrator does not go unpunished. Even if the videos or photographs are not obscene or harmful, if the subject of these recordings is experiencing discomfort, it is only right to step in and assist.
However, regardless of what you do, you should, at all times, ensure that your personal safety is preserved and that you are not at risk of any harm.
In the case of Ms Ching, the actress was observed to have chased the man who was allegedly filming her into a stairwell and later in a car park within the mall. This may not have been the best course of action, particularly since she was alone and there was a risk of an accident in chasing him in the car park. 
All in all, it is always prudent to seek advice and assistance from other members of the public, the police or a lawyer if you find yourself the subject of an unwanted video or photograph and you have any doubts as to what you can and should do.
Gloria James is Head Lawyer at Gloria James-Civetta & Co, while Noelle Teoh is Associate Lawyer at the same firm.