Commentary: Weight of parental expectations can burden our teachers unnecessarily
Teachers carry a heavy load – this has gotten heavier with the pandemic. But one group can make a difference in appreciating the challenges they face, says June Yong.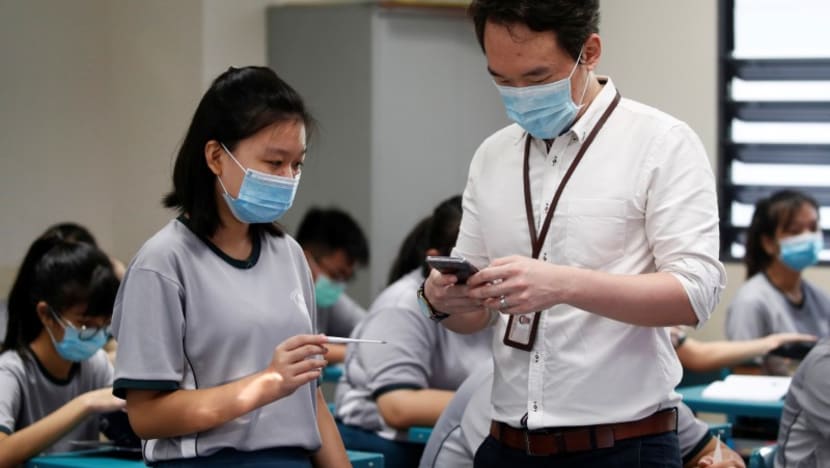 SINGAPORE: As a student, I was hit on the hand regularly and once a teacher even smacked my head with a textbook.
It was common when I was growing up – ill-disciplined students back in the day who frequently "forgot" homework or textbooks, like me, were not spared.
My parents never really met with my teachers and I was so glad they never did – because if they got wind of it, I'd simply get another punishment for my behaviour.
Fast forward several generations and by and large a teacher's job has to take into account a child's parent. Parental involvement is at an all-time high, and parent-school communication has been supercharged with the advent of technology and various communication apps like Parent's Gateway, Class Dojo and email.
With families having fewer children today, and the intrinsically high value we place on our children's education, it is not surprising we are more involved in our children's school experiences.
Research has shown the partnership between parents and teachers is a key factor for a child's educational success.
Educational psychologist Susan Sheridan writes on Early Learning Network that when parents and teachers adopt a partnership approach, children's work habits, attitudes about school and grades improve.
Yet this increase in involvement does not automatically enhance the quality of the parent-teacher partnership. In some cases, the work of a teacher becomes more complex with the rise of the helicopter parent.
WHEN IS PARENTAL INVOLVEMENT TOO MUCH?
Less than a decade ago, having access to a teacher's private mobile number was unheard of. Now, they are more accessible than ever – usually through WhatsApp or certainly via email.
This makes it easy for even the most uninvolved parent to tap on their teachers. If we're not careful, this checking in can sometimes become excessive, even meddlesome.
As a parent, the ease of communication is a boon. Each time we need to clarify something about homework, we can reach out and get answers quite easily.
Particularly in this era of pandemic-driven home-based learning, the speed of communication can be critical. I always appreciate my children's form teachers taking the trouble to be on call during home-based learning (HBL) days – on more than a few occasions my youngest child managed to lock his account after getting the password wrong.
But for all its benefits, being accessible to parents can be quite a bane for teachers. When we have questions or concerns, we are usually dealing with one child at a time, but the teacher at the receiving end has to deal with 30 or 40 parents.
After long hours at work, to be bothered by work-related matters during private time can add to the stress teachers face.  
As a friend observed, with the ease of communication, expectations have shifted. "We now expect teachers not just to teach our kids but also to respond to our queries and concerns," she said. And if the teacher takes longer than a few days to reply, we assume that they are lazy or cannot be bothered.
Another unpleasant downside that comes with the ubiquity of WhatsApp class chats is that parents start to compare their child's experience with particular teachers, on some occasions banding together to share a negative experience.
This can bring unnecessary tension to the parent-teacher relationship, where one person's experience becomes elevated as "truth" and the teacher ends up being labelled as either too strict or too relaxed.
Some parents in a class chat I'm in have been exchanging notes on how a teacher made a child stay back during recess to do a re-test for their Chinese spelling.
While the tone of the discussion was cordial, the parents' disdain for such a method of teaching was palpably felt.
Thankfully, one parent chimed in pointing out that the Chinese teacher is really hardworking.
While having a group of parents to share our schooling woes with empowers us to advocate in our child's best interests, parents sometimes forget there's a fine line between watching out for our kids and mollycoddling them.
We want our children to be independent and resourceful learners – and if that means they have to skip recess to catch up on work or have a lesson or CCA extended – they would have to deal with these themselves.
Or if they forget to bring their lunch box or their homework, parents shouldn't swoop in to rescue their child, as there are important lessons to be learnt in such non-critical mistakes.
TAKING THE TIME TO TALK
The opportunities for face-to-face interactions now with COVID may be reduced, but it is still vitally important that parents take the trouble to chat with their teachers – and not just to focus on what they've been doing to help the child, but also to exchange notes about their child's developing character and personality.
A child's form teacher probably spends a significant amount of time with him – considering that most teachers stick with their form class for at least two years. The observations they form about our children can be astute, or even surprising to hear.
CNA's Jaime Ho speaks to two Tampines secondary school students and their teacher on walking the climate change talk:
Parent Teacher Conferences (PTC) give us all a chance to discover more about our children's emotional and social make-up from an adult they revere and spend a lot of time around.
It is also a good time for us to tell teachers their work is appreciated – typically, teachers don't hear anything from us parents until something goes wrong. This can skew the teacher's experience and make them feel that no matter what they do, it's just never enough or that the relationship is strictly transactional.
Finally, we could try to curb comparisons. As a teacher-friend shared with me: "Sometimes we don't realise that every teacher is different and every class is different."
Kiasu parents might hear glowing reviews of a teacher and what she does to keep her class on track, how often she communicates, and then feel like we're getting short-changed because our child's teacher doesn't do the same.
Now when mental health at school is in the spotlight, we should be mindful about adding fire to the cauldron of education.
While teachers serve our children at the frontline, they too have their own families and worries to deal with. By supporting their well-being, and respecting their professionalism, we are in effect supporting our own children.
So this teacher's day, in addition to the little gifts of cookies and cards, perhaps the best gift parents can give our teachers is trust, respect and understanding – and maybe a little bit more space.
June Yong is a mother of three, a freelance writer and owner of Mama Wear Papa Shirt, a blog that discusses parenting and education in Singapore.