Commentary: Thai PM Prayut survives challenge but does this pave a way for Thaksin's return?
Thailand's court may have ruled that Prime Minister Prayut Chan-o-cha has not reached constitutional term limits, but things are not rosy for him as the next general election looms, says ISEAS-Yusof Ishak Institute's Termsak Chalermpalanupap.
SINGAPORE: Following Thailand's Constitutional Court ruling on Friday (Sep 30) that Prime Minister Prayut Chan-o-cha has not reached the eight-year constitutional limit in office, he can immediately return to work. Prayut may have survived this challenge from the opposition, but things are not all rosy - he is now a "lame duck" leader.
The court's ruling that Prayut's legal tenure started on Apr 6, 2017 – when the constitution came into force – means he could hit the term limit (if re-elected) on Apr 5, 2025, roughly halfway in the next four-year term. It puts Prayut in an awkward position, with only two years of eligibility left heading into the next general election.
The general election is scheduled for May 2023. However, it is widely anticipated that Prayut is going to dissolve the House and call an early general election soon after hosting this year's Asia-Pacific Economic Cooperation (APEC) Economic Leaders' Meeting in Bangkok in November. This will give his ministers who are politicians the invaluable advantage of incumbency during the election campaign.
PRAYUT'S ELECTABILITY TAKES A BLOW
Prayut's self-confidence as an infallible strongman was already shattered when he was suspended from office on Aug 24. Now that his potential premiership can only last until April 2025, it would be unwise for the Palang Pracharath Party (PPP) to re-nominate Prayut as its sole candidate for the next premiership.
The PPP would need to show its supporters from the outset who will succeed Prayut after he reaches the eight-year limit. Each party is allowed to nominate up to three candidates.
In Prayut's five-week absence, "Big Brother" First Deputy Prime Minister Prawit Wongsuwan stepped in as the acting prime minister. Surprisingly, the health of the 77-year-old former army chief, who is PPP leader, seemed to have suddenly improved; he can now walk unassisted during inspection trips to the provinces.
Prawit has pledged to serve the people with his heart despite his advanced age and physical frailty. He has also become friendlier towards the media and has shown himself to be more willing to answer questions in impromptu interviews.
Undoubtedly, the PPP sees the party boss as the most promising candidate for the premiership in the next general election.
On his part, Prawit said he wants the PPP to re-nominate Prayut. However, he has not ruled out the possibility of his own nomination as its second choice.
That said, what would be the selling point of renominating Prayut at all? His popularity has been plummeting and the court's ruling has stirred up anger online, with some staging noisy protests in Bangkok to demand his immediate resignation "for the sake of Thailand's better future".
In the 2019 general election, the PPP capitalised on being the proxy party of the military regime set up by former generals Prayut and Prawit after their May 2014 coup. The PPP did well with its shrewd campaign slogan reminding voters who yearned for peace and security to support Prayut for the premiership.
THAKSIN'S DAUGHTER, AN ENIGMATIC NEW FACE
This unexpected episode in Thai politics has intensified manoeuvring among major political parties gearing up for the next general election. One new face who has attracted a great deal of media attention is Paetongtarn Shinawatra.
The 36-year-old daughter of former prime minister Thaksin was appointed Pheu Thai (PT) Party's advisor in October 2021. Subsequently, she assumed the high-profile role as "head of the Pheu Thai Family".
On paper, her primary mission is to rally support for a "landslide victory" of the party in the next general election. But in reality, she appears more interested in mobilising support to bring her father home after more than 13 years in exile overseas.
If the 73-year-old Thaksin returned to Thailand under normal circumstances, he would face a combined jail term of 10 years from three convictions in corruption cases. Two other corruption cases are still pending investigation.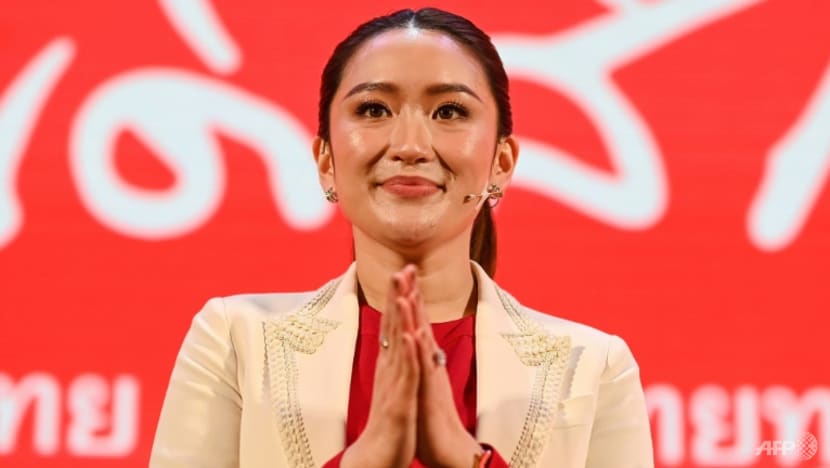 The PT-led government under former prime minister Yingluck Shinawatra, Thaksin's younger sister, tried but failed in 2013 to ram through parliament a controversial general amnesty bill designed to free Thaksin from all corruption charges. This attempt led to prolonged and chaotic street protests in Bangkok, which eventually resulted in then army chief Prayut seizing power on May 22, 2014.
When Paetongtarn joined PT's road show in Chiang Mai in September, her mother and other members of Shinawatra family showed up in full force to support her. This was the first time in nearly two decades that her mother and Thaksin's ex-wife, Khunying Potjaman, appeared in a political event after Thaksin's downfall in the 2006 coup.
The PT leadership has neither confirmed nor denied that Paetongtarn will be one of the party's nominees. But one National Institute for Development Administration survey in mid-September showed Paetongtarn as the most popular choice for the next prime minister (21.6 per cent), while Prayut came in third place (10.12 per cent).
POLITICAL UNCERTAINTY INTENSIFIES
The PT is enjoying a free ride on Paetongtarn's popularity. Bringing back Thaksin has practically become one important – if not the most important – policy objective of the party.
Whether or not it will help the largest opposition party score a "landslide victory" in the next general election remains debatable. But already, some are wondering if the court's ruling could be considered resetting the political office clock at April 2017 and eventually pave the way to power again for Thaksin.
Will Prayut work with Prawit and the PPP to thwart the PT from scoring a landslide victory to prevent this, even if it means not running in the next general election? If Prayut wants to soldier on – despite his diminishing political clout – how successful can he be?
The political uncertainty in Thailand that followed Prayut's initial suspension will continue to grow.
Dr Termsak Chalermpalanupap is Visiting Fellow and Acting Coordinator, Thailand Studies Programme at ISEAS – Yusof Ishak Institute.