Commentary: Looks like the Tokyo Olympics was worth the hassle and stress
The bar was low when the Olympics began with tens of thousands of athletes, coaches and organisers converging on the city, amid fears of a super-spreader event, says John Duerden.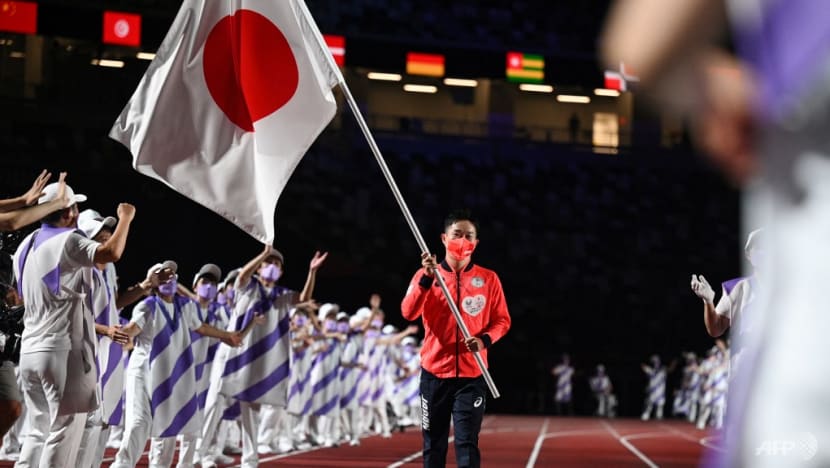 SINGAPORE: The 2020 Olympics finished in the same way they began – awkwardly on Sunday (Aug 8), with teams of athletes at the closing ceremony waving mostly to cameras rather than a stadium full of supporters.
When Tokyo was handed the hosting rights back in 2013, organisers probably imagined a much grander, more ambitious event compared to how it played out.
Then again, with a raging pandemic, and over 11,600 athletes from all around the world converging in Tokyo, it was a wonder Japan pulled it off at all.
WORLD WASN'T IN THE MOOD FOR AN OLYMPICS
The games could have gone much worse. COVID-19 not only caused its delay by a year but drained almost all enthusiasm ahead of the opening ceremony on Jul 23.
Audiences didn't seem chuffed about the prospects of watching a pandemic Olympics. An Ipsos global poll in July reported an average of 46 per cent of respondents in 28 countries expressing interest in the Olympics.
A May survey in Japan by the Asahi Shimbun newspaper was worse, reporting that over 80 per cent of Japanese did not want the games to go ahead this year.
A doctor's union put out a statement in May that it was "impossible" to hold the games. Even the country's biggest sporting icon Naomi Osaka who lit the Olympic torch was unconvinced. "Of course, I want the Olympics to happen," she said that same month. "But if it's putting people at risk ... then it definitely should be a discussion."
Behind it all was an understandable concern that the Olympics could be remembered more for spreading a virus than joy at sporting inspiration. The uncertainty was palpable. Some fear-mongering infectious disease experts even warned of an Olympics COVID-19 variant.
Plus, who would be in the mood when the costs to Japan have skyrocketed – going beyond dollars and cents? Tokyo has spent much of the past few months under an imposed state of emergency.
All the while, the International Olympic Committee (IOC) was insistent that the games would go ahead, many cynically noted, because of sunk costs when it makes over 90 per cent of income from broadcast rights and sponsorships.
THANKFULLY JAPAN PRESSED ON
And yet carry on Japan did, even against the tide of domestic public opinion.
They did so by imposing a stringent set of rules - mask wearing when not competing, daily testing, requiring athletes to depart from Japan within two days of their last sporting, social distancing and requirements to stick to isolation bubbles.
There were hiccups and scares – like when Olympics delegates mingled at airports and hotels. But organisers worked hard to keep a lid on COVID-19.
By and large, their efforts seemed successful. Cases connected to the 42,000 athletes, officials and coaches involved were contained in the hundreds - 436 by the final on Sunday - rather than thousands or more that was feared. 
PUTTING A SMILE ON FACES
Do low expectations explain why the Olympics seems like it was a decent success? After 18 months of dealing with the global pandemic, Tokyo 2020 was at least a welcome distraction, something else to think about.
But it was much more than that. "I think sport right now, in the world we are living in, is not only important," tennis gold medalist Alexander Zverev of Germany said. "I think it's necessary for people to have something to watch, something to cheer for."
The games were full of genuine heartwarming moments. Everyone will have their favourite but the nail-biting two-hour men's high jump finals between Mutaz Barshim of Qatar and Italy's Gianmarco Tamberi, where both decided to share the gold after tieing at 2.37m, was one for me.
There were more mixed gender events where 12 and 13-year-olds won medals in skateboarding, a new event that, like sport climbing, surfing and BMX, showcased a broader, more inclusive definition of sports.
The Tokyo Olympics also saw the rise of new superstars like swimming's Caleb Dressel of the US and the setting of new world records in cycling, climbing, swimming and track events.
Sometimes, all it takes is one medal to lift the spirits of an entire nation. Just ask COVID-hit Philippines, where the country had by far its best games, winning a first gold by national weightlifting champion Hidilyn Diaz, and also taking two silvers and bronze.
WHAT NEXT AFTER THE OLYMPIC GAMES?
Still, it hasn't been a complete bed of roses for these Olympic Games. Did the games bound 8 billion people together, as the Guardian claims?
In truth, how much attention you paid was probably confined to and determined by your love of a sport, how much time you had and how accessible coverage of the games was.
In this, there is bad news for television viewing figures, which were significantly reduced in some major markets, continuing the trend for several years. Viewing figures for the opening ceremony were down in the US by 36 per cent compared to Rio in 2016 and 58 per cent from London four years earlier.
Even in Japan, a smaller proportion of viewers watched the games on television than when Tokyo last hosted the event in 1964, the New York Times reported.
"We had a little bit of bad luck, there was a drumbeat of negativity, we got moved a year, no spectators," said Jeff Shell, the CEO of US Olympic broadcaster NBC Universal. "And that has resulted in a little bit of linear ratings being probably less than we expected."
The time difference for a Games hosted in Asia played little a part – US ratings for the Tokyo Olympics had plunged to less than half of the 2008 Beijing Olympics. 
These numbers should be studied and analysed later, weighed against the gains in streaming and digital viewership, by the IOC and China, host of the upcoming 2022 Winter Olympics to be held next February.
The future of that business model of leveraging sporting events as content to generate eyeballs and ad revenues has been tested by the coronavirus.
NOT A BAD OUTCOME OVERALL
Whether the Tokyo Olympics was worth the estimated US$15.84 billion (and counting) and all the stress is a question perhaps best asked to the Japanese people.
By the final days of the games, it looked as if opinion had changed from more than 80 per cent against to something much more positive as the country's medal haul outshined concerns, and the Japanese Twitterverse shifted towards positive remarks about the games after the opening ceremony.
If Japan, which worked so hard for so long to stage the games, can look back with at least some pride and joy then so can the rest of us.
Perhaps Tokyo 2020 was never going to be a huge success in a conventional sense. It was certainly never going to escape the COVID-19 shadow. The physical lack of fans was always a constant reminder of this new reality.
And yet perhaps the games were not what the world wanted but could still give those watching what we needed: A glimmer of hope for a return to normalcy in these pandemic times. 
John Duerden has lived in Asia for 20 years and covers the region's sporting scene. He is the author of three books including Lions & Tigers - The History of Football in Singapore and Malaysia (2017).