Commentary: Who knew counting to two and five friends could be so difficult?
After two months navigating around just two household guests, reconnecting in larger groups of five is a relief but throws up a new set of challenges, says Karen Tee.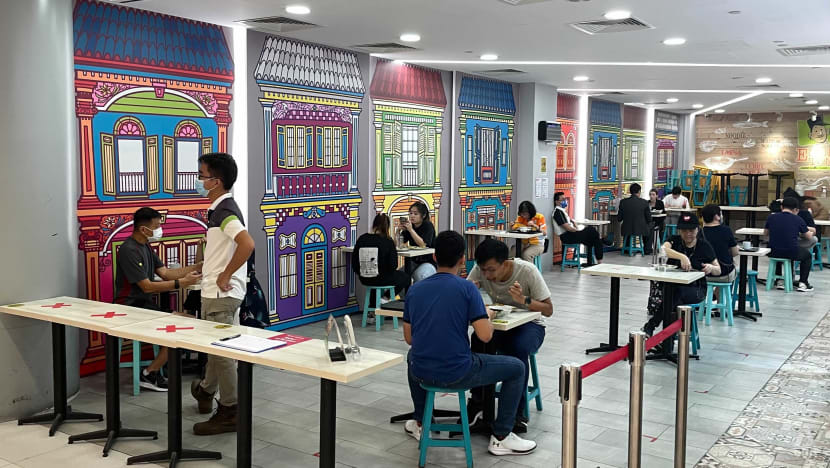 SINGAPORE: I am looking forward to an epic nasi lemak gathering with friends that has been six months in the making – abruptly shelved in September when home gatherings were dialed back to just two guests not long after it had been raised in August.
So, when the multi-ministry task force announced on Saturday (Nov 20) that the number of household visitors would be raised once again to five people, our WhatsApp group chat immediately sprung back to life.
After working around everyone's availabilities – including enviable vaccinated travel lane vacation schedules we haven't had to contend with for many months - we finally locked a date for this long-awaited feast into our calendars.
But while most of us are glad to have the ring of gatherings expanded, yet another thought came to mind. In our WhatsApp groups of more than five friends, we'd now have to be careful not to mention this dinner party to friend numbers six and seven by accident to avoid offending them. Insert screaming face emoji here.
This juggling of circles of friends never really ends, does it?
Honestly, I never imagined I'd have to scrutinise a guestlist for a small gathering at home as closely as I would for a grand wedding banquet.
But in these COVID-19 times, even something as simple as a casual dinner has become an "event" that requires an uncanny ability to keep close track of exactly who and how many you have invited, whether that number is two, five - or hopefully eight or more in time to come.
HEADACHE OF HOSTING PAIRS OF GUESTS
Since Singapore entered the "Stabilisation Phase" on Sep 27, my other half and I have hosted some friends and family at home in pairs, since socialising at restaurants was out of the question with a two-per-table only regulation.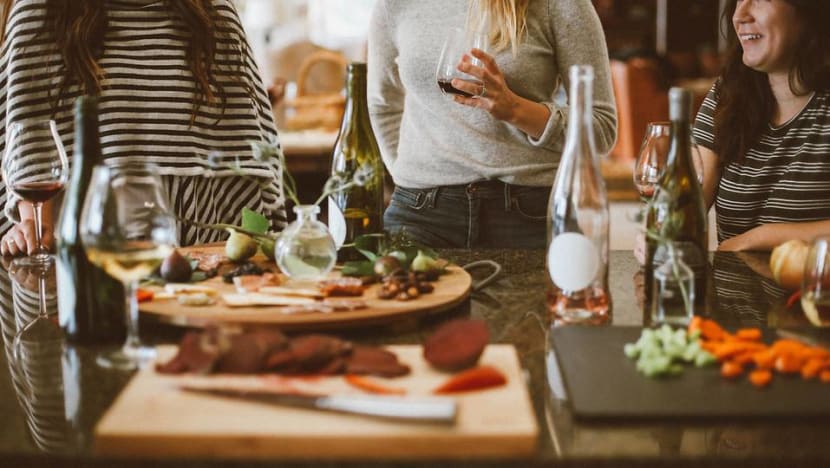 Still, even though I treasure this government-sanctioned opportunity for quality time, it has certainly been challenging.
Many of us likely only have a limited number of people we feel close enough to invite into our homes for an intimate gathering.
These have to be guests I am fairly confident of sustaining in-depth and meaningful conversations with over the span of a few hours. Such "inner circle" friends are few and far between.
Plus, a two-only limit meant we set aside groups of casual, convenient acquaintances such as former colleagues-turned-friends or gym buddies – good-natured folk you might not mind seeing a few times a week yet not really people you feel attached to be sufficiently motivated to hang out on a one-on-one basis.
Then, there are long-time close-knit groups of friends such as university mates. Our best diplomatic strategy was needed: Which two do we invite first? How do we ensure the subsequent pairs we host later do not feel slighted?
There is also social media etiquette to think about - is it okay to tag each other on Instagram? Should we not even post a food picture in case others feel left out?
As much as we think our friendships are immune to such trivial sensitivities, we have all felt the need to navigate carefully during these stressful and uncertain times.
Then there is also the logistical nightmare of having to organise many more gatherings to rotate through different pairs of friends.
While I am no "hostess with the mostess", I do still take the effort to spiff up my apartment before guests arrive. As someone whose default state of living can only be described as organised chaos, I've never spent so much time clearing away stray socks, lining up stacks of books and magazines and vacuuming my living room.
The cost of buying food and drink for each gathering has added up quite quickly, without the economies of scale of buying food in bulk for larger groups.
It was tempting at times to stop creating more exhaustion and expense for ourselves. But yearning for human connection has been strong at a time when Zoom meetings and endless work days have created isolation and loneliness.
COULD FIVE PAX GATHERINGS THROW UP NEW CHALLENGES?
There's been this nagging suspicion at the back of my mind that I could be friend number three, four, five – or more to other people, because I haven't been invited to my friends' homes these past two months.
So, the relaxation of group sizes is certainly a welcome move for many of us who have missed the easy camaraderie of hanging out with more than one or two friends at once.
I was delighted that practically overnight, my social circle has revived, with my various group chats finally buzzing again.
Of course, there are new issues to navigate now that social sizes have been increased.
I know I will wonder if all my houseguests have been fully vaccinated. Out of an abundance of social consciousness, and general unwillingness to catch the virus myself and risk passing it on to my family, I have made it a point to only invite people who I know have been vaccinated.
I imagine this will become more difficult to uphold as I start spending time with a wider range of people. Still, I do take comfort in the fact that Singapore has among the highest vaccination rates in the world, making it safer for us to gather in larger groups.
Sensitive types may also have to contend with uncomfortable realisations they might not even be "ranked" among the top five friends to be invited for the next gatherings. It was easier to stomach not being invited when we understood how difficult it was to prioritise only two visitors.
I like to think I will be understanding when I find myself left out of some gatherings, but check back with me again when that invariably happens. Likewise, I hope my friends will not cut me off permanently if I accidentally overlook them when planning year-end meet-ups.
That said, I would very much rather count my blessings so I am going to do my best to look forward to the upcoming festivities with those near and dear to me.
After all, there are turkeys to roast, hams to enjoy and mulled wine to brew - all of which are best shared with slightly larger groups of (up to) five guests at a time.
Karen Tee is a freelance lifestyle and travel journalist based in Singapore.
Is the launch of more Vaccinated Travel Lanes (VTL) a turning point for travel? Listen to CNA's Heart of the Matter: