Commentary: The US just hosted its second democracy summit, but is it really qualified to do so?
The US faces many challenges to the future of its democratic system, but it can still be a beacon for democracy, says S Rajaratnam School of International Studies' associate research fellow Kevin Chen.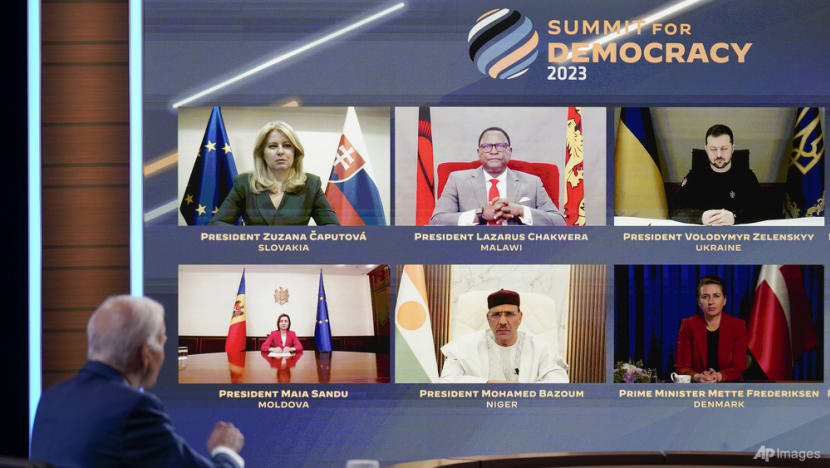 SINGAPORE: The United States on Wednesday (Mar 29) officially kicked off its second Summit for Democracy, promising US$690 million in funding to bolster democracy programmes around the world.  
US President Joe Biden painted a picture of progress since the first summit in December 2021, declaring that the world was at a "turning point" after a yearslong backslide on democracy. "We're turning the tide here," said Biden. "Our job is to keep building on our progress so we don't start heading in the wrong direction again."
The three-day summit saw 121 leaders gather to discuss the challenges facing modern democracies. Indeed, a key purpose of the 2023 summit appears to have been to shore up a united front in support of Ukraine, with Ukrainian President Volodymyr Zelenskyy making a virtual appearance.
Some observers have questioned the diplomatic rationale of the summit, noting how the exclusion of US' North Atlantic Treaty Organization (NATO) allies such as Türkiye and Hungary may sour their relationship with Washington.
More ominous, however, is a ringing question about the US itself: With the very foundations of its political system coming into question, can the US even claim to be a beacon for other democracies?
ERODING INSTITUTIONAL LEGITIMACY
The US was founded based on having three separate but equal branches of government: the Executive (the President), Legislature (Congress), and Judiciary (Supreme Court). However, trust in these institutions, particularly in the Legislature and Judiciary, has plummeted in recent years.  
According to Gallup polls, the average approval rating for Congress from 1974 to 2009 was 37 per cent. In 2022, Congress' average approval rating was half of that, at 18 per cent.
Underscoring this lack of approval, only 19 per cent of people polled by the Pew Research Center said they trust the government to do what is right "most of the time" in 2022.
A key factor behind this trend is the polarisation of the American political system, which widens the gap between the attitudes of Democrats and Republicans.
A case in point is the fallout of the Dobbs v Jackson ruling of June 2022, which ended the federal guarantee of the right to abortion. Pew polling showed that Republican and Republican-leaning respondents increased their support for the Court by a modest 8 points to 73 per cent between 2020 and 2022, while Democrat and Democrat-leaning respondents' support collapsed by 40 points to 28 per cent over the same period.
The Supreme Court is supposed to be the interpreter of US law, but the Conservative-dominated Court is increasingly seen as a tool to further partisan political ends.
Even more dangerous is the ongoing attack on electoral outcomes, which shot to prominence when former president Donald Trump disputed the 2020 election results. Unsurprisingly, belief in election denialism is split along political lines.
A 2022 Gallup poll reported that only 40 per cent of Republicans respondents said they were confident in the casting and counting of ballots in 2022, compared to 85 per cent of Democrats.
Granted, many candidates in the 2022 midterm elections who endorsed Trump's claims of election fraud ultimately lost their races. Yet a disquieting fact is that many Republican representatives and senators, including Speaker of the House Kevin McCarthy, still vocally supported or refused to denounce Trump's claims. This sets a worrying precedent for 2024, especially if the movement to deny election results becomes more organised.
BACKSLIDING, THE AMERICAN WAY
Adjacent to concerns about legitimacy is the rise of politicians who exercise executive power in sweeping ways. While Trump comes to mind, the current governor of Florida, Ron DeSantis, provides a more polished example of such a strongman leader.
DeSantis is known for his legislative forays against "woke" culture, particularly the Parental Rights in Education Act, or Don't Say Gay Bill of July 2022. The act prohibits classroom instruction relating to sexual orientation and gender identity in kindergarteners and early elementary students – language that appeals to popular attitudes, though critics have asserted that such subjects are not covered in early grades anyway.
Yet, by portraying himself as a crusader against "woke" forces, DeSantis gives himself political cover to expand his power. Political science scholars have observed how strongmen typically chip away at the safeguards that restrain them.
Already, DeSantis removed the elected state attorney of Hillsborough from office in August 2022 over allegedly neglecting to prosecute people who seek or provide abortions. He also vetoed US$35 million in state funds for a baseball team's training facility after it spoke out against gun violence. Should DeSantis – who has been reported to have indicated privately that he intends to run for president - win the 2024 election, he will likely continue testing his ability to target political opponents and increase his own power.
There are many ways that a combination of these two trends could fatally undermine US democracy. Election deniers in Congress may reject their loss and declare themselves victorious. An elected strongman may systematically dismantle institutional safeguards and rule unopposed. The Judiciary may pass judgments that allow states to decide how to allocate votes. These concerns are real and concerning.
NOT A PERFECT LEADER, BUT A LEADER NONETHELESS
Yet, despite these concerns, the US should not be discounted as a beacon for democracy in the world. Two reasons stand out.
First, Washington played a key role in rallying other countries to the defence of Ukraine last year, providing material that enabled Kyiv to withstand the Russian onslaught.
Without discounting President Zelenskyy's own role in appealing to international audiences, few other countries could have performed such a role. Indeed, due to its accumulated clout and network of close partners, the US still occupies an important leadership position among democracies.
Second, and more intrinsically, democracy still has its champions in the US. Lawyers from Elias Law Group have won acclaim for jet-setting across America, fighting tooth and nail against lawsuits that deny election results. Politico dramatically described how these attorneys saw their mission as making a "last stand for democracy." Young voters rallied their friends and networks for the 2022 midterm elections, with an unusually high 27 per cent of people under 30 turning out to vote.
The US faces many challenges to the future of its democratic system, but its global position gives it cachet as a leader, while the forces that seek to preserve its democracy are tenacious.
Its struggles can serve as both a cautionary tale for countries with similar political challenges and an inspirational tale for how a democratic system can be pulled back from the brink. The main caveat is that it is not a perfect leader, but a continued work in progress.
Kevin Chen is an Associate Research Fellow in the US Programme at the Institute of Defence and Strategic Studies, S Rajaratnam School of International Studies (RSIS), Nanyang Technological University (NTU), Singapore.