Commentary: Have market forces really decided men's tennis is more valuable than women's tennis?
Decisions, like scheduling women's matches when spectator numbers are at their lowest, influence which players are given the best chance of breaking through to a mass audience, says the Financial Times' John Burn-Murdoch.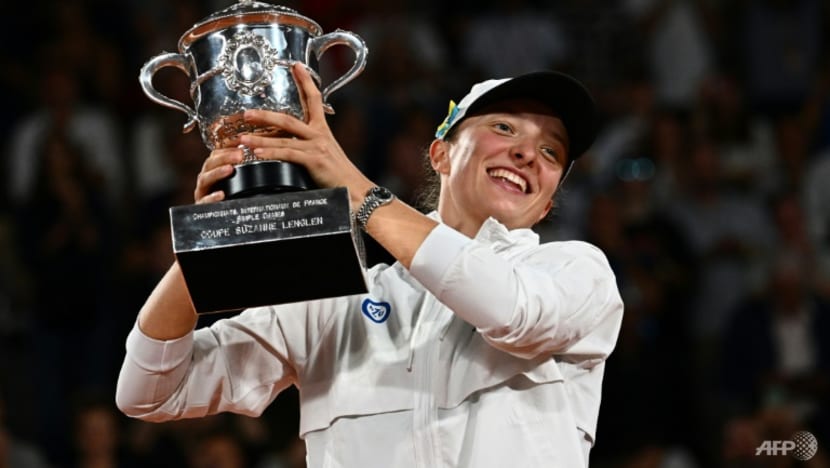 LONDON: When the opening serve is struck at Wimbledon next week, it will mark the 15th anniversary of equal prize money being offered at all four of tennis' Grand Slam events. The men's and women's singles champions will each receive £2 million (US$2.5 million) in prize money, while any who falls in the first round will walk away with a cheque for £50,000 (US$61,400).
Though Billie Jean King's successful campaign for equal rewards came into effect at the 1973 US Open, it was not until 2001 that the Australian Open followed suit. Wimbledon and the French Open finally came on board in 2007.
To the casual observer – the type who catches the Wimbledon highlights every July and is perpetually expecting Roger Federer's next title – it may seem like the story ends there. But professional tennis extends further than the Grand Slams. Regrettably, equal pay in the sport does not.
MORE PRIZE MONEY, MORE TOURNAMENTS
Consider the world's current standout tennis player, Iga Swiatek – Poland's 21-year-old double Grand Slam champion, utterly dominant world number one, and most likely the best since Serena Williams. 
Since late February, Swiatek has entered six tournaments and won every one – most recently the French Open – equalling a 22-year-old record with her 35-match winning streak and amassing US$5.7 million of prize money. Not much cause for complaint, surely.
Except that, had a male player achieved the same feats over the same time period on the men's tour, he would have earned almost US$2 million more – a 34 per cent premium.
Away from the four Grand Slams, men's prize money is frequently higher than women's – even at joint tournaments – and men are also given more tournaments to play in.
As a case in point, last February's tournaments in Dubai, while nominally of equal standing for the men's and women's tours, awarded US$523,740 to the men's champion and just US$104,180 to the women's. 
And in April, while the two biggest women's tournaments offered just over US$250,000 in prize money, the men's gave out almost US$1.4 million.
Combining all tournaments except the Slams, the total prize money awarded on the men's tour so far this year is 75 per cent higher than on the women's, the widest the gap has been since 2001.
DECISIONS ON MATCH SCHEDULES MATTER
There are often two justifications given for this disparity. The first is that women spend less time on the court and so do not deserve equal pay. This is straightforwardly wrong, since outside of the Slams, both sexes play best of three sets. 
It is also unclear why more time on the court should necessarily mean a better spectacle. Few of the highest-quality Grand Slam finals have gone to a deciding set and, if time was money, then Nicolas Mahut and John Isner would be the highest-paid tennis players of all time.
The second response to these figures is that the free market has decided that men's tennis is a more valuable product. But events at last month's French Open show the holes in this theory.
Explaining her decision to schedule men's matches rather than women's for nine of the 10 primetime night sessions, tournament director and former Wimbledon champion Amelie Mauresmo explained, "Right now . . . you have more attraction, appeal [in] general, for the men's matches." 
Meanwhile, women's matches remain almost invariably the first on the court in the mornings, when spectator numbers – both in person and on TV – are at their lowest.
Far from being a free market, subjective decisions like these have a real influence on which players are given the best chance of breaking through to a mass audience and creating a market of paying consumers.
One of the great fallacies in sport is that if the quality is high, the audience will come. If that were the case, Swiatek would be the biggest show in town. But in reality, sport is a soap opera: We come for the people behind the rackets, their backstories, their rivalries.
Netflix is currently filming a documentary following the top players of both sexes as they navigate this year's Slams. I hope it is a sign of things to come. Give the emerging generation of women's stars their share of the limelight, give them their share of the money, and watch the sport as a whole thrive.
Source: Financial Times/geh