Commentary: What if workers themselves are unsure whether to return to the office?
Research reveals that people have a confusing relationship with the workplace, but Dr Rashimah Rajah from NUS Business School says we can find a sweet spot.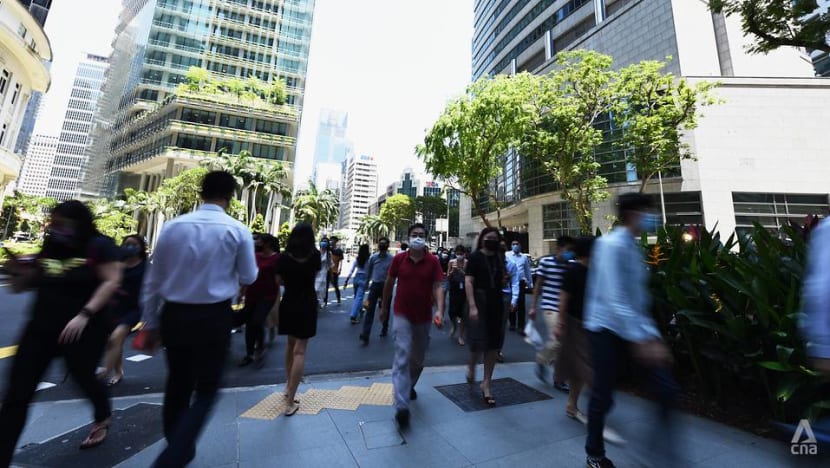 SINGAPORE: Singapore is entering yet another new phase of COVID-19-related restrictions, with work-from-home requirements to be eased from Thursday (Aug 19).
Up to half of employees who can work from home can now return to the workplace.
This move has been met with a mix of hesitation and enthusiasm.
While many Singapore workers enjoy the flexibility of working from home for the past one and a half years, WFH arrangements have been a key culprit behind workers' reported mental health woes. They have lost social relationships at work and experienced feelings of isolation.
A Straits Times survey carried out a few times in 2020 shows consistently that at least eight in 10 prefer to work from home or have flexible work arrangements.
And yet, the challenges of an office in a home too have been well documented – blurred boundaries, space constraints and juggling care-giving duties.
The irony of being connected virtually is what I call a "disconnect while connecting". On the one hand, employees are connected more than ever via information and communications technology.
Work-related inquiries can be answered quickly over email, or even instantaneously over the telephone, video calls and direct chat messages using Slack, Skype and Microsoft Teams. Nearly all of us have these apps on our phones too.
But despite being constantly connected, employees face a disconnect in trying to fulfil the human need for connection and belonging.
WHEN IT'S ONLY ABOUT WORK, IT'S UNHEALTHY
Why is this happening? First, documented communications via emails and direct messages tend to be functional and mostly work-related. Workers lose out on the more informal "water-cooler" conversations with their colleagues over lunch or work breaks.
Research show such interactions are important in fostering stronger teams. Physical gestures like handshakes – which are now no longer encouraged – help build initial trust in business partnerships.
Positive interactions with colleagues – both formal and informal – lead to higher job satisfaction and trust among team members, both of which are pivotal in team productivity and innovation. Such exchanges create a safe space for team members to bounce around creative ideas.
Second, research also shows that virtual teamwork can escalate conflict and coordination challenges quickly, as virtual communication tends to lack the depth and richness needed in effective collaboration.
In face-to-face discussions, potential misunderstanding can be clarified quickly, because people can read cues like facial expressions, body language and tone of voice in real time.
Third, being away physically from work has led to newer and more frequent forms of surveillance by superiors, and workers feel micromanaged in an environment where their physical absence arouses potential mistrust in their work productivity.
When managing-by-walking-around is no longer feasible, managers focus on monitoring presence, like picking up if a particular employee is "online" on work platforms during working hours and checking on the status of a particular work deliverable to see how fast employees respond.
Lastly, newcomers like mid-career hires, interns and fresh graduates onboarded virtually do not have the full grasp of the organisation's culture and practices. They feel alone as they miss out on the opportunity to form meaningful relationships with co-workers best done in a physical setting.
LINGERING FEAR OF CONTRACTING COVID-19
Although those in Singapore are the least worried among Southeast Asian countries about contracting COVID-19, according to market research by Ipsos, a forced move to the office can still leave a bad taste in employees' mouths.
Despite the perceived risk of contracting the virus being relatively low, another study by Wunderman Thompson interviewing 500 in Singapore cited that the fear of contracting COVID-19 in public spaces was a major source of anxiety among the 74 per cent of respondents who reported being worried.
Having to physically commute to work not only takes away time and energy better channelled to working from home, but also poses a health risk to these employees if it involves public transport.
By forcing employees to physically come to work, managers could signal to subordinates their physical health is not the top priority in the midst of a pandemic.
Even when Singapore has a relatively high vaccination rate, when people perceive that clusters can form quickly in enclosed and public spaces, they worry.
This is especially the case if they live with vulnerable family members, who may not be eligible for vaccination due to medical complications.
REMOTE MANAGERS AND EMPATHY
How can managers keep Singapore workers satisfied and overcome the challenges of both WFH arrangements and having to make the slog to work?
According to the American Psychologist, leaders do well when they clearly communicate company policies and demonstrate confidence that strategic goals can be achieved, whatever the work arrangement.
Recent World Economic Forum research also highlights the importance of leaders in exercising empathy and understanding the hopes and challenges of workers.
Not only does empathising help create those human connections lost to this pandemic, taking action to assist workers to allay their concerns demonstrates that company policies act in the interest of employees.
Policies adapting to the current situations must be accompanied by an appropriate indication from management that they are implemented carefully, sensitively, and with everyone's interest at heart.
HYBRID MODELS ARE HERE TO STAY
A hybrid work arrangement – involving a combination of office-based and remote work – is gaining traction among companies. It caters to employees' preference for an increasingly flexible work policy, while providing the option for workers to form quality relationships with colleagues.
In November 2020, DBS announced a distributed workforce model: All employees will be given the flexibility to work remotely up to 40 per cent of the time.
A four-day work week has also been successfully implemented in Microsoft Japan and the local city council in Iceland, where higher levels of productivity and lower levels of burnout were reported.
Trials are underway in Spain and Unilever in New Zealand, and there are calls for four-day work weeks in London and Singapore to reduce carbon footprint and allow individuals to lead fuller lives.
This unprecedented level of flexibility may pose some complications in planning for managers. How much office space should the company retain?
What additional resources in terms of technological devices and skillsets should the company provide to allow for a seamless transition to a hybrid arrangement?
How can meetings be planned if there is too great a variety in team members' personal preferences on the times and venues where they carry out work activities?
How has COVID-19 disrupted work? Our guests break it down in this episode of Heart of the Matter podcast.
EMBRACING UNCERTAINTY
Rather than try to plan more, give everyone the same thing or even micromanage, leaders should embrace uncertainty as they navigate through this time of forming new workplace norms and routines.
Reconsidering appraisal systems can be a start. In place of tracking work hours to measure worker output, a shift to results-based assessments can provide employees the drive needed to fulfil their work objectives, while granting them autonomy on how they want to achieve them.
If there is a conflict in preferences of two or more team members in coming into office, managers can resolve this by encouraging team members to share and synchronise their calendars and find agreement on at least several blocks of time to meet physically at the workplace.
What is key in this is how this is communicated and implemented. Supervisors should give employees a choice on agreeing on a schedule, instead of deciding on it autocratically.
Employees must also take responsibility in making these arrangements work. The timely submission of work deliverables, as well as a demonstration of willingness to help others can prove to managers that a trust-based system will not be abused.
Managers and employees alike need must adapt to changing times and share the responsibility for finding a suitable, sustainable arrangement post-pandemic.
More than answering whether and how frequently we should work from the office, what's desperately needed is a culture of flexibility, openness and trust in those social connections.
Dr Rashimah Rajah is a lecturer in the Department of Management & Organisation at National University of Singapore (NUS) Business School. The opinions expressed are those of the writer and do not represent the views and opinions of NUS.