Commentary: In green Singapore, most youth don't spend much time in nature
Time spent in nature helps young people develop not only an interest in the natural environment, but also a sense of ownership of their living space, say science educators Tan Aik Ling and Theresa Su.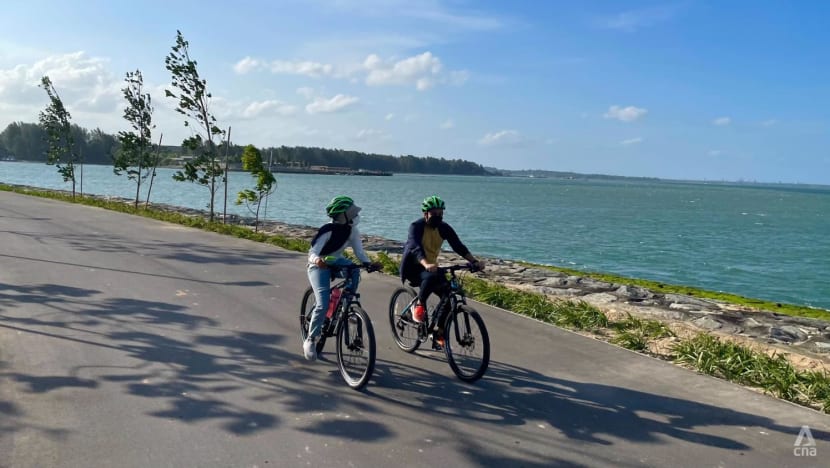 SINGAPORE: Ever since Greta Thunberg became prominent for launching school strikes and berating leaders for their inaction on climate change, young people are seen as the vanguard of sustainability advocacy.
But the passion young activists have for the environment is probably not shared by the majority of Singapore youth who don't spend much time outdoors.
In an interview we conducted in May with a group of Secondary 3 students, 46 per cent of youth do not go for nature walks at all, while 23 per cent go for nature walks once every 10 weeks. A third go for nature walks weekly, but for functional reasons like walking their dogs or cycling.
Possible reasons for youth disengagement with nature could be living in a highly urbanised city, busyness of school and availability of more exciting activities. If not led by parents or educators, there is a low likelihood of youths having meaningful interaction with nature.
Alice, 14, said: "I don't go for nature walks because I spend most of time in school. I don't think of them as part of my leisure activity. After school, I will stay at home, use my phone, eat, do my homework."
According to a 2014 OECD survey, 15-year-old students in Singapore spend an average of 9.4 hours a week on homework and an average of 47 hours per week in schools. This leaves them with 50 waking hours per week – if they are not enrolled in enrichment classes – to pursue their interests.
But can visiting nature areas compete with gaming, movies, sports and cafe hopping?
LISTEN - XX Files: Youth and Future Generations Having Their Say
WHY ENGAGING WITH NATURE MATTERS
Time spent in our green and blue spaces helps young people develop not only an interest in the natural environment, but also a sense of ownership of their living space. This is important as the climate crisis deepens – young people have a stake in the sustainable development of future cities.
The world that our youths inhabit will require them to make deliberate lifestyle choices to slow the deterioration of the environment. They must also fend off the consequences of climate change like increased energy prices, rising temperatures and more extreme weather – and apathy to these issues will only worsen them.
Interest in and for the environment can be developed through various avenues: Learning from the formal school curriculum, engagement in extracurricular projects like community gardens and volunteering in citizen science activities.
Such extracurricular activities are available to students in Singapore. Commonwealth Secondary School, for instance, is teaching sustainability in its geography, science and language curriculum, and features eco-habitats on campus for students to take part in hands-on learning.
The Friends of the Parks initiative, supported by the National Parks Board (NParks), brings volunteers together to serve as stewards of our green spaces. Non-government organisations such as Nature Society Singapore also actively promote nature conservation through public education and activities.
CONNECTING YOUTH WITH NATURE
But what more could be done to reach out to youths like Alice to increase their interest for the environment?
We conducted a study in May to understand what matters to youths when it comes to issues related to the natural environment, climate change and sustainability. We measured the students' Connection-to-nature Index (CNI) before and after a three-day non-residential camp at St John's Island.
CNI was calculated using a 17-item questionnaire in four areas – enjoyment of nature, empathy for other living things, sense of oneness with nature and sense of responsibility for the environment.
We observed an increase in CNI for students after their experience. This is encouraging as it suggests that targeted, intentional and meaningful exposure to natural spaces can have an impact and can shape a youth's connection-to-nature.
One student shared that she never knew there were living things underneath the seemingly lifeless rocks and sand. Another said now that she knows the beach is home to crabs, sea slaters and other organisms, she will be more careful about her actions there.
Indeed, awareness of living things is the first step in nature conservation efforts. After all, you cannot conserve something you do not know exists.
Exposing youths to conservation efforts is another way of getting them more interested in the environment. During the camp, students observed coral restoration by researchers at the St John's Island National Marine Laboratory. They learned how to attach coral fragments to a substrate and how to handle them carefully.
According to Min Min, a camp participant, the activity made her optimistic that there are concerted efforts to restore degraded ecosystems. She felt less helpless about nature's decline and more motivated to conserve it.
Min Min's insights are a glimmer of light amid bleak messages of climate devastation that dominate news headlines daily. Seeing conservation efforts in the flesh inspire hope and galvanise youth to do their part for environmental conservation.
WHAT EDUCATORS AND PARENTS CAN DO
Moving forwards, educators and parents can play a role in getting our youth more involved in environmental issues.
School programmes can help bridge the gap between what students learn in the classroom with the real world. Field trips to nature spaces should be an integral and regular part of the formal school curriculum. These learning journeys can be designed to equip students with basic skillsets to enjoy the environment, for example, to employ different senses to observe wildlife and their habitats.
Parents can make nature walks a regular family activity too. Start by exploring a park or nature reserve every week, for example the Singapore Botanic Gardens or Sungei Buloh Nature Reserve. Compare the flora and fauna of each park. Use a guide, such as NParks' Flora & Fauna Web, to identify and learn more about them.
Immersion in nature allows young people to draw their own conclusions about the importance of the environment and related causes. After all, as one student shared, "buildings in urban areas" fences off this sensitivity.
Armed with a stronger familiarity with nature and the knowledge and skills to appreciate it, youths will not only transform their relationship with nature but also be empowered to preserve it, which is important as we grapple with the climate and sustainability issues of today.
Tan Aik Ling is Associate Professor, Natural Sciences & Science Education at the National Institute of Education. Dr Theresa Su is Education Manager at the National University of Singapore.