Best eats: Bak kut teh meets mee pok is a must-try combo in Sembawang
Gold 905 DJ and Makan Kakis foodie Denise Tan discovers the unusually named Malu Malu Wah Seng Bak Kut Noodle – which serves up noodles tossed in a piquant sauce and a comforting bowl of pork rib soup.
After countless visits to hawker centres for countless tastings across Singapore, I didn't think I could be surprised anymore. So I sent out a plea to my foodie friends for delicious recommendations that were a little more off-beat and off-the-beaten-track.
I was overjoyed when my Makan Kaki Mark Tay, founder of small-batch cocktail delivery company Sunday Punch, let me in on a secret place he discovered during his National Service days at Sembawang Camp.
Gold 905 DJ Denise Tan discovers the unusually named Malu Malu Wah Seng Bak Kut Noodle – which serves up noodles tossed in a piquant sauce and a comforting bowl of pork rib soup.
Imagine if bak kut teh (pork rib soup) and fishball noodles joined forces, with a little help from lor mee (noodles in a spiced, starchy gravy). The result is a souped-up super hybrid, the culinary equivalent of Optimus Prime, capable of morphing seamlessly from one iconic local dish to another. And just like the Transformers, Malu Malu Wah Seng Bak Kut Noodle turned out to be more than meets the eye.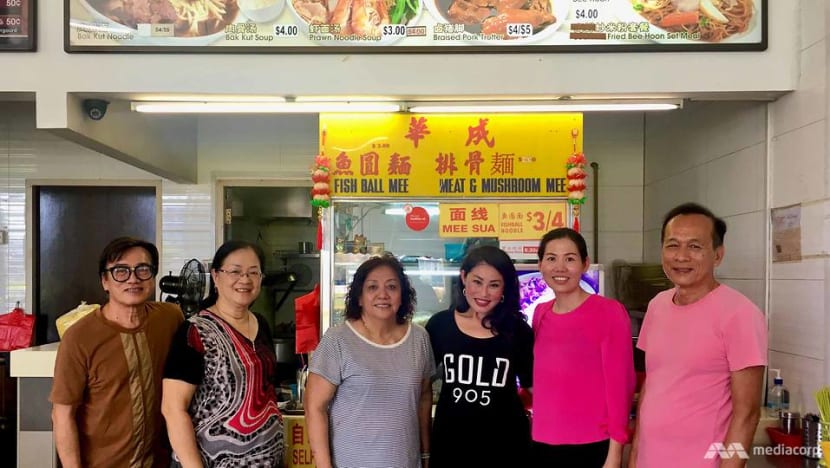 The stall has been quietly operating out of a food court along Admiralty Road for seven years, but its history goes back more than six decades, with deep roots in the Sembawang area.
Stirring her large pot of simmering stock, Madam Fang Li Hua told me that their large family of 11 brothers and sisters grew up helping out at their parents' roadside stall selling handmade fishball noodles in the 1950s. The day I paid them a visit, said family was out in force, as several brothers and sisters showed up to give Madam Fang a bit of moral support.
But how did they go from originally selling fishball noodles to their current bak kut noodles? Somewhere along the way, they found it increasingly difficult to continue hand-making their fishballs in large quantities. They didn't want to compromise on quality by going the factory-made route, so they decided to switch to selling something different.
Madam Fang's gregarious younger brother Danny Png chimed in: "Making the switch wasn't too hard, it was just a matter of changing the ingredients. Because we really know our noodles."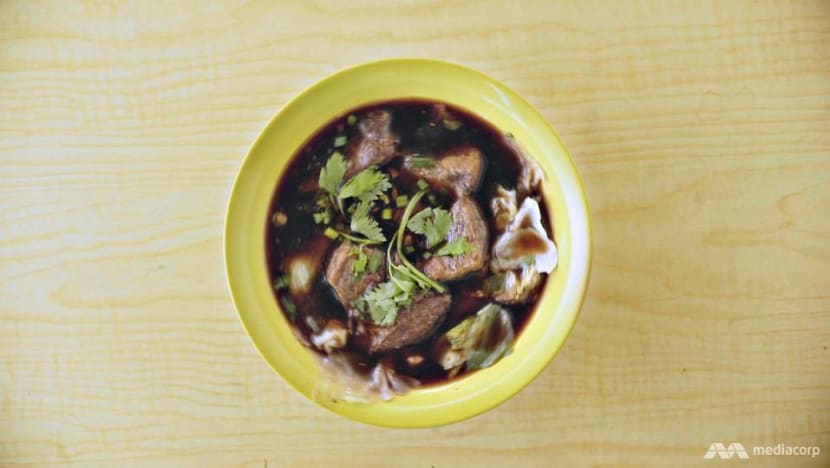 Previously, the family had spent 30 years in a coffee shop at Jalan Malu-Malu (just 3km from their current location), which is where the stall got its distinctive name. Danny reminisced, "Before that, we used to sell outside the old Sultan Theatre (Chong Pang Village) in the seventies. In those kampung days, our noodles sold for just 20 cents a bowl."
Now, S$4 or S$5 gets you a hearty serving of bak kut noodles, which was the invention of Madam Fang. Banking on her family's decades-long noodle expertise, her brainchild turned out to be a brilliant gamble. Customers couldn't get enough of this unique combination no one had encountered before. This writer included.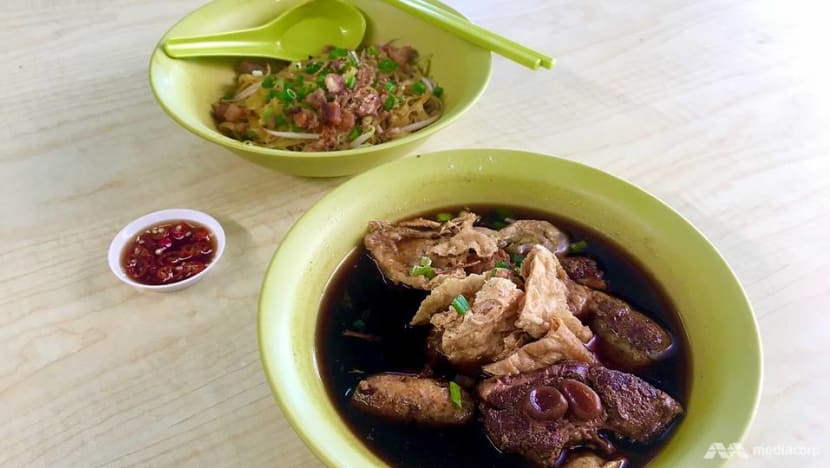 For the indecisive (or gluttonous) eater, Madam Fang's signature dish ticks so many boxes. Love noodles tossed in a piquant sauce, but also crave the rich comfort of a good pork rib soup? Malu Malu Wah Seng gives you the best of both worlds and more. Also on their menu are braised pig trotters (S$4 or S$5), prawn noodle soup (S$3) and fried bee hoon (S$3). You can still even get fishball mee (S$3 or S$4), but that is no longer their main focus.
These days, it's all about the bak kut noodles. Granted, when you think of noodles with pork ribs, hae mee tng (prawn noodle soup) more likely comes to mind. But far from the expected prawn mee, Malu Malu Wah Seng's creation is the literal combination of bak kut teh and noodles. Soup or dry versions are available, but Madam Fang told me the dry version is more popular with her customers, especially the "army boys".
Malu Malu Wah Seng showed how versatile their bak kut teh is when paired with their many noodle varieties, including bee hoon (thin rice vermicelli), mee sua (thin, salted wheat flour noodles) and mee kia (thin egg noodles).
Mark Tay had recommended the soup version with yellow noodles, which he likened to lor mee. Noodles swimming in a hot bowl of thick, braised meat soup were extremely tempting, but I decided to go with the dry version at Madam Fang's suggestion. The result reminded me very much of my favourite mee pok tah (flat egg noodles) with soup and ingredients on the side.
Madam Fang carefully prepared a beautifully al dente bowl of well-sauced mee pok, decorated with lightly-cooked beansprouts, a sprinkle of fried shallots, chopped spring onion and coriander, as well as crispy lard chunks. She had blanched the noodles alternately in hot and cold water to produce that perfect springy texture. The thicker width and undulating edges of the mee pok provided the perfect surface for maximum sauce adherence.
The noodles were first bathed in a blend of liquid lard, black vinegar, a hint of ketchup and home-made sambal chilli redolent with the heat of red chillies, fried with the headiness of big onions. Then, the piece de resistance – a splash of braising liquid from the bak kut pot for an overall boost of pork rib flavour. This was the unifying flavour profile that tied both elements of the dish together.
From the mee pok tah to the bak kut teh, magic had happened in that deep, dark, brown-black liquid, which had been simmering for hours.
The flavours of pork bones, whole cloves of garlic, ginger, gui pi (cassia bark or Chinese cinnamon), fine white pepper and good quality dark soy sauce mingled aromatically. The resulting broth wasn't too herbal, just really savoury with a sweet, round finish and a peppery tickle at the back of the throat. The cool crunch of lettuce leaves offset the heat nicely.
But the kicker was their meat of choice. One would expect to find actual pork ribs in bak kut teh, but at Malu Malu Wah Seng, instead of bony pork pieces, they used large pieces of cartilaginous pork, with just enough fat for flavour and succulence.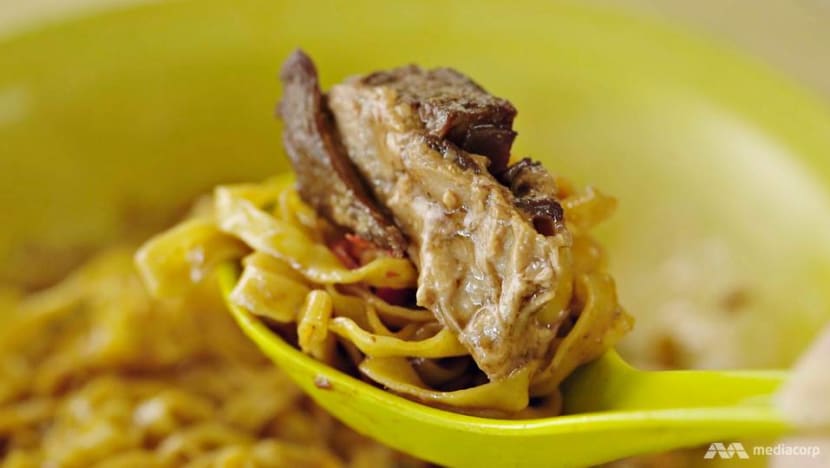 "In Chinese we call this ruan gu (soft bone). We specially picked this cut because it gives our customers a really excellent mouth-feel," explained Madam Fang.
I couldn't agree more. The cartilage enriched the broth with its collagen, adding silkiness and an emollient depth to it, which coated the mouth with lip-smacking richness. The firm, yet tender pork encircling the cartilage slipped right off with a gentle prod of my chopsticks.
Just like the ample portion of absorbent tau pok (dried, fried beancurd puffs) floating in the broth, it released lots of juicy soy-braised flavour with each chew. The gelatinous crunch of the cartilage was delightful, especially when dipped in the accompanying saucer of fiery sliced chilli padi and light soy sauce.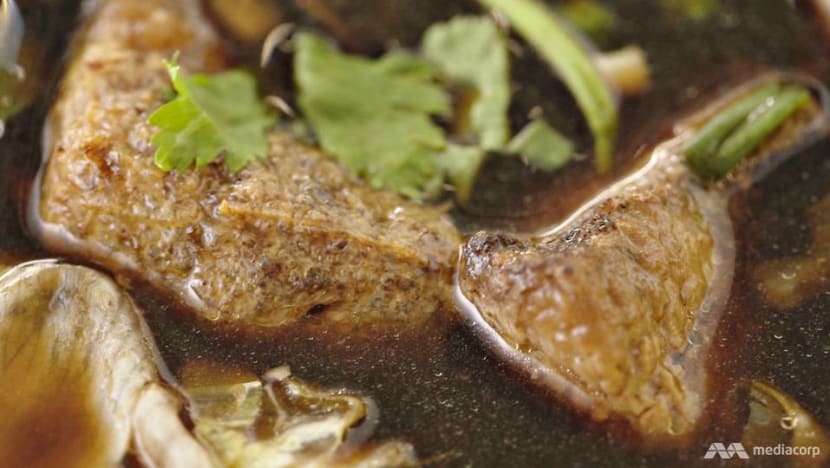 It was a bit cheeky of me, but going with my Makan Kaki's hot tip, I asked if Madam Fang could add some tau kee (deep-fried bean curd skin) to my order. Even though the crispy golden strips were meant for another dish, she obliged.
"Tradition is important in our business, but we also are very easy-going, so if customers want add-ons, no problem!"
The extra touch of tau kee really gave the dish a one-two punch of knockout taste and texture.
One: It provided a much-welcomed salty, crunchy contrast. Two: When left for a while in the soup, it softened and soaked up all the lovely broth, reinforcing the layers of tofu goodness.
Each spoonful was a revelation. Just a few seemingly simple tweaks – noodles instead of rice, prepared the time-honoured fishball mee way – had transformed bak kut teh into a new dish that was even better than the sum of its parts. I had to wonder why the fame of these bak kut noodles seemed confined to Sembawang. The rest of Singapore needed to know about this wonderful combo.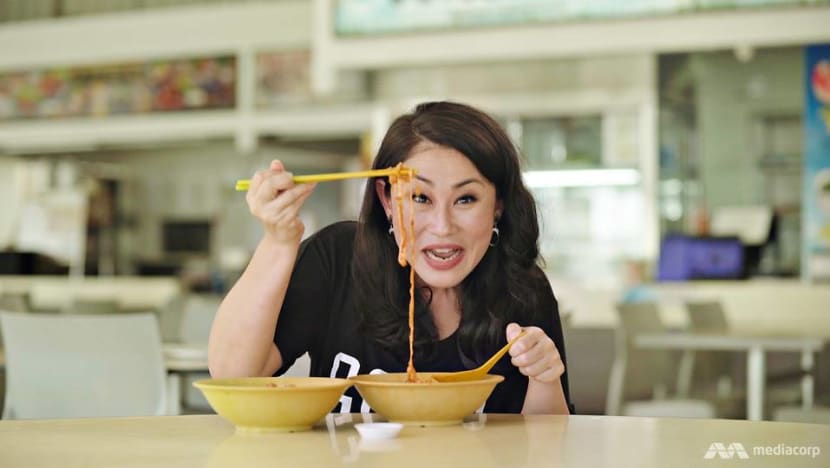 It would seem Madam Fang already has plans in motion to rectify that, confiding: "I'm already 71 years old, but I can't bear to retire!" She then proudly introduced me to her disciple Li Mi Cun, "She's got the interest, so I'm teaching her what I know. Then we can continue to uphold the Malu Malu Wah Seng brand."
Indeed, contrary to their name, they should "jangan malu malu" ("don't be shy" in Malay), because their magnificent, multi-tasking, super-hybrid bak kut noodles are definitely worth shouting about. As Optimus Prime would say: "Roll out!" and get yourself to the North of Singapore for a very tasty and transformative experience.
Malu Malu Wah Seng Bak Kut Noodle is located at 8 Admiralty Street, #01-05, Admirax Food Place, Singapore 757438. It's open daily from 6.30am to 3pm and is also available for delivery via Foodpanda. Catch Makan Kakis with Denise Tan every Thursday from 11am on GOLD 905.