This young Singapore chef serves unique four-course meals in humble tingkats
After stints at Odette and Magic Square, Desmond Shen's private dining plans were waylaid by the pandemic. He dug into his childhood memories and came up with Tiffin Bicycle Club.
Centuries ago, when the humble tiffin carried the on-the-go meals of dusty travellers, it probably never imagined that its descendants would one day hold a starfruit and mango ceviche garnished with edible flowers – a dish that would look right at home on any starched white tablecloth.  
This fresh, tangy and altogether delicious ceviche is one of the dishes on the menu of Tiffin Bicycle Club, a new takeaway pop-up by Desmond Shen of Magic Square fame.
The 28-year-old, an Odette and Whitegrass alumnus who also headed up the Odette At Home delivery programme during the "circuit breaker" last year, is now putting his own dishes into round, metal tiffins and sending them out to diners eager for a taste of his take on elevated local and regional cuisine. 
Unboxing the container – or should we say, untiffining – is a curiously delightful experience as the rickety frame springs loose and each opaque compartment reveals a new and beautifully presented surprise.
There's a hugely fragrant rice dish of turmeric and coconut basmati with serunding and ulam; then a chickpea miso ayam bakar with fermented chickpea and vegetable gulai; and a uniquely flavourful smoked pumpkin curry with coconut emulsion.
That sense of childlike anticipation is exactly what the chef wants to evoke.
"When I was a young kid, my mum used to go to market with her tiffin box and purchase food to bring back. There's always a sense of mystery when you get a metal box," Shen told CNA Lifestyle.
The tiffins are assembled to be collected from a heritage house at McNair Road, which is Shen's current residence. The bicycle part is up to you, as customers are asked to self-collect or arrange their own delivery, and someone will come to collect the tiffin the next day.
"I wanted to bring back that nostalgia of looking down from HDB blocks and seeing a guy on a rickshaw carrying tiffin boxes. In my mind, that comes into play whenever I hear the word 'tingkat' – there's a little bike bell ringing," he explained.
BRING OUT YOUR TIFFINS
It is a testament to the resilience of the human spirit that good things have come out of the challenges of the circuit breaker and now, "circuit breaker lite – the sequel that nobody asked for".
Tiffin Bicycle Club is certainly one of those good things, if not the most satisfying home dining experience we've had this year.
But Shen's original plan had actually been to start a private dining gig.
He had rented the two-storey house on McNair Road for that purpose, and the first dinner service was supposed to have been on May 21.
"I was booked out until the end of July", but when Phase 2 (Heightened Alert) came along, "I had to cancel all my reservations", he said.
By that time, a lot of the food prep had already been done, and of course, rent had to be paid. "I was panicking," he said.  
He knew he needed to activate Plan B fast, so he circled back to an idea he had had during last year's circuit breaker – to get meals out in reusable tiffins.
At the time, "Chef Julien (Royer) had approached me to head up the Odette At Home kitchen", Shen recalled, and that experience gave him a good idea of how to plan a labour-light business sending food out to people. "We were just two people doing one whole service. It was very systematic. I knew how to handle deliveries and everything in between," he said.
But he also noticed how much packaging was being used in the operation. "A tremendous amount of plastic was being wasted. They give you six different plastic boxes, which you don't need. I'm not a very big fan of that," he said. "It led to me thinking, 'What can I do to reduce this waste?' Naturally, tiffin boxes came to mind."

As he's a one-man show, he does only about 20 tiffins three times a week for dinner. And "I've structured the menu in a way that allows me to bulk everything up, and have some rest".
Friends have helped him with logo design, photography and other creative work, and his godsister's boyfriend, who's studying to be a football manager and is out of a job thanks to the pandemic, does the driving around to collect used tiffins. There's a heartening sense of "kampung spirit" about the whole business, said Shen.
Having to pivot quickly, the first dishes, which were sent out on May 20, were modifications of the ones that had been planned for the dine-in menu.
A razor clam dumpling in a piquant sauce was quickly adapted into the starfruit and mango ceviche, and a pumpkin curry with uni and a broth of prawn and belachan was modified into the smoked pumpkin curry with coconut emulsion.
None of the dishes have easy journeys into their tiffins. To make the curry, for instance, Shen first cooks the pumpkin over charcoal, then extracts the pulp and smokes it using the recycled dried stems of herbs used in other dishes, like mint leaves, laksa leaves and curry leaves. After blending the pumpkin, he adds chunks of Japanese turnip that have been cooked butter chicken-style – marinated for three days in yoghurt and spices, to neutralise the naturally bitter taste and give it a hearty bite. 
The inspiration for the dish came during a 2019 internship in Peru's renowned Central Restaurante, currently ranked sixth on the World's 50 Best Restaurants list and where chef Virgilio Martinez famously turns indigenous and foraged ingredients into contemporary dishes.
There, "They smoke their pumpkins over a wood fire and do a very nice pumpkin puree. I had the idea (for the curry) because when I tasted it, I was like, 'This is so Singaporean, you guys don't even know it.' In my head, it was, 'This must go with curry or belachan.'"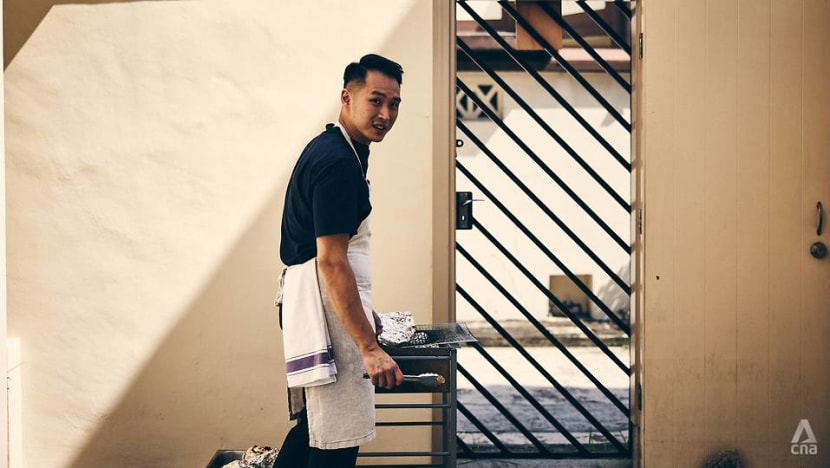 MAKING SINGAPORE FOOD SEXY  
Although he hesitates to put a definitive name on his cuisine, it would be something close to "progressive Singaporean food", he said.
"I was brought up by two families – my kin, who are my Chinese family; and also my godfather and godmother, who are Indian Muslims. Growing up, I was a fat kid – I would have dinner at my house and then go over and eat more at my godparents' house.
"I really like flavours like strong curry flavours, belachan and rempah."
Even though he's worked in some of the world's top restaurants like Central, Narisawa in Tokyo and Odette, "After Odette At Home, I wanted to do my own thing," he said. "I'm Singaporean, so it's a bit hard for me to embrace French cooking and someone else's culture. I feel I'm not doing myself justice because these are not the flavours I'm used to and it feels quite fake for me to be cooking a beurre blanc. I don't have any recollection of this taste."
At the critically-acclaimed Magic Square, an experimental year-long pop-up started by Naked Finn's Ken Loon in which talented young chefs like Shen were allowed to invent their own menus on an unlimited budget, he had the much-valued space to push boundaries, combining the techniques he'd been trained in with local food inspirations.
"French cooking is literally the ultimate technique-driven cooking form because all the techniques are solid, always tasty, and the flavour combinations always right," he said. 
"I always think of how I can represent Singaporean flavours with different techniques. There's only so much you can do with Singaporean food – either a spice paste or a really tasty broth. It's not sexy. It's just comfort food. To progress beyond that, we need to mix it up and inject a bit of culture, and other techniques from other cuisines that are more developed for the fine palate."
What's more, "I think there's a serious lack in the representation of Singapore food. It's always a rendition of this and that dish, or a remake of a hawker dish. I wanted to inject a little bit more thought into it. Instead of directly copying a dish, how about we dissect a flavour profile and understand why it works, and create new techniques to showcase those flavours?
"Let's say, in a curry, there are things you don't really taste, like torch ginger or belachan. You always taste a mix of flavours. How about taking one ingredient and amplifying that, and making that the star instead?"
In that endeavour, Shen has the support of not just his diners but fellow industry mates as well. "I've lined up at least three collaborations in June," he said. "Close friends who are also chefs have expressed interest in supporting the project. They've asked if they can come help me out."
Meals for the first week of June will be cooked in collaboration with Marcus Tan of barbecue-focused pop-up Firebrand (who happens to be Shen's housemate).
But if you're hankering after that smoked pumpkin curry – and trust us, it's not to be missed – don't worry, it will be back in July.
To order, visit www.instagram.com/tiffin.bicycle.club