Creative Capital: The Indonesian creating fancy fans inspired by wayang kulit
Putri Soediono, an Indonesian raised in Singapore, is bringing Asian heritage techniques to the fore through her whimsical and memorable leather collections.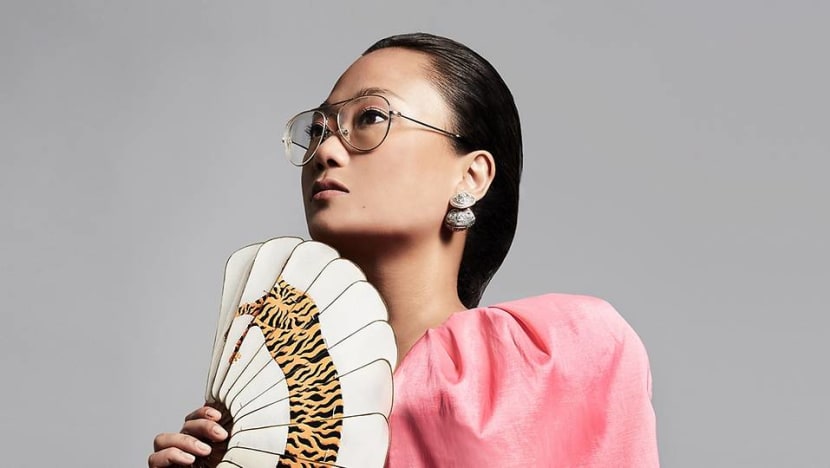 How do you shop for someone who has run one of the country's top fashion magazines for years? That was the dilemma my wife recently faced when she had to look for a birthday present for a close friend, who is also a respected and well-known trendspotter. 
She decided that the present should bring together East and West, and it should be from Singapore or the region but also have global appeal. It should be by an up-and-coming designer that our fashion-savvy friend would be proud to talk about whenever she used the gift.
My wife ended up purchasing a fan from Pubumesu, a 10-year-old brand founded by Singapore-based, Indonesian designer Putri Soediono. Her leather fans, made by artisans skilled in producing wayang kulit puppets, have fast become one of the must-have accessories among tastemakers who admire artistry, craft, and a little wit and heritage.
And we're not just talking about local tastemakers. In 2019, Pubumesu launched on Net-A-Porter and can be found in stores in the US, UK, UAE, South Africa, Maldives, Turkey, Malta and Indonesia.
HI PUTRI, TELL ME ABOUT YOUR LIFE BEFORE PUBUMESU. I UNDERSTAND YOU'VE WORKED AT SOME VERY RESPECTED FASHION HOUSES BEFORE.
Oh my god, where do I start? I was born in Jakarta but grew up in Singapore, and from the age of five to 18, I studied at the Overseas Family School. I would definitely call myself a third-culture kid, feeling more at home in Singapore but still feeling connected to Indonesia. 
Later, I was accepted at Central Saint Martins (CSM) and off to London I went. That would definitely be the most anxious yet exciting time of my life. There were so many things to see and experience. I mean, right outside my campus, we saw a new Banksy artwork sprayed across the road one day. I then moved on to Cordwainers at London College of Fashion to pursue a degree in fashion accessories.
I was a sponge, immersing myself wholeheartedly in the London life, going to BoomBox at Shoreditch to watch Jodie Harsh spin, dancing with my girlfriends at the Notting Hill Arts Club – all while taking in the culture and history that the city had to offer.
My life in London opened my eyes to the fashion world and how to take something from concept to the shop floor. I saw what it took for a business to sustain itself through working at Vivienne Westwood, and what it took for a business to develop and grow at Linda Farrow. Someone had told me when I was at CSM: "You don't think clothes and you're too loud for jewellery". On hindsight, that is true and I definitely preferred working with leather. 
Then came 2009 and it was hard to find work. I returned to Singapore with my tail between my legs. I allowed myself to take a step back and figure out what I could do with all this experience that I had accumulated. I launched Pubumesu in 2011. 
Before that, I worked with my family at their education business in Central Java, Indonesia, and spent a lot of my time travelling around the archipelago looking for suppliers and craftsmen.
WERE YOU CREATIVE FROM YOUNG? WERE ART AND DESIGN ENCOURAGED BY YOUR PARENTS?
Definitely! Art, whether it was music or design, was always encouraged in my house. My mother is a classical pianist. I trained as a classical singer and my grandmother definitely encouraged this when she saw that I had potential beyond just a hobby. 
I can definitely say that my grandmother paved my career for me. She made me take art lessons when I started drawing family and friends for fun, and singing lessons when she saw that I had no fear to get up on stage and entertain. 
I think in her mind, she wanted to give me all the tools available so I could master my craft if, or when, I did choose to pursue art as a career. My initial dream was to be a classical singer but my parents shot down the idea of me going to Juilliard.
WHAT DOES THE BRAND NAME PUBUMESU MEAN? 
Pubumesu is simply an anagram of my full name, Putri Bunga Meita Soediono. It is a literal translation from Indonesian to English: "Princess", "Flower", "May" and "Soediono" (my family name).
HOW LONG DID IT TAKE FROM CONCEPTION TO LAUNCH? TELL ME ABOUT THAT JOURNEY.
This is another long story but the seeds of Pubumesu were planted during university. I remember the exact time and place I thought of Pubumesu. It was after a business lecture at the Cordwainers campus and I was discussing one of my papers with the tutor, talking about why there were not many known Asian designers promoting their cultures in the fashion scene. That tutor encouraged me to take the leap. From there, the idea went into my final degree collection, which was driven by the concept of modernising traditional craftsmanship while preserving traditional techniques.
Between 2009 and 2011, I developed a lot of samples, travelled all over Indonesia and allowed myself to discover new mediums and techniques. Through this journey of discovery, the concept evolved into wanting to tell the story behind the products, highlighting the men and women, and the time and hands that made the pieces that I designed. 
Luckily, a friend of mine let me sell my products at Potatohead Bali, and it was there that I was able to test my price points, quality and branding. We sold out at the boutique and that gave me the confidence to launch at Blueprint Singapore, which, at the time, was the tradeshow to be at in the region. We then joined the Keepers Designer Collective and ended up selling in Tangs. Despite that gradual success, it still was not the massive break that we needed.
WHAT WAS YOUR VERY FIRST DESIGN?
My very first design was the Durian bag. It was simply a tote that was covered in spikes. The idea came about on my sourcing trips during the durian season. For my Market Collection, I was able to recreate this tote into a clutch version.
HOW DID YOU ARRIVE AT THE IDEA TO SPECIALISE IN FANS?
As mentioned, I started doing bags first and it was really difficult to get my foot in the door, especially when you are competing with larger and more established accessories brands. My biggest issue as a company was that we did not have a very good entry-level product. 
Most accessory brands would produce card holders and wallets but I felt that this was wasteful and pretty dull. It was during the making of Market Collection, my second collection, when I focused on a photo of fish arranged like a fan in a basket taken at a wet market. Eureka! Fish fan! 
I went to my bag factory in Central Java and started to develop a way to make fan blades out of leather. We dipped the leather into hot oil, water, but that did not work. After a month of failed samples, I stumbled across a village that specifically makes wayang kulit (shadow puppets) and found a workshop that made traditional Javanese fans.
HOW LONG DOES EACH FAN TAKE TO PRODUCE? WHAT IS THE PROCESS?
It takes three weeks to make one fan: Two weeks to stretch, sand down and dry the leather, and the last week to cut, punch holes, paint and sew.
WHAT GAVE YOU THE CONFIDENCE AND COURAGE TO START THE COMPANY?

I knew I had a story to tell, a story about finding balance between old and new, East and West. I wanted to show the world that Asian designers have a lot to show in terms of culture and history, and I wanted to show that we were not just a region that produced cheaply made things or a culture that gets wrongly appropriated. 
This rang true when the ikat craze came about and the motif was everywhere! Being Indonesian, I knew which ethnic culture it belonged to and its history, but no one else did. We educate ourselves on Chanel or Hermes, so why can't we educate others about our own rich Asian history?
WHAT DO YOU HOPE YOUR PRODUCTS SAY ABOUT YOU AND THE CULTURE FROM WHICH YOU DRAW INSPIRATION?
I hope people can first see how much fun I have with fashion, because if I can't give you that sensational feeling that I have, then I feel like I have failed as a designer or an artist. 
Second, I hope people can see that the traditional can be beautiful in a contemporary sense, and that there is still a place for it in this ever-changing and modernising world we live in.
DO YOU THINK IT IS HARD FOR ASIAN DESIGNERS TO BREAK INTO GLOBAL MARKETS?
Before social media, yes, it was hard for Asian designers. You needed to have a lot of capital to get the right showroom, tradeshow or PR company. Today, though, the world is so small. With just a touch of your finger, you can connect. 
And, today, many retail buyers like to find brands on Instagram. Also, at the end of the day, if you have an amazing product that looks like nothing anyone has ever seen and an amazing story behind it, it's more likely to be a success.
WHAT PART OF YOUR WORK DO YOU ENJOY THE MOST?
There are two things that I love the most about what I do. The first is being able to materialise the ideas in my head. The second is knowing that what I'm doing helps the community. 
From just the fans we make, we have been able to bring life back to a very old art form that no one outside of Indonesia really knows about – and making sure that it can last for generations to come. Seeing the production develop from a single craftsman to a village industry is very rewarding.
WHAT WAS THE HARDEST PART OF STARTING YOUR OWN BUSINESS THAT YOU DIDN'T EXPECT?
Rejection. Besides affecting cash flow, it also affected my confidence when someone did not buy into the product that I have created. For a lot of us designers and artists, everything we conceptualise has a small part of our soul in it.
WHAT ARE ONE OR TWO OF THE MOST REWARDING MOMENTS FOR YOU SINCE STARTED PUBUMESU?
The most rewarding would be retailing at Browns in London. Other than it being a very exclusive boutique nestled behind Bond Street, it gave me the gratification I needed as a designer and business owner. I used to shop there with my grandmother and dream about one day having my pieces displayed there. I slowly manifested that dream.
The second is seeing how happy people are when they see my pieces for the first time. With my fans, they're in awe of how beautiful they are; with my bags, they're in awe of its quality.
WHAT IS YOUR CREATIVE PROCESS?
I take inspiration from everything in my life, for example with the Market Collection, I took inspiration from my trips to the wet market with my grandmother. I wanted to create wearable versions of what we see when we're in the market: Banana leaves, fish, fruits, and vegetables. 
Then, I start sketching out the ideas I have in my head, just to flesh them out. This helps me with conveying my idea before I take it to the process of sampling. I would love to say that I'm the kind of designer who creates beautiful sketch books with every collection, but I tend to just draw on loose paper and compile them all into a file at the end.
Then, I make spec sheets or blueprints of my sketches, so I can send them over to the workshop or factory for sampling. If I'm designing a bag, I'll try and make the patterns myself first, so that the person making my sample has an immediate idea of what I want. Designing to me is basically imagining a final product in my head, then figuring out how to make an IKEA manual for someone else to make it for me.
WHAT IS A TYPICAL DAY IN YOUR LIFE LIKE?
It is quite dull! I walk my dog, tidy up the house, and around 9am, I check my emails. I break for lunch at 12pm and work until 6pm, work out and then cook dinner. Hopefully, I am in bed by 10pm. 
There are a lot more administration and logistics to handle now that we have become international. But when I need to be creative, I have to allocate a week for that as it is quite difficult to switch between my creative and business heads. 
I'm also really lucky that I have figured out a way to work remotely even before the pandemic. But if we had the ability to travel again, I would be making sourcing trips every quarterly and checking on the production in Indonesia.
DO YOU FEEL YOU HAVE ALREADY ACHIEVED SUCCESS OR ARE YOU STILL AIMING FOR GREATER HEIGHTS?
Oh no, I have only broken the first glass ceiling! We still need to figure out how to expand, find investors and keep building the brand without sacrificing our original vision. And this is just the business side of things. 
My next goal would definitely to be like Mansur Gavriel, where we can start doing apparel; I hope that will happen in the next few years. There are still so many things to make and explore, and there is really no limit to what a creative mind can do. 
IS THERE ANYTHING EXCITING IN THE WORKS THIS YEAR THAT YOU CAN SHARE?
We are launching at Farm Rio in the US at the end of May, so that is pretty exciting. They have stores in New York, Miami and Los Angeles. 
Due to the pandemic, our exclusive collection launches at Liberty of London and Harrods fell through last year, so we are trying to regain those lost deals for the next two years when the world starts to come out of this global crisis.