Creative Capital: The Singaporean designer who bucks fast fashion trends
Shannon Lee of Shirt Number White creates womenswear with thought and meaning, and "not just push out new designs because there is a demand".
Shirt Number White (SNW) was launched in November 2019 at Boutique Fairs. For Singaporean designer Shannon Lee, now 34 years old, this was a big gamble. It was the third time he tried to launch his own label and after eight years working for a local menswear brand, he finally had a winning formula.

That formula was also very different from the other brands. Instead of a crowded collection, Shannon showcased a small range of expertly tailored white shirts for women that are modern, conceptual, sensual and definitely memorable. He launched his second collection late last year, and judging by the buzz on social media, his formula appears to be working.

HOW IS SHIRT NUMBER WHITE (SNW) DIFFERENT FROM THE OTHER WOMEN  LABELS ON THE MARKET? HOW DID YOU COME UP WITH THIS IDEA THAT HAS, IN MANY WAYS, BECOME ONE OF THE DEFINING FEATURES OF YOUR BRAND?

Each SNW collection is inspired by something white, and I intentionally release a new capsule of five to eight shirts each year, giving time for customers to become familiar with the pieces.
The label came about as a result of several frustrations. For one, things move at a much faster pace in fast fashion and don't allow designers the luxury to slowly develop ideas and concepts. I wanted to design clothes with thought and meaning, not just push out new designs because there was a demand. 
I also wanted to push the boundaries of creative pieces through research and concept building, very much like what I did in fashion school but never got to do when I started working.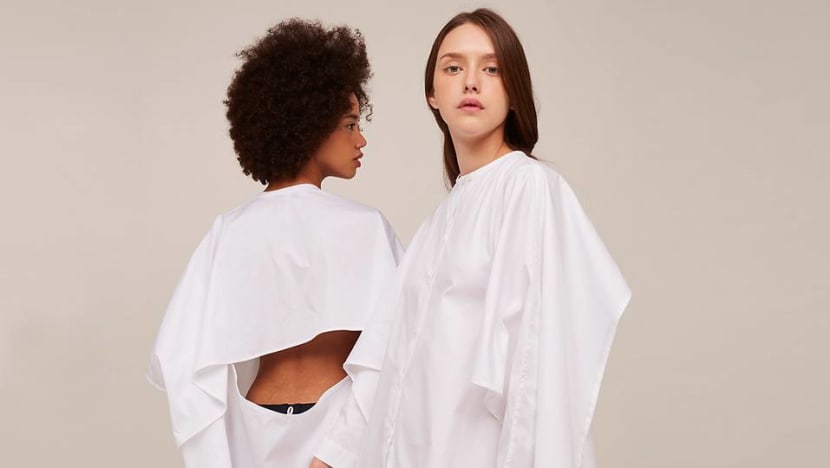 One night, I was lamenting to my then-girlfriend – now wife – about these frustrations. She encouraged me to start a passion project on the side. Jokingly, I said I would like to make only white shirts, just like a white canvas. Almost immediately, the Pantone system came to my mind with its numbering and naming system to represent colours and shades. This was how the "Number" in Shirt Number White came about.

IS THIS MODEL A SUSTAINABLE, LONG-TERM ONE?

I think it can be with the shift in retail and how brands operate. It gives smaller brands a fighting chance to find their niche in such a saturated retail landscape. 
I believe this model works not just because it's novel, but because there are currently a lot of brands focusing on basics – elevated basics. That gives SNW the opportunity to create a range of distinctively different products. 
The focus is to balance between creating great statement pieces and making sure they have a viable market. This space allows me to specialise and focus on what I lean towards rather than spreading myself thin trying to develop full collections at the risk of overproducing.

THIS YEAR, YOU HAVE ADDED COLOURS TO THE PRODUCT RANGE. IS THIS SOMETHING YOU'VE ALWAYS WANTED TO DO CREATIVELY OR SOMETHING YOU FELT YOU HAD TO DO?

Colours have always been part of the plan since Day One, but I deliberately introduced white shirts first to get our customers familiar with the designs. 
Personally, I am a fan of wearing colours and I use them to expand the collection's story. For instance, my research on the Chrysalis collection brought me to a butterfly species that transforms into beautiful metallic cocoons. Chrysalis Chromamorph became an extension of this story featuring the colours Ingot and Aegis.

WHAT IS YOUR DESIGN PROCESS LIKE?

The time between each collection launch affords me the luxury of letting my ideas fester, ferment and brew over a year. I start with research that helps me focus visually and informatively, so that the concept is translated into the shirts' cutting, form, and details. 
There are experimenting and developing mechanisms in the shirts, and more often than not, the details are an evolution from the previous collection. It continues with copious amounts of sketching and sampling prototypes until I am able to present shirts that embody the inspiration.

TELL US ABOUT THE PIECES FROM YOUR OTHER PROJECT, SMALL PRODUCTION RUN.

Small Production Run (SPR) was started as a test during the circuit breaker period. With the pandemic affecting supply chains globally, production delays were inevitable and I was getting itchy not producing anything. 
I had the idea to put the fabrics that I'd collected from my travels on social media to see if there was any interest. And I'm glad it garnered a pretty good response from the start. 
I couldn't do any shoots, so I digitally Photoshopped the prints onto existing designs. Then, I tried to feature the fabrics as much as possible on Instagram, so that customers could get a better idea of the fabrication. I decided I could produce SPR myself with a better grasp of the lead times.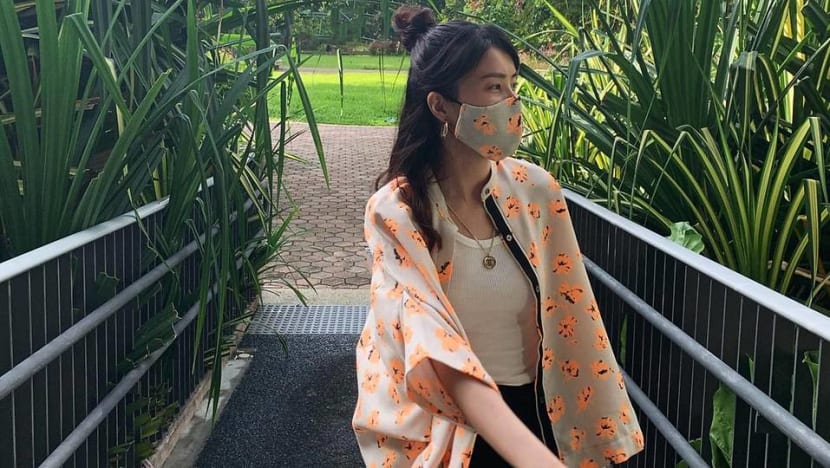 What I love about SPR is the freedom to go crazy with the prints and get more fancy with the details. It's like SNW on steroids. If you haven't realised, SPR-SNW is pronounced as "super snow". 

I also started Made-to-Order for SNW at the same time as there was an increased demand for styles that have run out from new customers who just found out about us. 

YOU'VE WORKED ON BOTH WOMENSWEAR AND MENSWEAR. WHY THE FOCUS ON WOMEN'S SHIRTS? WHAT IS THE APPEAL TO YOU?

I've always been a very technical designer, so I see garment construction in my mind before anything else. I've designed wedding dresses and stage costumes, made leather bags and pouches, but those didn't allow me to explore new ways of making clothes. 
What left an indelible impression on me was a mood-board picture of a female musician on a stool playing a bass guitar, her crisp, oversized shirt falling just below the nape of her back. The image conveyed how effortlessly chic the shirt was worn, and it became the most romantic visual for me.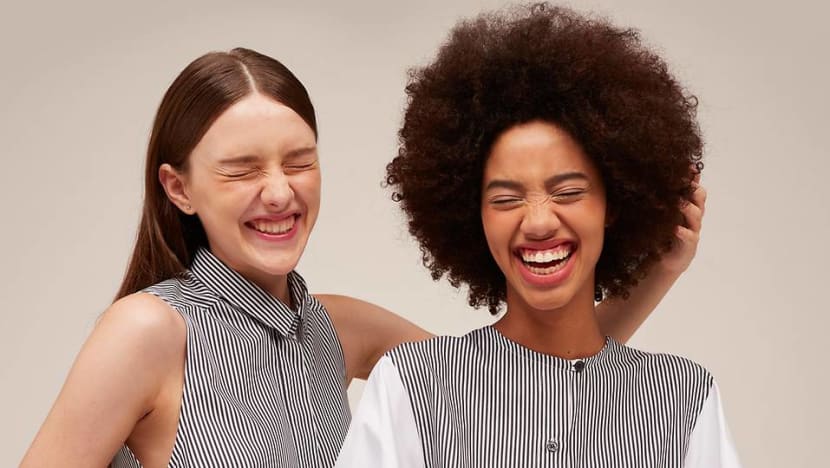 Personally, I feel the shirt is the most versatile piece of garment for a woman to wear because of the various ways it could be styled – even more so than for men.

Truth be told, I've worked in menswear for most of my career. During that tenure, I acquired shirt-making and tailoring techniques, and a love for cotton shirting. It has come full circle, allowing me to implement what I've learnt with what I love.

WHO INSPIRES YOUR DESIGNS? DO YOU HAVE SPECIFIC WOMEN IN MIND?

The everyday heroine who is the multi-tasking, multi-hyphenate woman! I feel that a woman's role has never been more powerful yet underrated. I saw how my late mother balanced that role quietly and consistently, while struggling to make space for herself. 
It's not always showcased to the world or captured in social media, but she did it anyway – as a mum, colleague, wife, friend, sister, daughter – and I wanted to celebrate her and other women.

This reality and narrative inspired me to create pieces that work seamlessly with their lifestyles, and add a touch of imagination and fun. And I think that comes through in the versatility and function of the clothes.

YOU SPENT EIGHT YEARS AT A LOCAL LABEL. WHAT DID YOU LEARN THERE THAT YOU WANT TO EMULATE IN YOUR OWN BUSINESS?

Putting myself in the shoes of the customer. I think as a designer, it is very easy to put the brand and its goals first. 
But through my journey working in menswear, I've learnt from colleagues to empathise with the needs of the customers. This helps me as a brand owner to see what is missing; it could be customer service, recovery protocol, or simple touch points that help improve the customer experience and engagement. 
Of course, I can't always accede to every request, but whatever I can improve, I'll try to do. This also helps me design better for the customer as well.

WHAT DID YOU SEE AND EXPERIENCE THAT YOU WANT TO AVOID?

Moving too fast is something I want to avoid. In many settings, moving quick and fast is a value-add, but I do feel it has its cons. For example, not having a concept exposed long enough for customers to gain familiarity and gain traction before moving on is something I personally feel does not gel with the philosophy of slow fashion. 
Especially for a brand like mine, it is more important to let the designs breathe and customers to make their judgement. Currently, I have the luxury of moving slow – to brine, marinate, fester, brew ideas in research and development. And I hope to continue doing that even as we grow.

WAS IT A HARD DECISION TO LAUNCH YOUR OWN BRAND?

Personally, it was when I decided to launch SNW. I am naturally quite risk averse but I felt strongly that I had to start it. Moreover, I made two previous attempts that didn't take off, and that inevitably made me all the more cautious about starting again. 
Thankfully, these experiences were good learning lessons. I learnt things to avoid and things we could start better with. Also, the amazing support from my wife and business partner to take that leap of faith and dream big made the decision less daunting.

WHAT HAS BEEN THE HARDEST PART OF RUNNING YOUR OWN BUSINESS SO FAR?

Doing everything on my own! I admit I'm still lacking, but I do enjoy each process of running the business. I still very much handle sampling, production, business development, social media, order fulfillment and every other thing in between. I do wish I had more time in a day to finish all these things.

WHAT HAS BEEN THE BEST PART OF BEING A BUSINESS OWNER?

One of the best things for me is the interaction with customers, often over social media, and hearing from them their love for the shirts, and also learning how I can improve on the customer experience.

Recently, a customer told me that after receiving some of my pieces, she didn't really think much of them. The following day, she took the time to examine the shirts and through IG Stories, found out how the shirts worked and how they could be styled differently. That completely changed her mind about them. 
It is great to hear directly from customers how the shirts have that quality about them. At the same time, that gives me feedback about how I can better present my clothes online, especially since SNW is mainly available online for now.

It is quite fulfilling as a designer and business owner to know that what you are doing – even though it is not tried and tested – is working and gaining a footing.

WHO ARE YOUR OWN DESIGN HEROES, LOCAL OR FOREIGN?

Alexander McQueen will always be my No 1, for his dramatic poetry and sublime garment construction and cutting. It was his show that first drew me to study fashion. And there is Thom Browne for his cropped suiting, and Cecilia Bahnsen for her floaty, romantic quilted dresses. They each have a very strong individual aesthetic that I feel connected to.

Locally, it would be Sven Tan of In Good Company. I worked under him for a very short time as a fresh graduate. I learnt so much about design and fashion branding, which I felt had the biggest impact on me. He is a big-picture designer who isn't so narrowly focused on just the clothes, but the brand as a whole.

HOW WAS 2020 FOR YOU?

I can safely say, like everyone else, 2020 definitely didn't go as planned. It definitely affected the business with terrible production delays. And there were also plans that didn't come to pass.

But on the flip side, the things that I didn't plan for happened in a good way. SNW was featured in The Front Row virtual fashion festival helmed by Daniel Boey, and I also got to start SPR-SNW. I would say that's a win for SNW.

WHAT ARE YOUR SHORT-TERM AND LONG-TERM VISIONS? 

For the short term, there are already collaborations and pop-ups that I am very excited about. Face-to-face customer engagement is the best way to experience the clothes and the brand, so I'm glad for Phase 3 to start. For now, I'm hoping these projects will carve a bigger niche in the market, and more women will engage with what SNW is designing and building.

As for the long term, I would like to see SNW expanding out of Singapore and gaining more presence regionally, which will allow us more freedom to design more creatively and build a more comprehensive SNW brand experience.