Star Awards 2021: Zoe Tay, Qi Yuwu and the rest of the winners
Meanwhile, Bryan Wong and Kym Ng bagged Best Supporting Actor and Actress, respectively, while A Quest To Heal won for Best Drama Serial.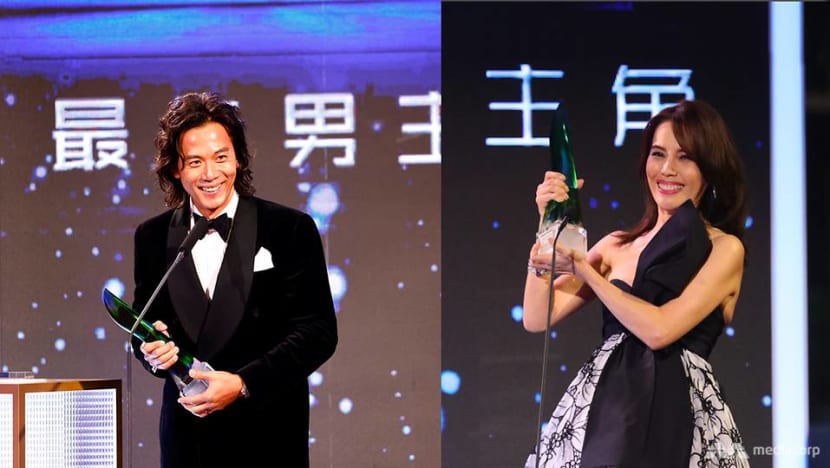 After a hiatus last year thanks to the COVID-19 pandemic, the Star Awards returned in a way that made its presence felt on Sunday (Apr 18).
Mediacorp's Star Awards was back with a bang in 2021. Held at Singapore's Jewel Changi Airport and Terminal 4, there was a special "red carpet" with an airplane as a backdrop, a handful of international guests and more.
For the first time ever, the show took place across multiple stages at the HSBC Rain Vortex at Jewel Changi Airport, the Shiseido Forest Valley and Changi Airport Terminal 4.
And, giving new meaning to "runway fashion", the stars walked the red carpet with a Singapore Airlines Airbus A350-900 as their backdrop.
Artistes nominated for acting awards faced a tougher-than-ever fight this year, as the number of nominees for each category was increased to seven – up from the usual five – to make up for last year's lack of an awards ceremony.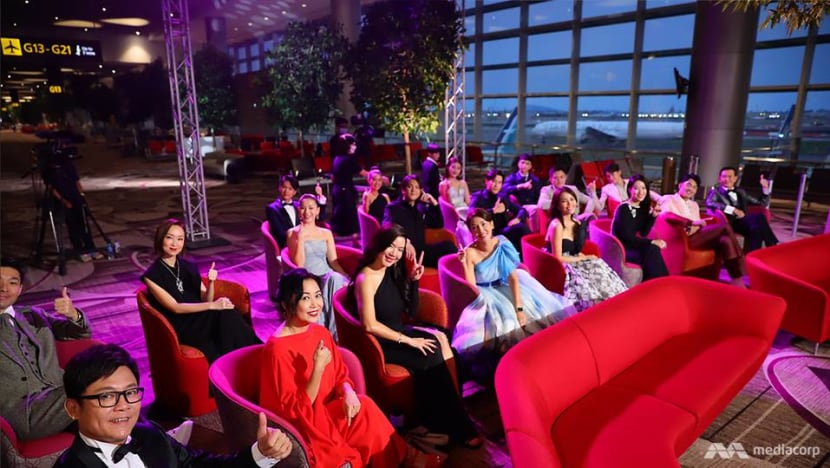 Taking the award for Best Actor for his role in the time-travel drama A Quest To Heal – which was also named Best Drama – Qi Yuwu acknowledged the emotional aspect of being at the airport and going nowhere.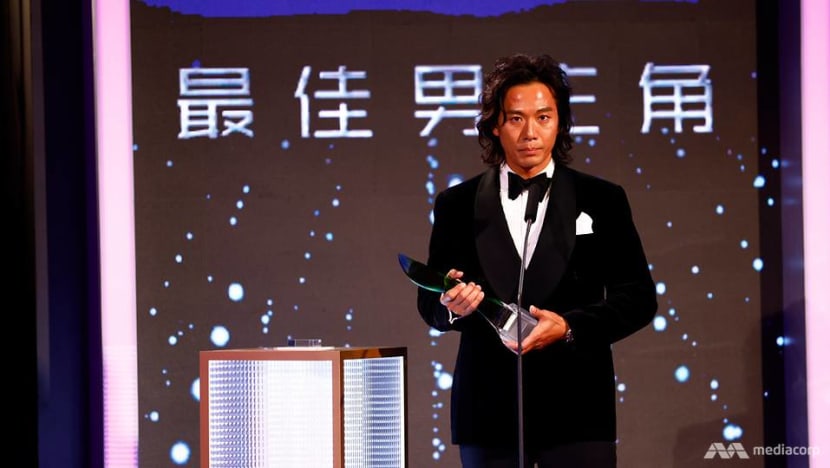 "The last time I was here at the airport was the year before, when I was going home to Guangzhou for Chinese New Year. It's been a long time since I was home, so I feel quite emotional," said the China-born actor.
Accepting the trophy, he also drew attention away from himself towards the nature of the entertainment industry, saying, "To the other nominees – please don't feel that this means I'm a better actor. Our industry needs different types of actors in order to have richer productions."
In a turn of events that was surprising even for the winner herself, the Best Actress award went to Zoe Tay, who played a single mum who goes from riches to rags in My Guardian Angels. "I'm very surprised, because I wasn't even the dark horse," said the actress, who was also named Best Actress at the last Star Awards two years ago.
She thanked the crew for fostering a positive atmosphere on set and said she enjoyed playing a character that was both easy to love and easy to hate.
In both the Best Supporting Actor and Actress categories, the awards were swept by artistes better known for their hosting than for their acting: Bryan Wong took home a trophy for his role as a scheming eunuch in A Quest To Heal, and Kym Ng won an accolade for her portrayal of a woman accused of murder in the drama Daybreak.
Both Bryan and Kym had been tagged by various media outlets as hot favourites to win, but Kym said, "The members of my own fan club said they thought I probably wouldn't win, because they felt the other nominees were excellent. They told me earlier, 'It's okay if you don't win this year because it's very competitive – there are seven nominees.'" 
On the other hand, "My husband said he'd still love me even if I didn't win anything! So, I think he'll be proud!"
Bryan said he was already "very proud and moved" when the media proclaimed him a favourite. "I told myself that even if I didn't win, it was okay because I was the hot favourite. To have this award… I feel like I'm validated, like a carpark coupon," he quipped, adding, "It's been so long since I won something! I don't have a trophy in this colour!"
Reflecting on his and Kym's wins, Bryan said, "Kym has been my battle buddy for many years. The two of us getting acting awards – it's a special day." He also said he thought his host friends were all adept at acting. 
"Kym and I started out with City Beat, and 50 per cent of that variety show was us acting in sketches," he said. "I played so many roles, including women, from young to old; from uncle to auntie!" 
What's more, he divulged, "Actually, Quan Yi Fong is also very good at acting – she just doesn't want to do it because she finds it too much hassle."
She's clearly just as good, if not better, at hosting, because Yi Fong took home the Best Programme Host (Entertainment & Infotainment) award for captaining the celebrity tell-all talk show Hear U Out.
Ahead of the Star Awards 2021, CNA Lifestyle hung out backstage with Desmond Tan, Rebecca Lim, Kym Ng, Romeo Tan, Pierre Png, Bonnie Loo, Edwin Goh and Bryan Wong as they prepared for the event. What's it like to be part of an unusual edition after there was none held last year?
In the Top 10 popularity awards, first-time winners included Marcus Chin, Hong Ling and Bonnie Loo.
Conspicuously missing from the list, though, were this year's breakout star Chantalle Ng; and Felicia Chin, for whom it would have been her all-important 10th award.
Notably, a Top 10 award went to a teary-eyed Ann Kok, who said, "It's my first award since leaving Mediacorp seven years ago. We are at the airport, and it feels like taking flight."
What's more, everyone's favourite Korean auntie Jin Yin Ji took home a Top 10 award on top of the Evergreen Artiste award. "In the past, I was always nominated and watched other people win. I always thought, 'When will it be my turn?' I had gotten used to being contented with just dressing up and being able to gather with people," she said.
Having won 10 Top 10 Most Popular Male Artistes awards, Dasmond Koh accepted his All-time Favourite Artiste award, dedicating it to his mother's memory. "Mum isn't here any more. To have been able to share this honour with her would have been a very happy thing," he said.
Taking home their 10th popularity awards this year were Dennis Chew and Zheng Geping, who will consequently receive their All-time Favourite Artiste trophies next year.
Hosted by Guo Liang and Quan Yi Fong, the show also featured musical performances by Joanna Dong and Hong Kong pop star Gigi Leung, as well as video appearances by special guest stars including Ella Chen, Kevin Tsai, Matilda Tao, Chung Hsin-ling, James Wen, Lau Dan, Lawrence Cheng, Gordon Lam and Sandra Ng.
In addition, a new award was introduced for the first time this year: Best Radio Programme, which went to The Breakfast Quartet of Love 97.2FM's Mark Lee, Chen Biyu, Marcus Chin and Dennis Chew.
***
STAR AWARDS 2021 WINNERS LIST
Best Actress: Zoe Tay (My Guardian Angels)
Best Actor: Qi Yuwu (A Quest To Heal)
Best Drama Serial: A Quest To Heal
Best Supporting Actor: Bryan Wong (A Quest to Heal)
Best Supporting Actress: Kym Ng (Daybreak)
All-Time Favourite Artiste Award: Dasmond Koh
Evergreen Artiste Award: Jin Yin Ji
Best Newcomer: Zhang Zetong (A Jungle Survivor)
Young Talent Award: Goh Wee Ann (C.L.I.F. 5)
Best Short-form Drama Serial: Beijing To Moscow
Bioskin Most Charismatic Award: Romeo Tan
Best Entertainment Special Programme: Star Awards 2019 – Awards Ceremony
Best Entertainment Programme: King of Culinary
Best Infotainment Programme: Fixer 3
Best Programme Host (Entertainment & Infotainment): Quan Yifong (Hear U Out)
Best Theme Song: A Quest To Heal
Best Short-form Entertainment Programme: Hear U Out
Best Radio Programme: Love 972 – The Breakfast Quartet
***
Top 10 Most Popular Male Artistes
1. Romeo Tan
2. Shaun Chen
3. Chen Shucheng
4. Pierre Png
5. Pornsak
6. Desmond Tan
7. Marcus Chin
8. Dennis Chew
9. Guo Liang
10. Zheng Geping
Top 10 Most Popular Female Artistes
1. Jesseca Liu
2. Rebecca Lim
3. Yvonne Lim
4. Paige Chua
5. Jin Yin Ji
6. Ya Hui
7. Hong Ling
8. Ann Kok
9. Carrie Wong
10. Bonnie Loo
Catch the repeat telecast of Star Awards 2021 on Apr 25 on Channel 8, with the Walk of Fame at 2pm and the main show at 3.30pm. For more information, visit mewatch.sg/sa2021.