Are the more expensive medical scans better, and do you really need them?
Advanced imaging scans like CT and MRI help doctors detect and diagnose abnormalities to guide treatment plans. But when are they necessary? Experts weigh in.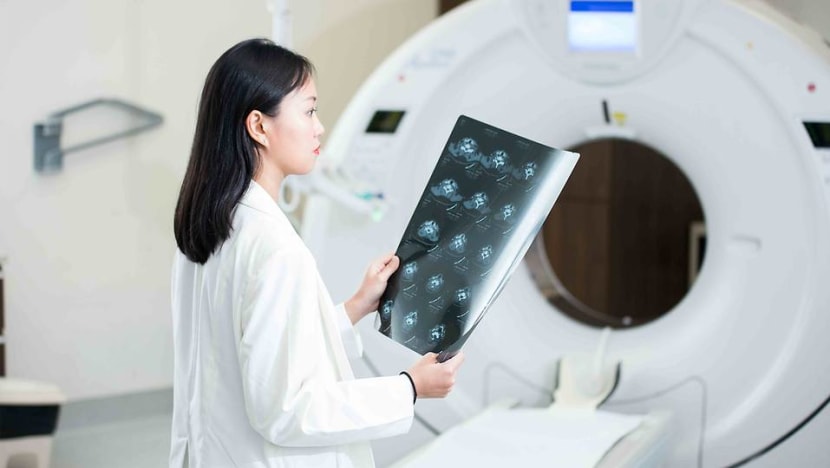 It was the early 2000s. Dr Melvin Look, who was a consultant in a public hospital back then, recalled that medical imaging such as computed tomography (CT) scans were not routinely available for emergencies like acute appendicitis.
An appointment to get one done would take a couple of days.
"As such, about one in 10 patients that ended up in surgery based on a clinical diagnosis (based on patients' symptoms and medical history) of appendicitis turned out to have an erroneous diagnosis and had their appendix unnecessarily removed," he shared.
Things have changed since then. Accurate scans are now available at any time of the day. A patient suspected to have appendicitis in the emergency department will have had a CT scan even before he reaches the ward, said Dr Look, currently the director of multi-specialty surgical group practice PanAsia Surgery.
With their ability to provide detailed images of what's inside your body, advanced imaging scans like CT and magnetic resonance imaging (MRI) help doctors detect and diagnose abnormalities to guide treatment plans.
These days, you could also get a high-end health screening package that includes these sophisticated scans.
For example, Raffles Hospital offers a S$10,000-plus "Platinum" package, which includes advanced scans such as an MRI of the brain and a choice of either an MRI screening for back or neck pain, among other health screening tests.
At Parkway Hospitals, patients who take up one of its more extensive health screening packages can add on tests such as an MRI of the spine or a CT screening to check for coronary artery blockage.
Dr Toh Kok Hong, consultant radiologist at ParkwayHealth Radiology, shared that he and his team receive "regular requests" for advanced scans for health screening.
"They are typically high-net-worth individuals or senior corporate executives whose companies have provided for high-end screening packages. Some are from our regional countries," he said.
WHEN ARE ADVANCE SCANS USEFUL?
CT and MRI are commonly used for patients with symptoms or a known illness, for example, stroke, head injury, slipped disc and tumours. They can also be used to detect cancers and for follow-up treatments.
But in the absence of symptoms, do people really need these scans?
Dr Teo Ngee, consultant radiologist with an interest in interventional radiology at MWH Centre for Medical Imaging, said that advanced imaging scans are typically not used for mass health screenings as they are expensive and usually unnecessary, especially for diseases that are not very common in the population.
There is a risk of over-treatment when preventive screening is done with no good data to support it.
"A commonly quoted example is in South Korea, where thyroid cancers became the commonest malignancy as a result of ultrasound screening. The problem was that for very small and early tumours, there is no need for treatment," Dr Teo Ngee said.
However, the experts told CNA Luxury that advanced scans can be useful in certain patients who have no symptoms but are at risk of a disease that may lead to serious consequences.
For example, a CT lung screen can detect very early lung cancer in at-risk groups. Without CT screening, 85 per cent of patients with lung cancers are detected at the late stages and their survival rate is less than 10 per cent, said Dr Toh from ParkwayHealth Radiology.
Another group who may benefit: People with risk factors for heart disease, such as family history, lifestyle factors and other medical conditions like hypertension and diabetes.
"About a third of people do not survive the first heart attack. CT scans can detect silent heart disease before a heart attack declares itself," Dr Toh said.
Dr Teo Ngee said that increasingly, in many parts of the world, a CT angiogram is considered an appropriate test when there are reasons to suspect a patient is at high risk for coronary artery disease and complaints of chest pain symptoms.
According to him, a CT angiogram of the heart arteries can provide a clear 3D visualisation of whether there is blockage in heart arteries, hence preventing unnecessary hospital admissions for chest pain and obviating the need for unnecessary invasive angiograms for patients with chest pain.
LOOK AT WHAT'S NEEDED TO ASSESS YOUR CONDITION
Having said that, there are pros and cons to each type of scans. A more expensive scan may not necessarily be the ideal for every medical situation.
Rather, the experts said it is more important to choose an appropriate test for the patients' clinical needs.
Expanding on this, Dr Toh said, "For example, for breast screening examination with no known history (of breast cancer), a mammogram would suffice. An MRI of the breast is also possible and will provide more detailed images but it costs much more and might not be necessary for screening purposes."
Plain X-rays and ultrasound scan costs are usually in the range of tens to the low hundreds. Dr Toh said CT scans may range from S$300 to S$1,000 while MRIs are in the S$800 to S$2,000 range, depending on the body region and complexity of the patient's case.
Patients undergoing imaging tests should also be aware of radiation risks. Certain scans such as X-rays, mammograms and CTs involve radiation, although there are guidelines in place to guide doctors and radiologists.
Dr Toh shared that with each new generation of CT scanners, radiation doses are becoming much less than before but added that prudence is still needed when using such scans.
"For example, it would be inappropriate to do a CT scan in a 30-year-old person unless there is very strong evidence of disease," he said.
Accuracy of scan results can also affect diagnosis. Dr Teo Ngee said doing a test at a centre with newer generation scanners and one that has more experience would yield better quality imaging.
"For example, for CT scans, the latest generation scanners are able to produce images with better resolution and quality at much lower radiation doses. This is especially important for complex scans like a CT coronary angiogram, whereby the new software enhancements allow for better manipulation of the scan data for better diagnosis," he said.
ADVANCE MEDICAL IMAGING IN A NUTSHELL
Here, Dr Teo Ngee shares more about two common advanced imaging scans and what they can be used for.
Computed tomography (CT scan): Uses a combination of X-rays to generate cross-sectional images, or "slices",  to show detailed images inside the body.
A quick scan that can be completed in seconds, not counting preparation time.
Usually requires an injection of contrast media (usually a colourless iodine-based dye that is sensitive to X-ray).
Can be used to image arteries of the heart and brain, which is useful for assessing disease in the arteries.
Can also be used to assess organs that cannot be easily assessed by ultrasound or plain X-rays, or are deeper in the body like the pancreas.
There are radiation risks. However, the latest generation scanners can produce 3D images with high resolution at lower radiation doses.
The cost: A routine CT scan will be in the low hundreds region while more complex examinations such as CT angiogram may cost around S$1,000 to S$2,000.
Magnetic resonance imaging (MRI): Uses a strong magnetic field and radio waves to generate detailed images of organs, muscles, bones, joints and soft tissues of the body.
Does not require the use of contrast.
Takes more time than a CT scan, usually in several tens of minutes, depending on the complexity.
Best suited for examinations of parts of the body that do not move, such as the brain, spine, joints and musculoskeletal system.
The main advantage is that it can differentiate between adjacent tissues such as muscles, bones and joints, which makes it good for assessing musculoskeletal issues.
In the brain, MRI can differentiate between white and grey matter, making it good for diagnosing aneurysms, tumours and stroke.
The cost: About S$500 to S$1,000 per region; If contrast or additional sequences are required, the scan could cost more.