Why is beer maker Asahi turning to non-alcoholic drinks amid the pandemic?
As sales of low and non-alcoholic beer continue to rise thanks to an increase in home consumption and wellness concerns, the Japanese company plans to ramp up production of such drinks.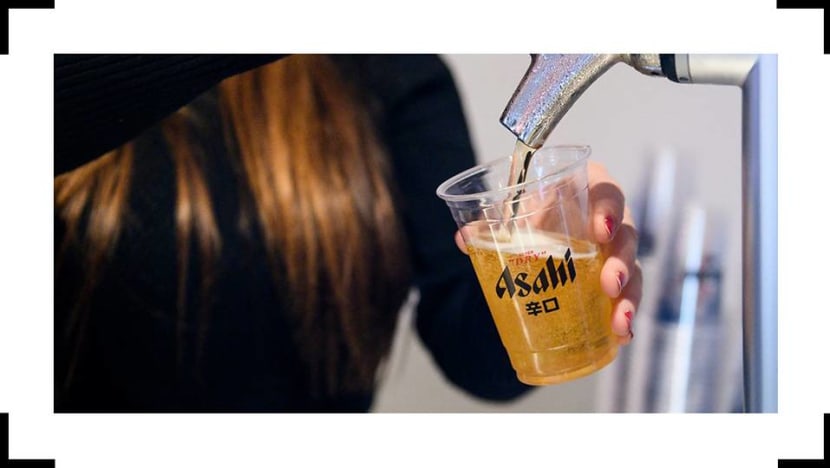 Asahi wants to crack a market that has proved surprisingly resilient during the coronavirus pandemic: Non-alcohol drinks.
Asahi's decision followed a US$20 billion (S$26.5 billion) splurge on beer brands including Peroni, Pilsner Urquell and Carlton Draught in recent years. But a consumer focus on all things "wellness" has been strengthened by COVID-19. Sales of low and non-alcoholic drinks rose during the pandemic even as pub closures have led to a global decline in beer sales.
"Non-alcohol is a good all-around product," Atsushi Katsuki, Asahi's chief executive since March, said in an interview. "It helps to resolve social issues, it connects us with new users and it leads to our profitability."
Low and non-alcohol beer sales have benefited as people spent more on drinks to be consumed at home during lockdowns, suiting Asahi's broader strategy of focusing on higher-margin "premium" beverages.
The shift has also been supported by pressures in Japan, where beer volumes have fallen for more than two decades and the government has tightened its crackdown on heavy alcohol consumption.
In Europe, sales of Asahi's non-alcohol brew grew 10 per cent in 2020 compared with the previous year, driven by the popularity of brands such as Birell and Peroni Libera – even as those of beer fell six per cent on a volume basis. Asahi has said it wanted to quadruple its ratio of non-alcohol drink sales in Europe by 2030, from 5.1 per cent last year.
"Non-alcohol is a good all-around product. It helps to resolve social issues, it connects us with new users and it leads to our profitability." – Atsushi Katsuki
The company, which is known in Japan for its flagship Super Dry brand, launched a low-alcohol product called Beery in March, using technology from European drinks it acquired to recreate a beer beverage with reduced alcohol content. It aims to triple its ratio of beverages with 3.5 per cent alcohol or less to 20 per cent of its product mix by 2025.
"This isn't just about changes in consumption among the young," said Katsuki. "Until now, we were not able to offer options for different circumstances to address people who can drink but won't or people who want to drink but can't."
The volume of sales of low and no-alcohol drinks is projected to grow 10.7 per cent annually in the US, 6.6 per cent in the UK and 6.5 per cent in Japan between 2020 and 2024, according to drinks analytics group IWSR.
Rivals such as Anheuser-Busch InBev and Heineken have also been building non-alcoholic portfolios. But analysts have taken a wait-and-see stance about how much these products will contribute to earnings, with the low and no-alcohol market accounting for less than two per cent of that for intoxicating drinks. Asahi's operating profit fell a third last year, as it relied heavily on sales at restaurants and pubs.
Katsuki, 61, took over the world's seventh-largest brewer in a drastically more difficult business environment than the previous five years, when Asahi spent billions scooping up European and Australian assets from AB InBev, including Grolsch and Carlton & United Breweries.
The company has ruled out any big acquisition until 2024, by which time it hopes to have reduced its net debt to three times earnings before interest, tax, depreciation and amortisation, compared with its current level of six times.
"We are discussing internally whether our current portfolio and footprint is sufficient. There is also the question of whether it is OK to just have beer," Katsuki said.
Kana Inagaki in Tokyo © 2021 The Financial Times